Chocolate Mousse Cheesecake Pie
This chocolate mousse cheesecake pie makes cheesecake even more delicious by adding a layer of chocolate mousse and then glorious ganache.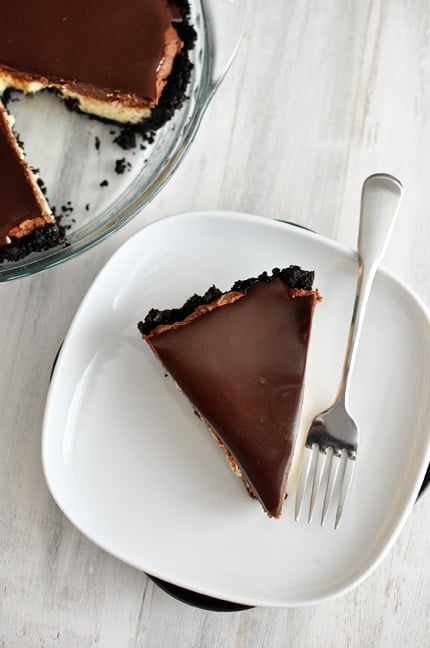 This pie is sinful. It is decadent. And rich. And kinda, sorta completely over-the-top. And I should apologize to you for sharing it and ruining any forthcoming calorie reductions (on your part, not mine!). So I'm sorry. But not really.
I've had the idea for this pie swirling around in my head for a while after hypothesizing that cheesecake could be made even more divine if added upon by a layer of chocolate mousse and then glorious ganache.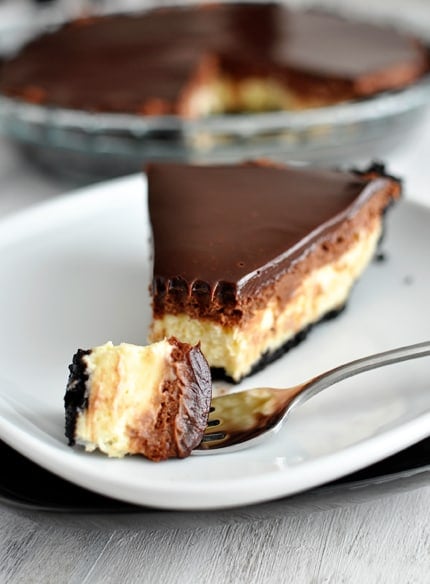 I'm happy to report that my theory is correct and has been scientifically proven and is statistically significant (whatever that means).
In fact, remember when I told you that my 7-year old decided he was going to go a whole year without treats? And then, like, the next day, I reported that his resolution ended and cookie dough fudge was the culprit?
Well, if you want to know the full story, after the cookie dough fudge debacle, he resoluted again to go without treats. And was ultra-committed, until this chocolate mousse cheesecake pie appeared after dinner the next day. He was undone. (I felt mildly guilty but what's a girl to do when she has so many recipes to try?)
In the end, when asked if the pie was worth it, he smugly replied, "Oh, yeah" and has since requested it for his birthday dessert next year (and recommitted to eating treats, in moderation, of course).
I agree with Walker. It's worth it. If you are looking for a last-minute addition to your Thanksgiving dessert table, this might be the one!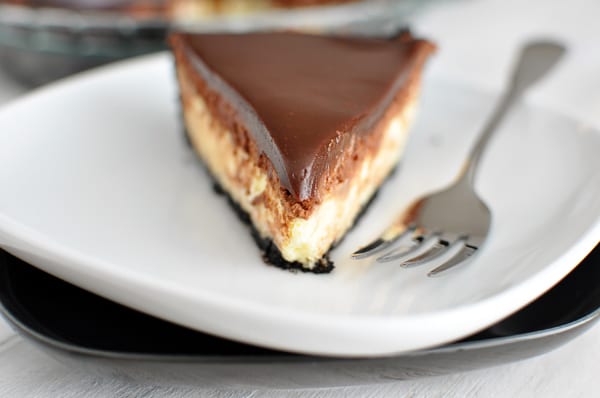 Chocolate Mousse Cheesecake Pie
Additional Time:
55 minutes
Total Time:
2 hours
15 minutes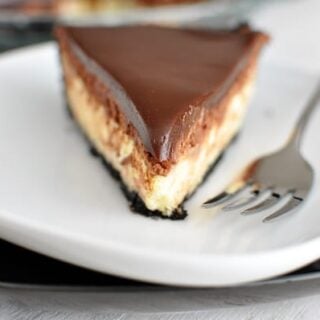 Ingredients
Crust:
24 Oreos, or other chocolate sandwich-type cookie, crushed
5 tablespoons butter, melted
Cheesecake Filling:
8 ounces cream cheese, softened
1/2 cup granulated sugar
1 large egg
1 egg yolk
1 teaspoon vanilla
1 cup sour cream
Mousse:
1 cup heavy cream, divided
2 egg yolks
1/2 cup semisweet chocolate chips
1/4 cup powdered sugar (optional for sweetness)
Ganache:
1/2 cup semisweet chocolate chips
4 tablespoons butter
1/4 cup heavy cream
1/2 teaspoon vanilla
1 tablespoon powdered sugar
Instructions
Preheat the oven to 325 degrees F.
For the crust, combine the crushed Oreo cookies and the melted butter. Press the mixture into the bottom and up the sides of a deep dish 9-inch pie plate. Refrigerate while you make the filling.
For the filling, with a handheld electric mixer or in the bowl of a stand mixer, blend together the softened cream cheese and granulated sugar until smooth. Add the egg, egg yolk, and vanilla and mix until combined. Blend in the sour cream. Spread the filling over the cookie crust and bake for 40-45 minutes, until the edges are set and the center is slightly firm (a little softness is ok but you don't want it to be really jiggly). Remove the pie from the oven and let it cool completely on a wire rack.
For the mousse, heat 1/2 cup cream in a small saucepan until just simmering. Place the egg yolks in a small bowl. Whisking vigorously, pour a couple tablespoons of the hot cream into the egg yolks and continue whisking until completely combined. Pour the tempered egg yolks into the saucepan with the remaining hot cream, whisking quickly the whole time, and return the saucepan to medium-low heat, cooking while stirring constantly, until the cream/egg mixture bubbles and thickens, 1-2 minutes. Remove from the heat and stir in the chocolate chips, whisking until the mixture is smooth and the chocolate is completely melted. If you used a darker chocolate and would like a bit more sweetness, whisk in up to 1/4 cup powdered sugar. Let the mixture cool to room temperature, whisking occasionally to avoid a skin forming across the top. When completely cool, beat the remaining 1/2 cup cream to stiff peaks and gently fold into the completely cooled chocolate mixture. Spread the mousse over the top of the cooled cheesecake pie and refrigerate.
While the pie chills, make the ganache by combining the butter and heavy cream in a saucepan over medium heat until the butter is melted and the mixture is simmering. Place the chocolate in a small bowl. Pour the hot cream mixture over the chocolate and stir until glossy and smooth. Stir in the vanilla and powdered sugar. Spread the ganache over the mousse and refrigerate the pie until ready to serve (at least an hour - the pie can be made up to a day in advance).
Recommended Products
As an Amazon Associate and member of other affiliate programs, I earn from qualifying purchases.
Recipe Source: crust, filling and ganache from Mel's Kitchen Cafe, mousse adapted from Betty Crocker
Disclaimer: I am a participant in the Amazon Services LLC Associates Program, an affiliate advertising program designed to provide a means for me to earn fees by linking to Amazon.com and affiliated sites. As an Amazon Associate I earn from qualifying purchases.