Double Chocolate Oatmeal Chocolate Chip Cookies
Classic oatmeal chocolate chip cookies have been begging to go 100% chocolate and these double chocolate oatmeal chocolate chip cookies are the answer. Yum!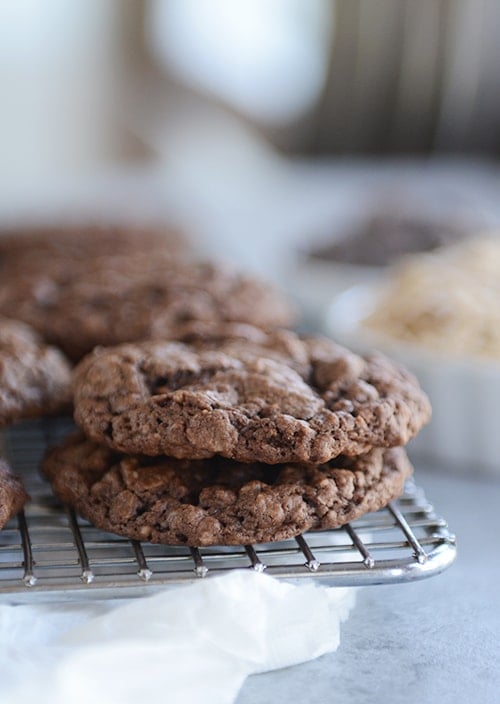 Cookies!
To celebrate that I'm actually following through with the recipe, to celebrate (??) that school's almost out for the summer, to celebrate the end of the rock pile in our driveway, to celebrate that my kids finally learned how to accurately sort the laundry, and mostly, to celebrate that these truly are some of the best cookies in the universe.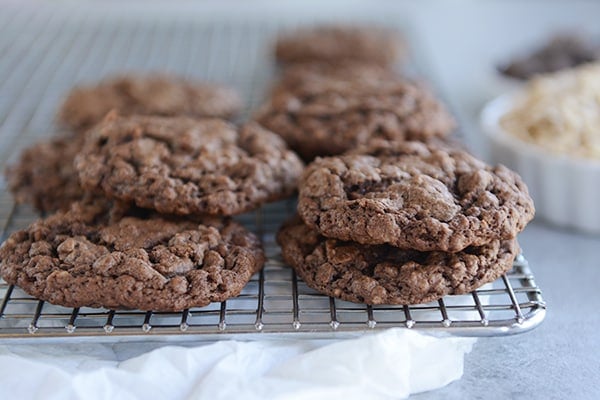 I texted my cousin, Tami, the recipe for these chocolate oatmeal chocolate chip cookies last week and she whole-heartedly agreed with me, so you don't even have to take just my word for it. Plus, she made them dairy- and egg-free for her daughter, so check the notes of the recipe for those adjustments.
My virtual friend, Karen, who sent me the recipe in the first place waxed so poetic about them in her email, I think I was in the kitchen making them within 12 minutes of reading her note.
I've since made them four times. And I have a stash in the freezer, because, yes, I know firsthand that they are divine straight out of the freezer.
These chocolate oatmeal chocolate chip cookies are incredible. Soft, chewy, ultra-chocolatey. I'm thinking classic oatmeal chocolate chip cookies were meant to be chocolate all the way through.
Celebrate something (anything!) and make these today. You won't regret it.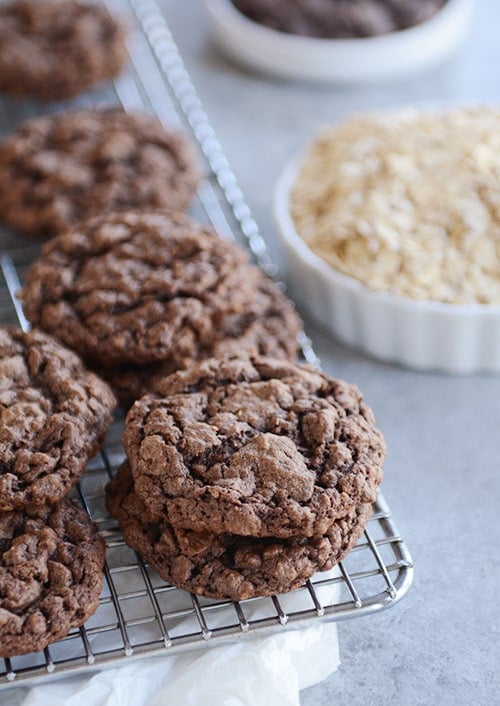 One Year Ago: Cajun Chicken Stroganoff
Two Years Ago: Slow Cooker Chicken Philly Sandwiches
Three Years Ago: Banana Pudding Caramel Cream Trifles
Double Chocolate Oatmeal Chocolate Chip Cookies
Yield: 3 dozen cookies

Prep Time: 15 minutes

Cook Time: 10 minutes

Total Time: 25 minutes
Ingredients
1 cup (2 sticks, 8 ounces) butter, softened to room temperature
1 cup (7 ounces) packed light brown sugar
1/2 cup (3.5 ounces) granulated sugar
1 teaspoon vanilla extract
2 large eggs
1 1/4 cups (6.25 ounces) all-purpose flour
1/2 cup (2 ounces) natural unsweetened cocoa powder
1 teaspoon baking powder
1 teaspoon baking soda
1/2 teaspoon salt
1 cup (3.5 ounces) old-fashioned oats
1 cup (3.5 ounces) quick oats
2 cups (12 ounces) semisweet chocolate chips
Instructions
Preheat oven to 350 degrees F. Line two large, rimmed baking sheets (11X17-inches or so) with parchment paper.
In a large bowl with a handheld electric mixer or in the bowl of a stand mixer fitted with the paddle attachment, whip together the butter, brown sugar, and granulated sugar until light and fluffy, 1-2 minutes. Add the vanilla and eggs and beat until creamy and light in color, 2-3 minutes.
In a separate medium bowl, whisk together the flour, cocoa powder, baking powder, baking soda, salt, and both kinds of oats.
Add the dry ingredients to the batter and mix until a few dry streaks remain. Add the chocolate chips and mix until everything is just combined.
Drop the batter by heaping tablespoon-sized scoops (I use my #40 medium cookie scoop) about 2 inches apart.
Bake for 10-11 minutes until the edges are just set but the middles are still soft. Transfer to a cooling rack to cool completely. Repeat scooping and baking with remaining cookie dough.
Notes
Let's talk substitutions: I found I liked the texture of the cookies best using half old-fashioned oats and half quick oats as noted in the ingredient list; the original recipe uses all old-fashioned oats so you might try it that way (too spready for me). I think using all quick oats may make a super puffy cookie but again, feel free to experiment.

Karen, who sent me the recipe, says she uses 100% white whole wheat flour and coconut sugar so there is that, if you are interested. AND, one more - my cousin Tami has a dairy-free, egg-free allergy and she made these with coconut oil in place of the butter, dairy free chocolate chips (the Kirkland chocolate chips from Costco in the white bag), and an egg substitution of...wait for it...just 3 tablespoons water (there's a long explanation why - she sometimes uses a flaxmeal sub or an oil + water + baking powder sub but for this recipe all she needed to do was nix the eggs and add enough water to make the dough no longer crumbly, thanks to the oats, which often make cookies egg-free friendly). Keep in mind she lives at high altitude so your results may vary, but she declared them the best cookies ever which is pretty awesome.

Phew! That's a lot of notes for a super simple cookie recipe. Just make them already, ok?

Recipe Source: adapted a little from The Kitchen is My Playground after a reader, Karen, emailed me about the recipe telling me I must (must!) make them immediately; and I did, of course