Banana Pudding Caramel Cream Trifles
How can you go wrong with these banana pudding caramel cream trifles? You can't, especially if you love banana pudding!
Have we had this talk yet? The one where I tell you that Brian's favorite dessert in all the world is a banana pudding/Nilla Wafer blizzard from Dairy Queen and that when other dads tuck their sons into bed at night and tell them gallant stories of heroic adventure, Brian regales our four sons and one daughter with tales of his days working at Dairy Queen as a teenager and his success at making the best banana pudding blizzard known to mankind?
Lucky kids.
The man loves him some banana pudding.
I've talked before about the phenomenon that exists between the male species and banana pudding. Sorry to sound biased, but there's something to it, I swear.
Brian could be the spokesperson for the cause.
These little banana pudding caramel cream trifles left him speechless. And can I announce something here and now? I didn't even get to taste one of these! I made these Easter morning for our dinner later that night but whattayaknow, my 9-year old and I both came down with some nasty virus within hours of the last drizzle of caramel adorning the final trifle.
My husband, who says he felt sorry I was sick and who says he was just trying to help me out so that I didn't have to suffer needlessly gazing at a dessert I clearly couldn't eat, ate mine.
And the next day when the sickie child and I weren't feeling much better, Brian ate the other leftover one, brown bananas and all, which is fine because I wouldn't have touched mushy, brown bananas with a ten foot pole at that point.
If that isn't dedication to his banana pudding cause, I don't know what is.
In all reality, though, bananas, homemade vanilla pudding, toasted buttery Nilla Wafer crumbles, decadent caramel sauce and whipped cream are just bound to be a success.
I may or may not have eavesdropped on Brian's bedtime story later that night wherein the epic DQ blizzard was curiously omitted leaving the boys in wide-eyed wonder listening to a farfetched tale of a new kid in town: the banana pudding caramel cream trifle kid, to be exact.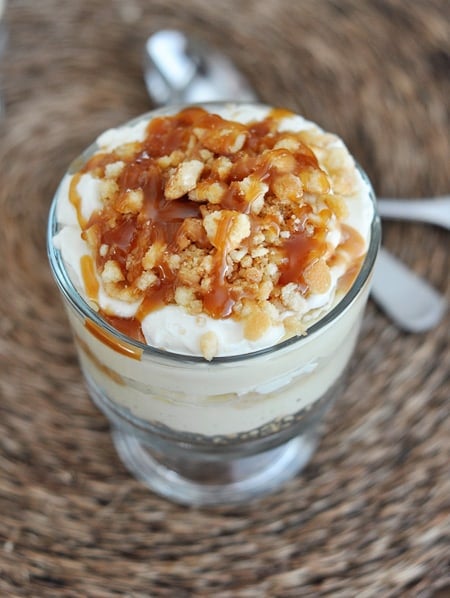 One Year Ago: Mushroom Lasagna with White Sauce
Two Years Ago: Red Velvet Cake Roll
Three Years Ago: Strawberry Rhubarb Pie
Banana Caramel Cream Trifles
Yield: 6 servings

Prep Time: 20 minutes

Cook Time: 16 minutes

Additional Time: 4 hours 59 minutes

Total Time: 5 hours 35 minutes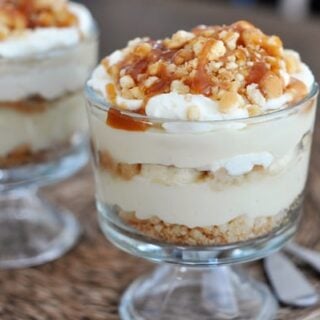 Ingredients
Vanilla Pudding:
3/4 cup granulated sugar
1/3 cup cornstarch
1/4 teaspoon salt
1 tablespoon vanilla
3 large eggs
3 1/2 cups milk, whole milk preferred for a creamier pudding
Nilla Wafer Crumble:
2 1/2 cups coarsely crushed Nilla Wafers (about 3/4 of an 11-ounce box)
4 tablespoons butter, melted
Bananas, Cream and Caramel:
2-4 ripe bananas
1/2 - 3/4 cup good-quality caramel sauce (my favorite homemade version here)
Sweetened whipped cream (1 cup heavy whipping cream whipped with 2-3 tablespoons powdered sugar)
Instructions
For the vanilla pudding, in a large bowl, whisk together the sugar, cornstarch, salt, vanilla and eggs until well-combined. Whisk in 1/2 cup of the milk. In a large saucepan, heat the remaining 3 cups milk over medium heat until it reaches a simmer. Slowly ladle in 1/2 cup or so of the hot milk into the egg mixture, whisking quickly and vigorously the entire time to avoid cooking the eggs and forming lumps. Repeat with another ladle of the hot milk, whisking until completely combined. This process tempers the eggs so they don't scramble when added to the hot milk. Slowly pour the tempered egg/milk mixture into the simmering milk, whisking constantly, and cook over medium heat, stirring with a whisk or silicone spatula, until large bubbles break at the surface and the pudding is thick and bubbly, about 3-4 minutes. If desired, strain the pudding through a fine mesh strainer into a large bowl or just pour the pudding into a large bowl. cover the pudding with plastic wrap, pressing the plastic wrap directly on the surface of the pudding. Refrigerate until completely cooled, 4-5 hours.
For the Nilla wafer crumble, combine the crumbs with the melted butter. Spread the mixture onto a large baking sheet and bake at 350 degrees for 10-12 minutes, tossing once or twice, until the crumbs are golden and fragrant. They will appear soft right out of the oven, but once they cool on the baking sheet, they will crisp up. Once cool, the crumbs can be stored in an airtight container for 1-2 days.
To assemble, keep in mind, this isn't rocket science. You can basically layer the components however you like but this is how I did it: Start with a few tablespoons of the crumbles and press into the bottom of an individual trifle dish or similar-type dish. I added each layer to all of the six dishes before proceeding with the next layer. Now add a dollop of vanilla pudding to cover the crumbles. Spread the pudding to the edges of the dish(es). Add slices of banana to cover the pudding. Top the bananas with a spoonful of sweetened whipped cream, spreading to the edges of the dish. Add another layer of Nilla Wafer crumbles and a drizzle of caramel. Another layer of pudding, bananas, whipped cream, a sprinkle of crumbles on top and a final drizzle of caramel.
Seriously, once you delve into this heavenly concoction, it won't matter how it's layered. Refrigerate the desserts for 1-2 hours (any longer and the bananas will have a tendency to get brown and mushy). Serve chilled.
Notes
Serving Dishes: if you don't have individual trifle or serving dishes, you might try layering all the components in a large baking dish (say, an 11X7-inch size or something similar) for a more family-style approach.

Make Ahead: also, the vanilla pudding, Nilla wafer crumble and caramel sauce can be prepared up to 2 days in advance. In fact, you should keep in mind that since it is homemade pudding that needs time to cool and set up, you should plan ahead - but don't assemble the actual dessert(s) too early or else the bananas will turn brown and mushy. Ick.
Recommended Products
As an Amazon Associate and member of other affiliate programs, I earn from qualifying purchases.

Recipe Source: greatly adapted from this recipe at Glorious Treats {changed out graham cracker crumble for Nilla wafer crumble, used an adapted version of my favorite vanilla pudding and a homemade caramel sauce}