Easy 3-Ingredient Frozen Hot Chocolate
Insanely delicious and insanely easy, this frozen hot chocolate is perfect for those hot summer months when drinking hot chocolate would be, well, insane.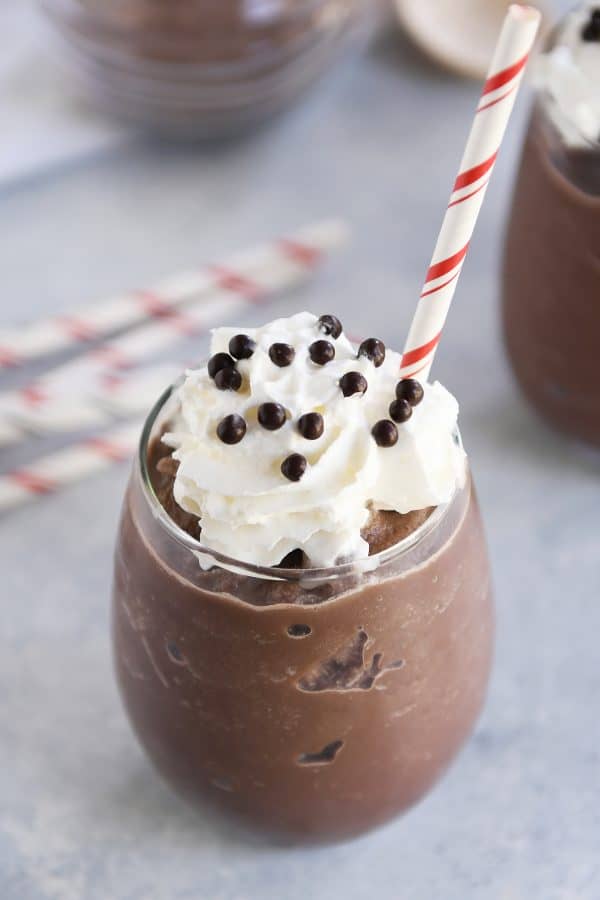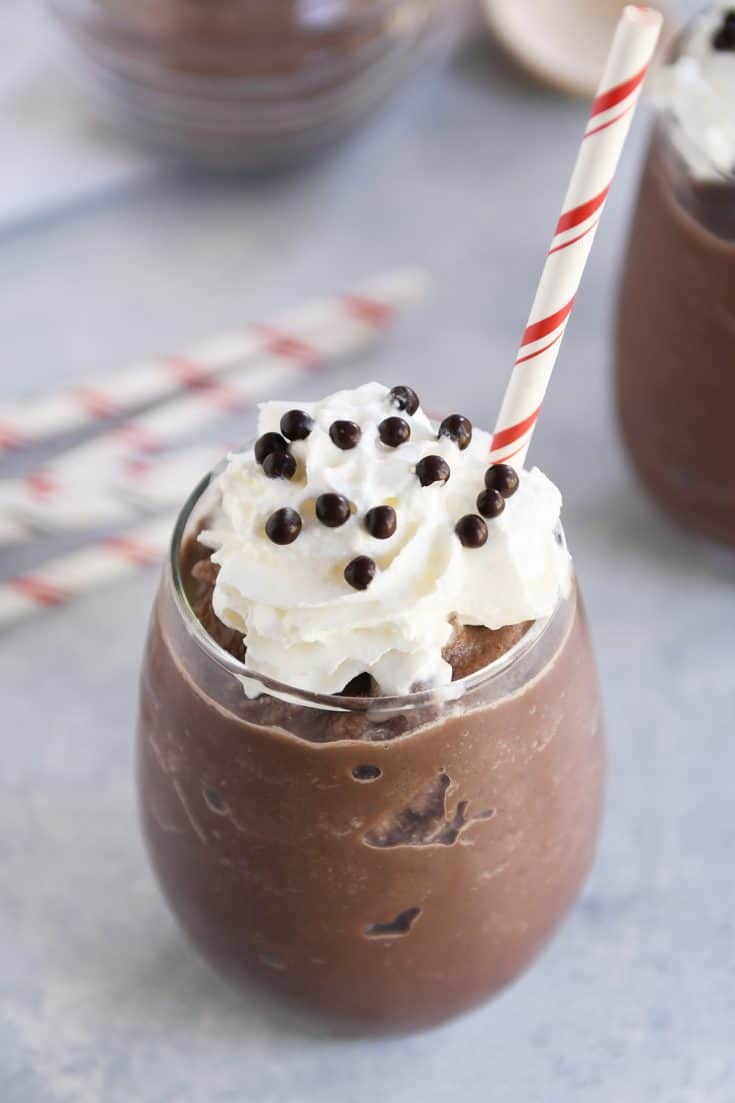 I have a super quick and simple recipe for you today!
If it's blazing hot where you live AND you have lingering hot chocolate mix from the winter months hanging around, you'll want to take note.
Frozen hot chocolate is one of my favorite, favorite, FAVORITE summer treats to enjoy.
Three ingredients, it is a dump and blend recipe, which means it can be yours in less than 10 minutes. Way less, actually. (Let's have a contest who can make it the fastest! That'd be fun.)
And it is crazy delicious.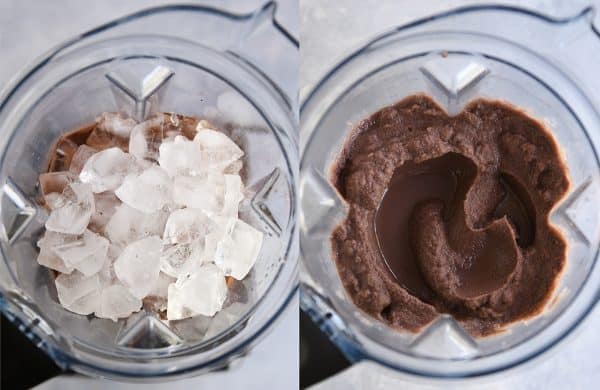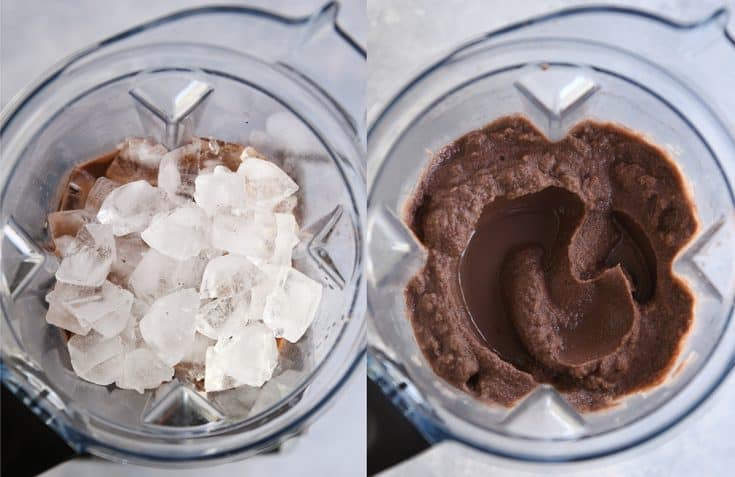 If you've never had frozen hot chocolate, it is an icy, chocolatey treat (not creamy like a milkshake).
And although it sounds kind of redundant and obvious…it really is like classic hot chocolate in cold, blended form.
I have an ancient frozen hot chocolate (read: scary looking photos) recipe in the archives, but it is gathering dust, because the version I'm posting today has been our go-to for a long while, thanks to being so much easier and faster.
I've given several notes below in the recipe about what brand of hot chocolate mix I use (I've tried it with this popular homemade mix too!), and why I prefer chocolate milk (dark chocolate almond milk, to be exact), among other things.
Ultimately, it's not rocket science! It's just delicious frozen hot chocolate. Such a fun, tasty summer treat!
One Year Ago: Mediterranean Quinoa Salad
Two Years Ago: Smashed Yukon Gold Potato Salad
Three Years Ago: Ginger Ale Mint Limeade
Four Years Ago: Brown Sugar Rhubarb Muffins with A Little Bit of Streusel On Top
Five Years Ago: Thin and Crispy Oatmeal Cookies
Easy 3-Ingredient Frozen Hot Chocolate
Yield: 3-4 Servings

Prep Time: 5 minutes

Total Time: 5 minutes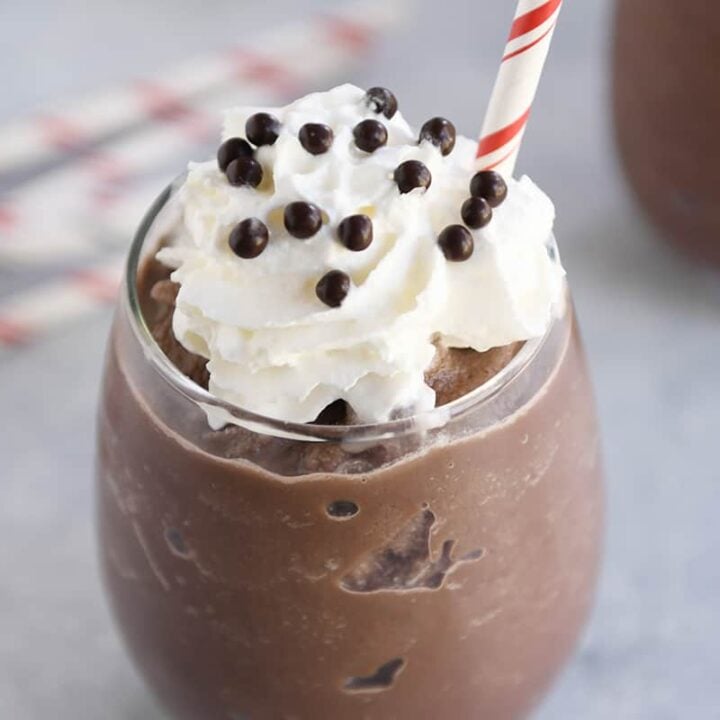 Ingredients
1 1/2 cups (12 fluid ounces) chocolate milk (see note)
1 cup (5 to 6 ounces) dry hot chocolate mix, flavor and brand of choice (see note)
3-4 cups cubed ice (yep, see note again)
Whipped cream and chocolate sprinkles or shavings, for garnish, if desired
Instructions
Add the milk, hot chocolate mix and ice, in the order listed, to a blender and process until smooth.
Pour into glasses and top with whipped cream and chocolate shaving/sprinkles, if desired.
Notes
I know a lot of frozen hot chocolate recipes "out there" call for regular milk, but I've found over the years as I've made more frozen hot chocolate than I care to admit that using chocolate milk is just straight up delicious. My favorite chocolate milk is the Silk brand dark chocolate almond milk, but you could use any brand you prefer OR use white milk for a less chocolatey version.

This recipe is highly adaptable to many different flavors and brands of hot chocolate. The results will be a little different (flavor/texture/sweetness/etc) depending what brand of dry hot chocolate mix you use. I've used Stephens brand, Thrive/Shelf-Reliance brand, this homemade hot chocolate mix, and several others I'm probably forgetting. I hate to say it, but the frozen hot chocolate made with the homemade version was probably my least favorite taste- and texture-wise (although it's my favorite blend for actual hot chocolate).

Now, ice. I have a Vitamix, so it chomps through ice no problem. If you have a high-powered blender, I think using ice cubes will be just fine. If you are using a lower powered blender, you might want to use crushed ice, if possible, to get that smooth consistency.

Recipe Source: from Mel's Kitchen Cafe