Have you tried frozen hot chocolate? It's worth trying! This frozen hot chocolate recipe is refreshing, simple and delicious.
Frozen hot chocolate is one of my favorite evening treats.
I love everyday hot chocolate, but making it into an icy, sweet, slurpy drink is my idea of glorious.
I have tried several recipes and recently found this one on epicurious.com (I believe it is originally a Serendipity recipe). I loved it! Of course I added a bit more chocolate than the recipe called for but that is usually what happens in my world when it comes to chocolate – the more the better.
It has now replaced my other recipes as my go-to frozen hot chocolate recipe.
If you've never had frozen hot chocolate, it's worth trying! Delicious.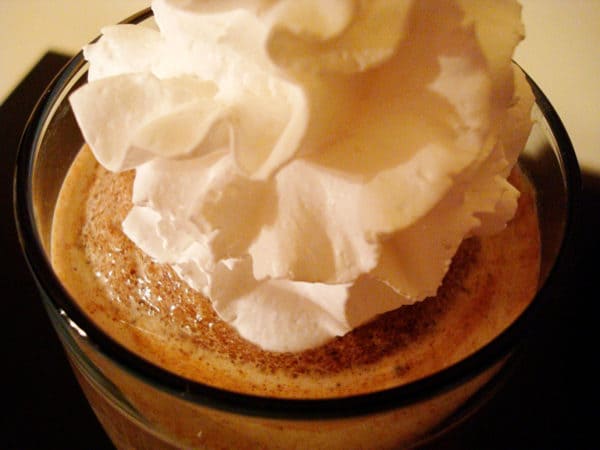 Yield: 4 servings

Prep Time: 10 minutes

Cook Time: 3 minutes

Total Time: 13 minutes
Ingredients
4 ounces of your favorite chocolate (I used semi-sweet chocolate)
2 teaspoons store-bought hot chocolate powder
1 1/2 tablespoons sugar
1 1/2 cups milk
3 cups ice cubes
lightly sweetened whipped cream
chocolate shavings (optional)
Instructions
Chop chocolate into small pieces and melt in microwave on low heat. Once melted, add hot chocolate mix and sugar, stirring constantly until thoroughly blended. Slowly add 1/2 cup milk, stirring until smooth. Cool to room temperature.
In blender, place the remaining 1 cup milk, room-temperature chocolate mixture and ice.
Blend on high speed until smooth and the consistency of a frozen daiquiri. Enjoy! (This recipe made a large blender full – I believe I got at least 4 8 oz. servings from one batch.)
Recommended Products
As an Amazon Associate and member of other affiliate programs, I earn from qualifying purchases.

Recipe Source: adapted from epicurious.com