Ethereal Chocolate Angel Food Cake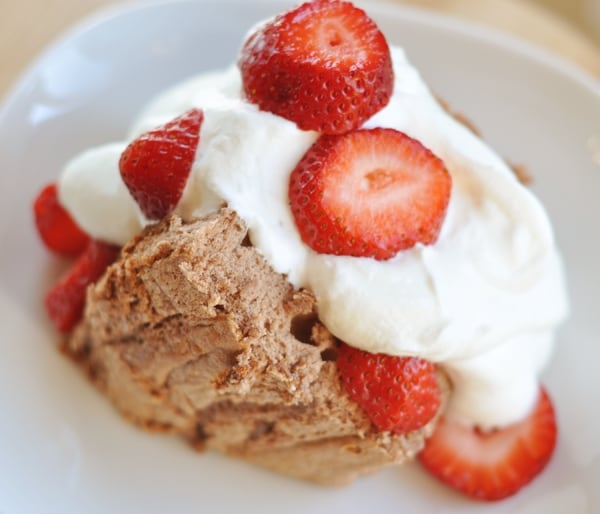 After my post a while back about one of my favorite ways to dress up an angel food cake, I must have received a dozen comments both in email form and in person from friends saying they were shocked I don't make my own homemade angel food cake.
I know, I know! I've tried, trust me, and the results were disastrous – which, combined with the fact that I wasted a dozen eggs convinced me I should stick with the boxed version.
However a few days after that post, my friends, Meg and Bruce, dropped off one of the most delicious cake I have ever eaten. A lighter-than-air chocolate angel food cake slathered in french cream frosting. Oh my. I must have eaten five pieces. And then I called and demanded the recipe.
And here it is.
A few of the merits: no cake flour! Yahoo. I never have that on hand but I'm always good for some all-purpose, and the baked cake still manages to be tender and silky and light. Also, the original recipe is for a basic angel food cake with a simple variation to make it deliciously chocolate. Try either lovely version!
I topped my confection with whipped cream and strawberries, but this cake would be delicious doused in ketchup, I swear it is that good. Most of all, I'm so proud I finally conquered a homemade angel food cake. Thanks, Meg and Bruce – this is definitely going in the Best Recipe section!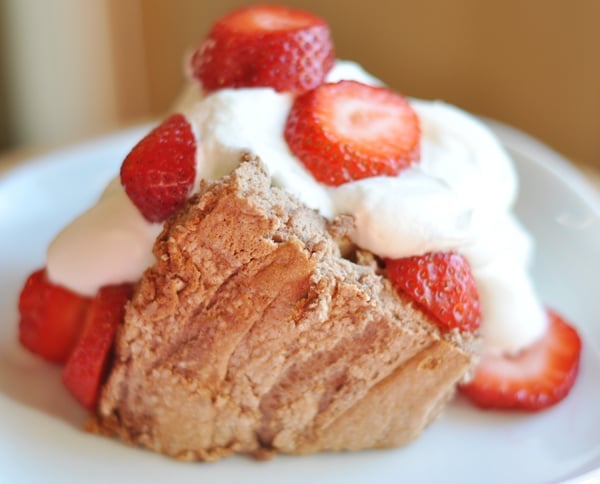 One Year Ago: Sour Cream Banana Bread
Two Years Ago: Blueberry Crumb Muffins
Ethereal Chocolate Angel Food Cake
Yield: 8-10 servings

Prep Time: 12 minutes

Cook Time: 45 minutes

Total Time: 57 minutes
Ingredients
Dry ingredients:
1 cup all-purpose flour
3/4 cup granulated sugar
1/2 teaspoon salt
For the egg white mixture:
3/4 cup granulated sugar
12 large egg whites (make sure not to get any of the shell or egg yolk in with the whites or they won't beat up properly)
1 teaspoon vanilla extract
1 1/2 teaspoons cream of tartar
Instructions
Preheat the oven to 325 degrees.
For the dry ingredients, in a medium bowl, whisk together the flour, cocoa powder (if using), sugar and salt and set aside.
For the egg white mixture, In another bowl place the egg whites and add the vanilla. With a hand mixer (or with a stand mixer), beat the egg whites and vanilla on medium-high until the mixture is just frothy, about one minute. Sprinkle the cream of tartar on the top of the foamy whites and continue beating on medium-high until soft peaks form, another 2-3 minutes. Add the sugar 1/4 cup at a time until fully incorporated. Continue beating until the whites are stiff and glossy (see the picture below). This may take several minutes, depending on the type of mixer you are using.
With a whisk, gently fold the dry ingredients into the beaten egg whites. Pour the batter evenly into an ungreased angel food cake pan and smooth the top with a rubber spatula.
Place the cake on a rack in the center of the oven and bake for 40-45 minutes, until the top of the cake is golden brown, the cake springs back when lightly touched and the cracks are dry to the touch. Place the cake upside down on cooking rack or bottle until cool (see picture below). Slide a knife around the edges of the pan and gently remove the cake.
Notes
To make a chocolate version, substitute 1/4 cup cocoa powder for 1/4 cup of the flour.
Recommended Products
As an Amazon Associate and member of other affiliate programs, I earn from qualifying purchases.

Recipe Source: from Meg and Bruce M.
Here is what the egg whites should look like when beaten to stiff peaks.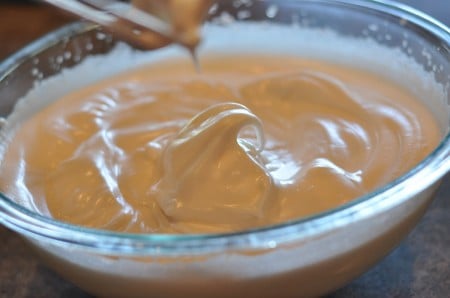 A-1 is my bottle of choice for cooling this majestic cake.