Mediterranean Pasta Salad
A delicious variation from a classic pasta salad, this Mediterranean-inspired pasta salad is full of flavors that blend perfectly together.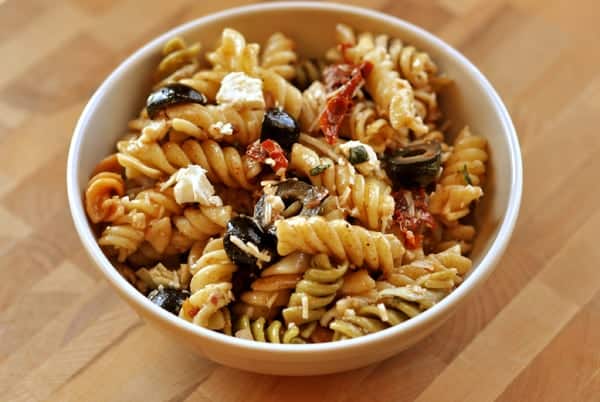 A delicious variation from a classic pasta salad, this Mediterranean-inspired version is full of unique flavors that blend perfectly together.
A few of the highlights: tart sun-dried tomatoes…I love these little guys; fresh basil…need I say more; tangy feta cheese…perfect accompaniment to just about anything, in my book; and a balsamic vinaigrette that is as simple as it is tasty.
You just can't have too many great pasta salads in your arsenal, if you ask me. Don't forget to add this one to yours!

(Thanks, Katie, for the great recipe!)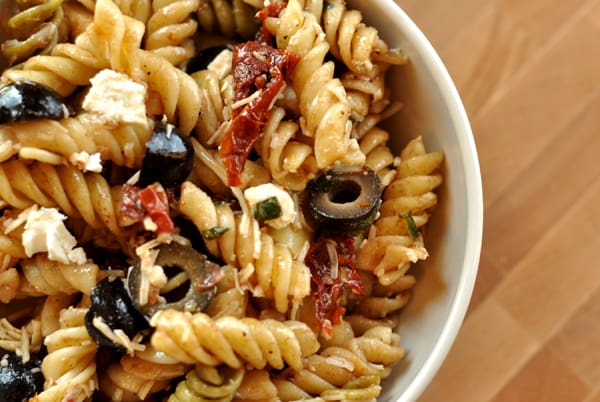 Mediterranean Pasta Salad
Yield: 6-8 servings as a side dish

Prep Time: 15 minutes

Cook Time: 10 minutes

Total Time: 25 minutes
Ingredients
1 pound tricolor pasta
1/4 cup balsamic vinegar
2 teaspoons dijon mustard
1/2 teaspoon salt
1/2 teaspoon freshly ground black pepper
1/2 cup extra-virgin olive oil
1/3 cup diced sun-dried tomatoes (I like the sun-dried tomatoes that are jarred and packed in oil the best)
1 (14.5 ounce) can artichoke hearts, drained and diced
1/4 cup fresh basil, torn into small pieces, or 1 tablespoon dried
2 teaspoons chopped fresh oregano or 1/2 teaspoon dried
1/4 cup diced red onion
¾ cup black or kalamata olives, sliced
2 teaspoons saute spice (equal parts black pepper, salt and garlic powder – I mix up a bunch of this and keep it in a small tupperware in my spice cabinet)
4 ounces feta cheese, crumbled
1/2 cup freshly grated Parmesan cheese
Instructions
Whisk the vinegar, mustard, salt, and pepper to taste in a small bowl. Gradually whisk in the oil to make a smooth dressing. Set aside.
Bring a large pot of salted water (about 1 tablespoon kosher salt to 4 quarts water) to a boil. Add the pasta and cook until al dente; drain, then pour pasta into a large bowl. While the pasta is still warm, pour a couple tablespoons of the dressing over the pasta and toss so that the pasta doesn't stick together as it cools. Let it cool to room temperature, tossing now and again to help the cooling process and to prevent sticking.
When the pasta has cooled, add the sun-dried tomatoes, artichokes, basil, onion, olives, saute spice, and oregano and toss. Add the vinaigrette and toss again until the pasta ingredients are evenly coated. Add the cheeses and lightly toss. Chill until ready to serve.
Recommended Products
As an Amazon Associate and member of other affiliate programs, I earn from qualifying purchases.

Recipe Source: adapted from Katie, a reader
Disclaimer: I am a participant in the Amazon Services LLC Associates Program, an affiliate advertising program designed to provide a means for me to earn fees by linking to Amazon.com and affiliated sites. As an Amazon Associate I earn from qualifying purchases.