Fabulous Orange Chicken
This orange chicken recipe made healthier, (baked not fried), is a tasty, family-friendly meal. The sauce is especially fabulous!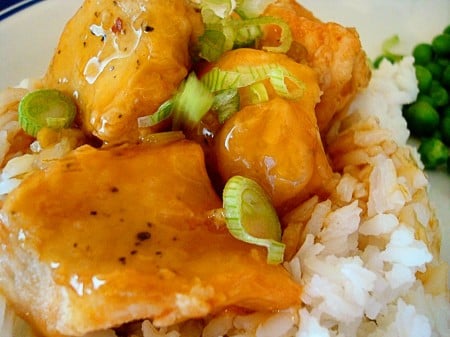 My husband loves Orange Chicken.
I found a knock-off Panda Express recipe that I thought I would try but as I started making it I realized it was going to be a disaster (I hate it when that happens) so I pulled out another version from Blog Chef, combined the two and the result was incredibly delicious.
Plus, I found a few work around areas that will make this dish very speedy in the future.
You can certainly deep fry the chicken for an authentic crispy coating but I actually prefer the lighter, easier version I've typed up below because the chicken really holds onto the delicious orange sauce.
And I don't know about you, but I believe orange sauce is meant to be held on to.
Simple and delicious, this is one of our favorite meals!

Baked Brown Rice
Summer Corn Salad or Grilled Corn Salad
Creamy 5-Cup Fruit Salad or fresh, seasonal fruit
Yield: 6 servings

Prep Time: 15 minutes

Cook Time: 1 hour

Total Time: 1 hour 15 minutes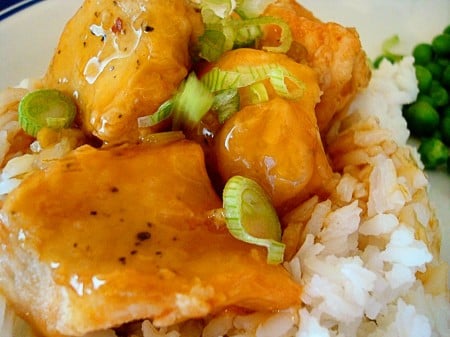 Ingredients
Chicken:
2 pounds boneless, skinless chicken breasts, cut into 2-inch cubes
1/2 cup flour
1 teaspoon garlic powder
1/2 teaspoon pepper
2 tablespoons oil or butter
Sauce:
1 1/2 cups water
1/4 cup plus 2 tablespoons fresh orange juice
1/3 cup rice vinegar
2 1/2 tablespoons soy sauce
1 tablespoon orange zest
1 cup brown sugar
1/2 teaspoon finely minced ginger
1 teaspoon minced garlic
2 tablespoons green onion
3 tablespoons cornstarch
1/4 cup water
Instructions
Heat oven to 350. In a shallow dish combine the flour, garlic powder and pepper. Dip each piece of chicken in flour mixture and coat evenly.
Pour oil (or melt butter and pour) in a shallow baking dish, large enough to accommodate chicken in a single layer. Arrange chicken in pan and bake uncovered for 30 minutes at 350 degrees.
Meanwhile, in a medium saucepan combine water, fresh orange juice, rice vinegar, soy sauce, orange zest and whisk over medium heat for a few minutes. Then stir in brown sugar, ginger, garlic, and green onion and let it come to a boil. Combine cornstarch with water and let it dissolve and add it to the sauce until thickened.
After chicken has baked the 30 minutes, turn each piece over and pour 1/2 sauce mixture evenly over chicken. Bake another 30 to 40 minutes basting frequently.
Serve chicken over rice with extra sauce on the side
Recommended Products
As an Amazon Associate and member of other affiliate programs, I earn from qualifying purchases.

Recipe Source: adapted from Blog Chef
Disclaimer: I am a participant in the Amazon Services LLC Associates Program, an affiliate advertising program designed to provide a means for me to earn fees by linking to Amazon.com and affiliated sites. As an Amazon Associate I earn from qualifying purchases.