Family Candlelight Dinner: Tips, How-To's and Menus
Everything you need to create a Valentine's family candlelight dinner: tips, how-to's and lots of menu options!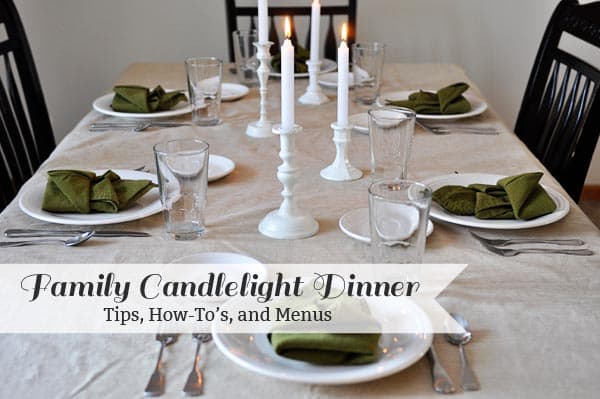 For the last several years, one of our big Valentine's Day traditions is a family candlelight dinner. Here's why this event is so unusual-and-looked-forward-to in my home:
a) It's the only time of the year, besides Thanksgiving and Christmas, that I actually put a tablecloth and cloth napkins on the table. My mother would cringe, but tis the truth. While we do set the table every night for dinner, it's usually ripped off paper towels and table settings via the 5-year old.
b) For some reason my boys think it is the coolest thing to eat in the dark with only the flickering light of the candles. The first year they thought we were going to tell ghost stories to each other until I explained that a lot of people use candles at dinner or in restaurants for special occasions that don't involve scary faces and morbid stories.
c) Speaking of the boys (and one wee little girl), it's a great time to emphasize manners and etiquette in a fun way that makes them actually willing to put a real live cloth napkin on their laps and not act like monkeys at the table. Let's be honest, with four boys, most days I feel like my house is a locker room. We hardly ever (and that's not really an exaggeration) eat out at sit-down, cloth napkin kind of restaurants as a family (the exception is when we take them out to a nice restaurant, which currently requires a 2-hour drive, for their 8th birthday) so this is the closest the kids get to experiencing this type of atmosphere and while I love raising wild, country boys, I still want them to have a tiny bit of a soft, cultured side.
d) Family time over good food and a properly set table is quite priceless.
I thought I'd share a few tips and menus and other tidbits about this tradition with you. It's one of our favorite things to do as a family all year.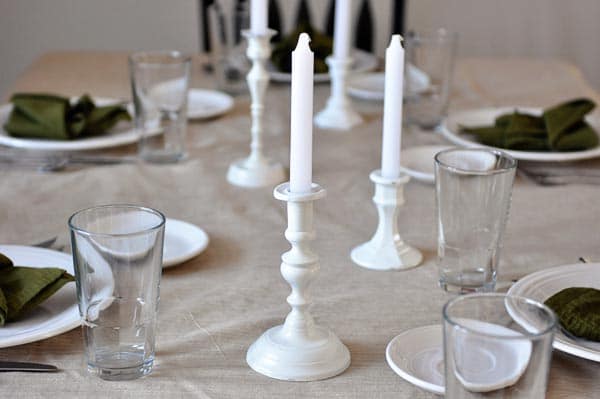 I buy my taper candles from Amazon. They burn slowly and I am able to reuse them for a couple years. Plus, we've been known to break them out when the electricity bails because we can't find a working flashlight.
Here's a tip on the candle holders: if you are like me, you may not have candle holders just laying around, and they can be crazy expensive, depending on where you look. A few years ago, I bought these candle holders at Goodwill. They were a mismatched, in color and style, set but after a couple coats of white spray paint, they've worked great (I originally bought them for a DIY craft for my mantel that never quite finished itself). I think the candlesticks were 50 cents each so a thrift store is a great place to start.


As for dishes, you are probably getting the jist of the post that I am utterly unfancy. I don't have expensive china (although I would love a set someday) so I use the same white ceramic plates (courtesy of Kohls, I think) that we use during the week. The boys are actually thrilled they get a big plate. They are all still relegated to using the smaller, Corelle nearly unbreakable dishes during normal dinners, and having a plate like mom and dad is, like, super cool. You could definitely fancy this up however you like – with china, goblets, nicer silverware.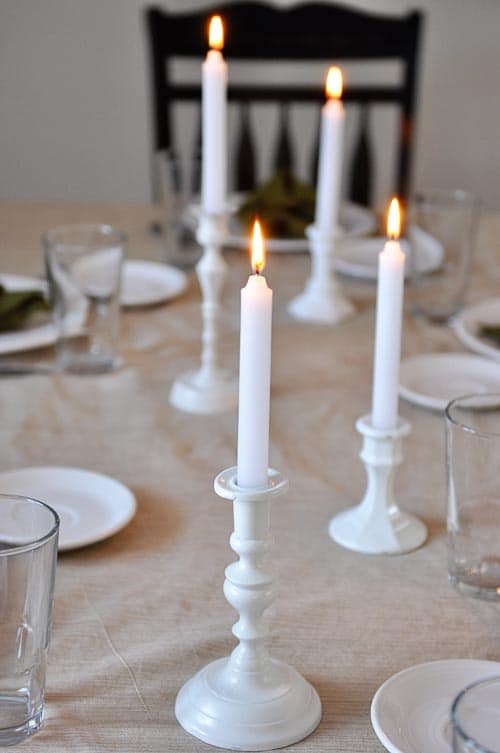 A few hours before dinner, I set the table. Just the usual, classic table setting: glass above the tip of the knife, roll/salad plate above the fork(s), salad fork on the far outside left next to the dinner fork, knife and spoon on the right (and yes, I have to look this up in one of my entertaining cookbooks every single year). I usually fold the cloth napkin in some type of shape/design. Googling this will retrieve hundreds of options. The one pictured here is the Fleur-de-Lys (instructions below the picture). But some years, I just roll them up in a napkin ring and call it good, too.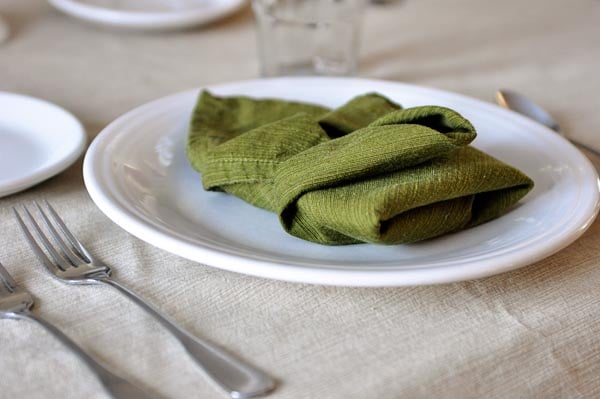 Fleur-de-Lys instructions and visual (courtesy of Lion House Entertaining):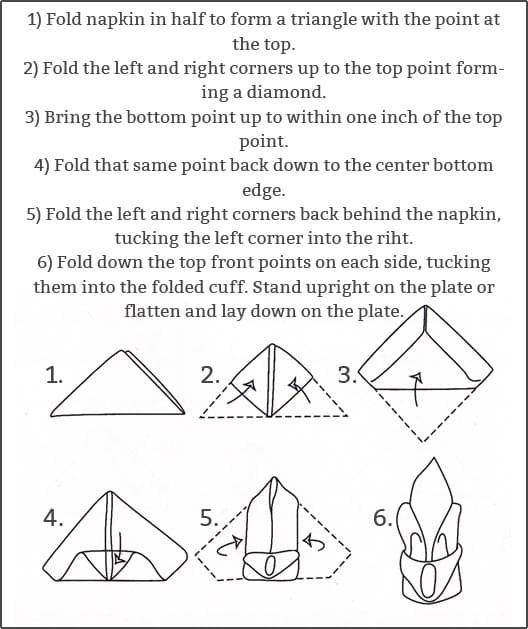 I tried once or twice to actually provide the family with a menu where they could order what they wanted (there were a couple options for each course). But, um, yeah, it was positively terrible. I didn't love playing waitress (there weren't any tips) and I didn't get to enjoy much of the family dinner. Plus, I was making an astronomical amount of food without any clue about what the charges would end up "ordering." New plan needed.
So now, I provide everyone with a little card that tells what the forthcoming dinner selection will be. Think: private catered dinner instead of restaurant dinner. I've provided sample cards and menus below. I try to do most, if not all, the prep and cooking/baking beforehand so that it is simply a matter of walking to the kitchen (you know, three steps away), retrieving the next course and bringing it to the table. That way, I'm not stuck in the kitchen slaving while everyone else enjoys the epic candlelight dinner. Basically, dinner usually consists of an appetizer or starter course followed by the main dish followed by dessert.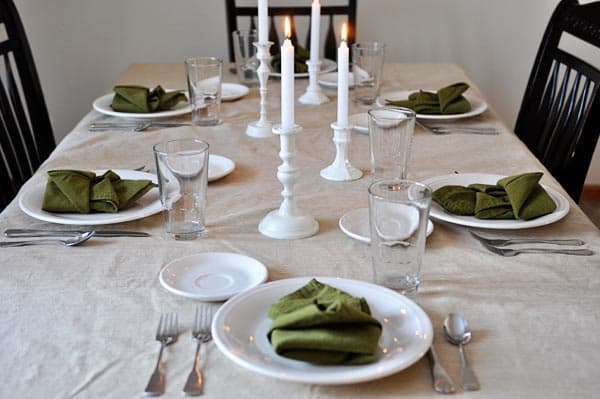 Because I like the table to be fully set when dinner starts (simply so my kids appreciate what a nice table setting looks like), I take the plates away when serving. So for instance, when serving the appetizer, I scoop away the dinner plates and put them on the counter. I serve the appetizer plate(s) and then the dinner plates are already out of the way and ready for the main course (my boys think it's crazy awesome to have dinner brought to them already dished up on a plate instead of our usual family-style routine). Our rule is that the next course isn't served until everyone is finished with the current course. It's interesting-slash-amazing-slash-eye-opening what sorts of details we hear from the kids when dinner takes an hour plus instead of the 20-minute rushed ordeal it usually is in order to get someone to wrestling practice or finish homework. (Sidenote: a few times when Valentine's has fallen on a busy, weeknight that doesn't lend itself to this dinner plan, we celebrate on the closest weekend.)
And truly, lighting the candles and eating dinner in this magical setting is something we all look forward to every year (especially me since Brian is the self-proclaimed Cupid-Dish-Doer; sweet).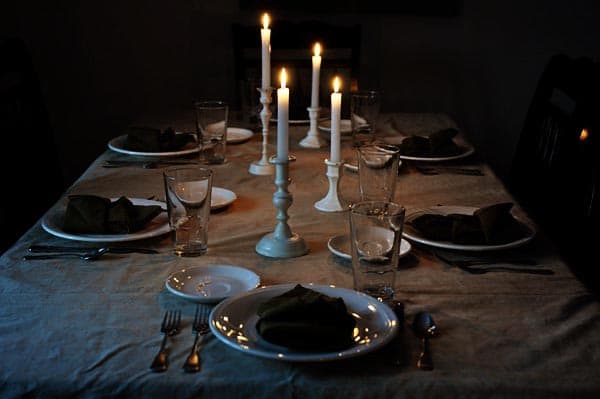 Below, I've offered five menus we've used in the past for this special candlelight dinner along with the menu cards that can be printed out and given to each family member at dinner if you chose to go the route of one of these preplanned menus. Of course you could change up the food selections however you please. Enjoy!
Elegant Taste Menu
{Printable Cards}
Starter:
Spinach Salad with Feta, Craisins and Sweet-Spicy Nuts
Entree:
Chicken Cordon Bleu
Au Gratin Potatoes
Roasted Asparagus
Buttery Cornmeal Crescent Roll
Dessert:
Crème brulee
Simple and Delicious Menu
{Printable Cards}
Starter:
Marinated Caprese Salad
Entree:
Beef and Broccoli
Fluffy Baked Brown (or white) Rice
Honey Lime Fruit Salad
Dessert:
Chocolate Molten Fudge Cake
Pasta Lovers Menu
{Printable Cards}
Starter:
Rustic Crusty Bread with Herb Butter
Entree:
Tuscan Garlic Chicken
Linguine
Skillet Squash Medley or Steamed broccoli
Dessert:
Creamy Nutella Cheesecake with Chocolate Sprinkle
Fine Dining Menu
{Printable Cards}
Starter:
Tomato Bisque Soup
Entree:
Brown Sugar Spiced Pork Loin
Baked Garlic Mashed Potatoes
Lion House Dinner Roll
Vegetables Saute in Light Cream Sauce
Dessert:
Heart Shaped Cream Puff
Down Home Menu
{Printable Cards}
Starter:
Spinach Artichoke Dip with Pita Wedges or Tortilla Chips
Entree:
Glazed Mini Meatloaf
Twice Baked Stuffed Potato
Fresh Green Beans with Balsamic Dressing
French Bread Roll
Dessert:
Red Velvet Cheesecake Cake