Fresh Fruit with Honey-Yogurt Dip
A simple combination of Greek yogurt, honey and cinnamon, this creamy fruit dip is absolutely wonderful paired with any kind of fresh fruit.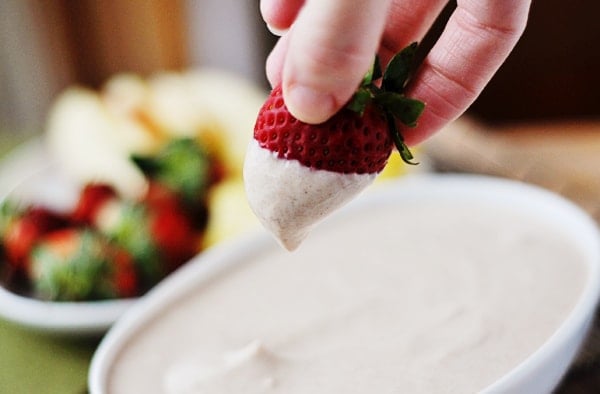 Let's talk about simplicity here. And we'll throw in a smidge of light, refreshing, deliciously healthy and yummy for good measure. I've been on the search for a lighter, less sweet fruit dip that compliments the fruit in a way to let the fresh, juicy fruit really shine, instead of covering it up in saccharine sweetness.
A simple combination of thick, luscious Greek yogurt, honey and cinnamon, this fruit dip is creamy and absolutely wonderful paired with fresh fruit of any variety: bananas, apples, strawberries, pineapple, cantaloupe, etc. And in reference to simplicity – it doesn't get any easier than this, trust me.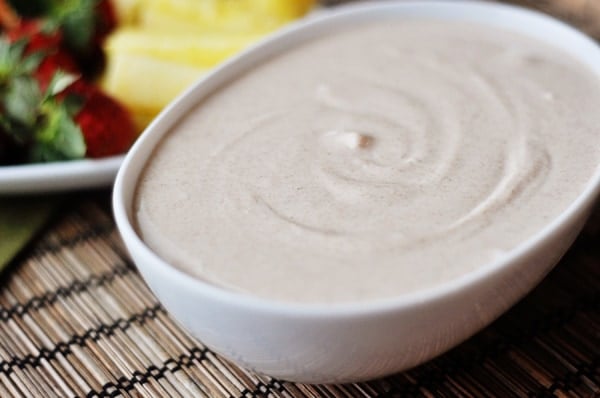 A fruit dip like this is perfect paired with some of the more hearty, rich appetizers of last week. Not only that, but it makes the ultimate after-school snack, as my happy children can attest.
Fresh Fruit with Honey-Yogurt Dip
Total Time:
1 hour
5 minutes
Ingredients
2 cups plain or vanilla Greek yogurt
1/2 cup honey (decrease to 1/4 cup if using vanilla yogurt)
1/2 teaspoon ground cinnamon
Assorted fresh fruit like apples, pineapple, strawberries, bananas, etc
Instructions
In a medium bowl, combine the yogurt, honey and cinnamon. Stir well.
Cover and refrigerate for at least an hour. Serve on a platter with fresh fruit. The dip keeps well in the refrigerator for 3-4 days.
Recommended Products
As an Amazon Associate and member of other affiliate programs, I earn from qualifying purchases.
Recipe Source: adapted slightly from Epicurious