Gingerbread White Chocolate Blondies
While the flavors of gingerbread and white chocolate may remind you more of the Christmas season than the summer season, let me tell you this: these blondies are worthy of being made all-year round.
I thought these might turn out to be heavy on the molasses and too gingerbread-y but I was wrong.
The combination of ingredients leaves these blondies with a delicious caramel, toffee-like flavor that has a hint of molasses and of course the creamy chunkiness of the white chocolate.
Fantastic. Utterly fantastic.
And a great, unique way to change-up the lovely old brownie that appears often at potlucks and parties.
Gingerbread White Chocolate Blondies
Yield: 9X13-inch pan

Prep Time: 15 minutes

Cook Time: 25 minutes

Total Time: 40 minutes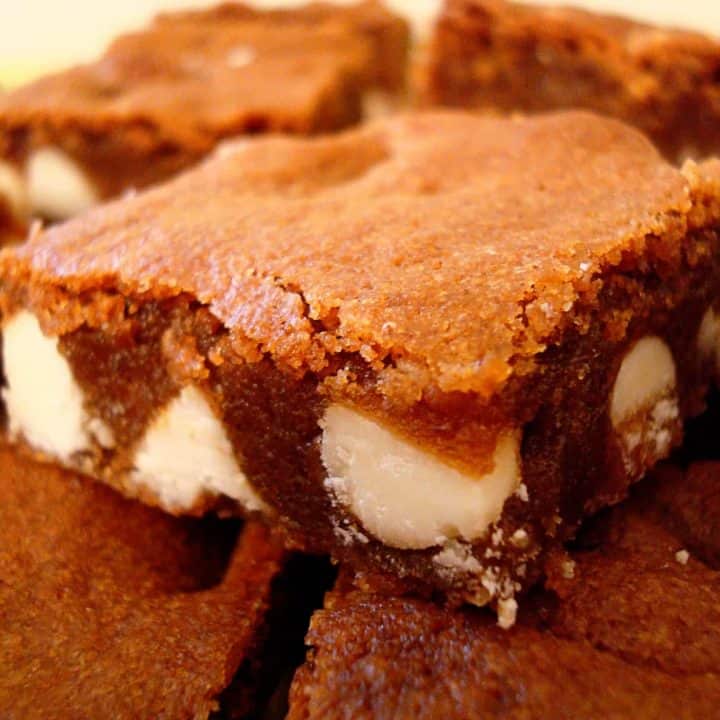 Ingredients
2 3/4 cups plus 2 tablespoons all-purpose flour
1 1/4 teaspoons baking soda
1/2 teaspoon salt
1 1/4 teaspoons ground cinnamon
1 teaspoon ground ginger
1/4 teaspoon ground cloves
1 1/4 cups (2 1/2 sticks) butter, room temperature
1 1/4 cups packed light brown sugar
1/2 cup plus 2 tablespoons granulated sugar
2 large eggs plus 1 egg yolk
1 1/4 teaspoons pure vanilla extract
1/3 cup unsulfured molasses
1 3/4 cups white chocolate chips
Nonstick cooking spray
Instructions
Preheat oven to 350 degrees F. Prepare a 13×9 baking dish with cooking spray and set aside (I lined my pan with aluminum foil and then sprayed the aluminum foil with cooking spray).
Whisk together flour, soda, salt, and spices in a bowl.
In the bowl of an electric mixer fitted with the paddle attachment (or with a hand mixer), beat butter and sugars on medium-high speed until creamy and pale, about 3 minutes. Add eggs and yolk one at a time, scraping down sides of bowl as needed. Add vanilla and molasses and mix on medium speed until combined.
Add flour mixture on low speed until combined. Stir in white chocolate.
Spread batter evenly into prepared pan and bake until golden around edges and toothpick comes out clean, about 25 minutes. Let cool completely in pan; cut into 24 squares. Blondies can be stored in airtight containers at room temperature up to 1 week.
Notes
I've had a few questions about these brownies "falling" after baking. They do fall in the middle and that is ok. I actually trimmed off the sides of the brownies (since they were ragged and a lot higher than the middle of the brownie) and saved them for my husband to eat. Then I cut up the uniform middle section of brownie into squares. Both parts taste great, the edges just don't look as pretty.

Recipe Source: adapted from Cooking This and That