Glazed Poppy Seed Bread
If you are up for an unbelievably moist, quick bread glazed with a hint of citrus, then this glazed poppy seed bread is just the thing.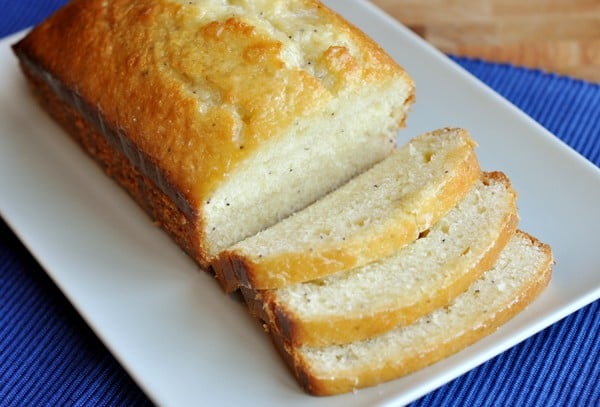 Let's just get it out in the open here and now.
This recipe should probably be called "Glazed Poppy Seed Cake" instead of bread since the ingredients lend themselves to something sweet, delicious, calorie-laden and splurge-worthy.
The only thing bread-like is the loaf pans that the batter is baked in. However, if you are up for an unbelievably moist, decadent quick bread/cake glazed with a hint of citrus and studded with poppy seeds then this is just the thing for you.
Despite my disclaimer above, we didn't enjoy this for dessert like a good cake should be enjoyed. No siree. The first loaf was long gone before dinner even came and went. Snack time, baby.
I made up for the lapse in good-eating judgment by only letting my children eat carrot sticks for every meal the next day while I selflessly finished off the bread so as not to let them fall into unhealthy eating habits at such a young age. I try to be the best example I can.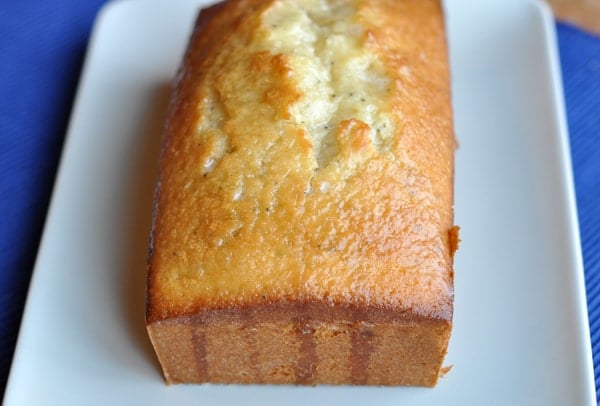 One Year Ago: Berries and Cream
Two Years Ago: Sweet Heat Louisiana Chili
Yield: 2 loaf pans

Prep Time: 15 minutes

Cook Time: 1 hour

Total Time: 1 hour 15 minutes
Ingredients
Bread:
3 eggs
1 cup vegetable oil
2 1/4 cups granulated sugar
3 cups flour
1 1/2 teaspoons salt
1 1/2 teaspoons baking powder
1 1/2 cups milk
1 1/2 teaspoons pure almond extract
1 1/2 teaspoons butter extract or 1 tablespoon melted butter
1 1/2 teaspoons pure vanilla extract
3 tablespoons poppy seeds
Glaze:
1/4 cup orange juice
3/4 cup granulated sugar
3/4 teaspoon pure vanilla extract
3/4 teaspoon pure almond extract
3/4 teaspoon butter extract or 1/2 tablespoon melted butter
Instructions
Line the bottom of the loaf pans with waxed or parchment paper and then grease and flour the entire loaf pan well.
In a large bowl whisk together the eggs and oil. In a medium-size bowl, whisk together the sugar, flour, salt and baking powder. Add 1/3 of the dry ingredients to the egg/oil mixture and whisk to combine. Add 1/2 of the milk and stir together. Add another 1/3 of the dry ingredients and mix well. Add the last half of the milk and stir. Finally add the last 1/3 of the dry ingredients and mix. Add the extracts and poppy seeds and mix well.
Pour the batter into the prepared loaf pans, filling about 2/3 to 3/4 full. Bake at 350 degrees for approximately 60 minutes checking often the last 10 minutes of baking to ensure the bread doesn't overbake. When completely baked, a toothpick inserted in the middle should pull out moist crumbs but not wet batter.
While the bread is baking, combine the glaze and ingredients and mix well. Set aside.
Let the bread sit in the pan for five minutes. Run a thin-edged knife around the edges of the bread and carefully remove the bread from the pans onto a wire rack set atop a layer of paper towels. Brush the tops of the bread with the glaze while the bread is still warm. Continue brushing and/or gently pouring until all the glaze is on the bread. Cool completely before slicing.
Notes
Butter: I couldn't bring myself to buy butter extract after spying the list of unpronounceable ingredients so I subbed melted butter which is like, SO much healthier, but use whatever you prefer!
Recommended Products
As an Amazon Associate and member of other affiliate programs, I earn from qualifying purchases.

Recipe Source: adapted slightly from Lisa C., an old high school friend
Disclaimer: I am a participant in the Amazon Services LLC Associates Program, an affiliate advertising program designed to provide a means for me to earn fees by linking to Amazon.com and affiliated sites. As an Amazon Associate I earn from qualifying purchases.