Mel's Holiday Gift Guide: Best Gift Ideas for KIDS!
Another year, another installment of my holiday gift guide for all the fun-loving kids in your life! You'll find something for everyone!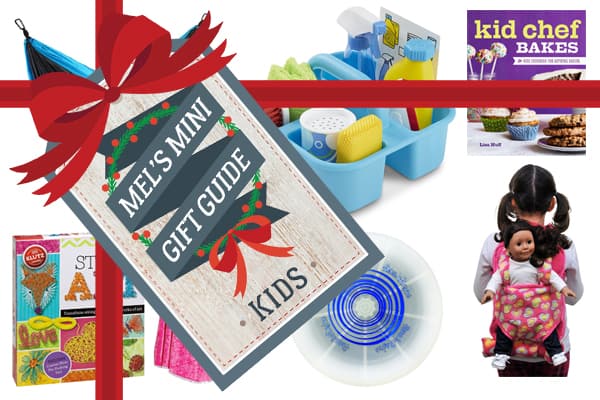 Hey, friends! It's the day after Thanksgiving, and I hope you survived all the pie.
Whether you are out fighting the Black Friday crowds (crazy people!) or are like me and are shopping from the safety of your own home, I have another gift guide for you today (games gift guide was last week!), and it's all about our favorite kid gifts from this year!
There are a range of gifts below for girls and boys with ideas for a variety of ages (my kids are 13, 12, 10, 8, 5 right now).
As always, none of the items below are sponsored (just stuff the kids genuinely love and we've bought or been gifted). Disclaimer: I am a participant in the Amazon Services LLC Associates Program, an affiliate advertising program designed to provide a means for me to earn fees by linking to Amazon.com and affiliated sites. As an Amazon Associate I earn from qualifying purchases.
I'd love to hear any kid favorites you have in the comments! New recommendations are THE BEST!
For a quick look at past gift guides, go HERE!


1. Hammock My boys are obsessed with these hammocks. My two oldest (13 and 12) saved up their money and each bought one this summer and then found clever ways to hook them up between the closest tree and the swingset (since our trees are too far apart). Naps, reading, lounging, playing. These hammocks are awesome and have withstood a lot of kid monkeying around (read: swinging and trying to flip each other out). Incidentally Jackson bought a double and Walker bought a single – the consensus is if you can swing it, a double is the way to go.
2. Baby backpack Cam loves wearing this baby backpack, and she's been known to stuff as many babies in as possible and cart them all over the house. It's advertised as being able to hold an American Girl doll, too, in case that matters (Cam doesn't have one of those so we haven't tested that firsthand).
3. Bop It I have a love/hate relationship with this somewhat annoying game, but my kids LOVE it. Like, seriously, they play it all the live long day (and so do all their friends that come over). I know it's been around for a long time, and I guess there's a reason. It's definitely a popular one around here. If I'm being honest, I mostly resent it because I can't get past 15 (while my kids get to 100 almost every time).

4. BluTrack I've waxed poetic about this BluTrack before – you know I (ahem, I mean my kids) must love it if it's the only recommendation today that's been a repeat from years past! My kids still have endless fun with this thing…wrapping it around the banister and down the stairs and over stools and sending cars zooming down and around. Still in love with the ol' BluTrack.
5. Balance Beans I meant to put this game in the game gift guide, but I forgot. So it's going here! And it deserves a spot, because it is so clever. I love how this game challenges critical thinking skills…but also manages to be super fun.
6. Nite Ize Frisbee You gotta love a good light up frisbee! This one is fun and durable (my brother told me about it), and makes night games (or just testing it out in a dark bathroom) super exciting.

7. Slack Line My parents gave this slack line to the kids last Christmas, and it provided hours and hours of fun this summer! We kept it up for a couple months straight, and it was a hit with my kids…and every other kid who came into our backyard. Again, I tried to be mom of the year and show my kids how walking across this thing is really done. And. Yeah. It didn't work out so well. But even the adults in this crowd had fun trying to balance and walk across this thing!
8. Melissa Doug Play Cleaning Set Cam loooooves to help me clean bathrooms (she's still young and naive, sweet thing) and this is the perfect cleaning set for her to "help" but not really "help," if you know what I mean. Plus, it is so stinking cute. And that's saying a lot for something that is mimicking my least favorite household job ever.
9. Kid Cookbook Really good kid cookbooks are hard to come by. We love this baking cookbook! The recipes are easy to follow, tasty, and there are a lot of pictures. Another one the kids love to look through and cook from is this MasterChef kids cookbook (this one is a little bit above beginner level, FYI).

10. String Art book My kids love crafts (particularly my 10- and 8-year olds) and this string art book has provided hours of entertainment for them. Some of the designs are a little tricky, and I have to step in, but for the most part, they can finish the designs themselves! I'm not going to lie, I've even sat down and made one or two. Kind of addicting and calming in a way.
11. Syma Helicopter We go through remote control helicopters like a kid with candy on Halloween. This is one of our longest lasting helicopters – it's still going strong a year later! That's saying something for an inexpensive remote control helicopter!
12. Calico critters. I know a lot of people are on the calico critters train already, but as new fans of these sets/creatures, I just have to give a shout out to how great they are. They are so cute and creative…and different from your every day dolls and dollhouses (nothing wrong with those either, by the way). This year, Cam is getting the school bus and woodland school house (good thing she's too young to read my blog and find out all her Christmas presents!).

13. Bookroo I haven't been a huge fan of subscription services in the past, but I have to give a big heads up about two of our favorites. First, Bookroo. If you love reading or have a child that loves reading, this monthly subscription is awesome. I've had it for just about a year for Cam (but the boys love the books, too). She gets a set of picture books each month, and it's our favorite thing in the history of ever as she unwraps them and we read them together. The books are high quality, beautiful, and all of them (except for one or two) have become favorite books. I'm a big supporter of our local library, but I love that Cam is building up a collection of such great books.
14. Peely Pack We love peely pack! This subscription comes with a TON of stickers and a foldable layout that can be decorated, colored, customized with stickers. I love the creativity this subscription brings out. Cam and Ty look forward to it all month and spends hours using the stickers and coloring the themed foldout.
15. Plastic SnapTite Model Car My 11-year old loves putting together model cars, and we've all realized we're a little happier at this phase of life with the snap-style model kits vs the glue-style model kits (that usually end in tears). He has a couple of these model cars put together and sitting on his dresser – lots of fun and a great project for boys and girls!

16. Fold Bago Bags Each of the kids has one of these Bago duffel bags, and not only do they save us on family road trips (revolutionized packing and organizing when each kid had their own bag), but the surprisingly strong, durable bags also fold up to a small pocket, so when they aren't in use, they can slide in a dresser drawer or under a bed, etc. LOVE them. Plus, there are tons of fun colors to choose from.
17. Smoky Mountain Cowgirl Boots These boots might be the best gift Cam received all year (birthday). She wears these cowgirl boots nonstop. I finally had to convince her to wear tennis shoes to school on gym day since running in cowgirl boots is just plain uncomfortable. They are durable, they don't stink (little kid feet can be stinky!), and they are darn cute.
18. Great Pretender's Cape And this cape is a close second to the boots in terms of how often it is worn. I did put the kabosh on cape-wearing to school, but this dress-up cape is still worn an awful lot. Enough that I'm kind of wanting one in my size???

19. Melissa Doug Slice and Bake Cookie Set Cutest play food ever! Cam still plays with the play kitchen Brian made her years ago for Christmas, and this little cookie set is the perfect addition to the pots and pans she already has. Basically, she "makes" me cookies all day long (wearing her cape and boots).
20. Michael Vey/Ranger's Apprentice Series I could probably do a whole post on just books. But here's a quick shout out to my older boys' favorite series the last year or so: Michael Vey and the Ranger's Apprentice. I can't even begin to tally up the hours I've spent at the kitchen island listening to them tell me the ins and outs of all of these books!
21. London Little Boots I am loving these London Little boots! I bought Cam the pink and white polka dot ones, and they are so adorable (and functional as we traipse around in muddy pastures on our property).
Disclaimer: I am a participant in the Amazon Services LLC Associates Program, an affiliate advertising program designed to provide a means for me to earn fees by linking to Amazon.com and affiliated sites. As an Amazon Associate I earn from qualifying purchases.
Disclaimer: I am a participant in the Amazon Services LLC Associates Program, an affiliate advertising program designed to provide a means for me to earn fees by linking to Amazon.com and affiliated sites. As an Amazon Associate I earn from qualifying purchases.