Video: How to Easily Wring Out Zucchini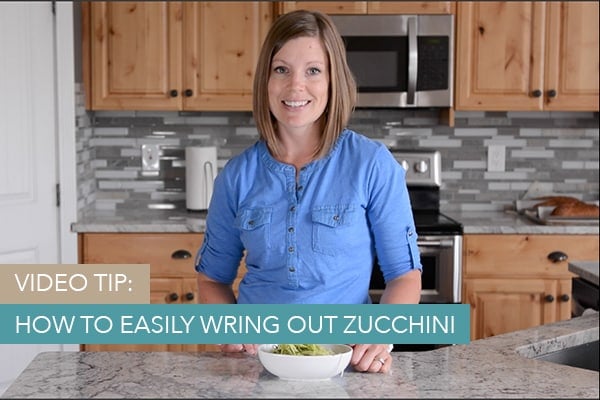 With all this talk of zucchini (tis the season!), I decided to shoot a quick video to show you three super easy ways to wring the excess water out of zucchini. Well, that and I've been working on my video editing skillz/software + my sweet friend dropped off four zucchini the size of baseball bats so what else was a girl to do but shoot a new video on the very, very important and life changing subject of wringing out zucchini.
Remember that not all recipes call for the zucchini to be drained or dry – only squeeze out that water if the recipe tells you to, ok? Happily, you'll now be armed with three solutions to get that zucchini dry, dry, dry.
Also, if you are inclined, leave a comment below telling me any other kitchen/cooking/baking tips you'd be interested in seeing and I'll add them to my list as I personally commit to shooting more video in the kitchen this fall (most likely with a little sidekick alongside as her four brothers will all be in school). I have a few pretty clever kitchen solutions up my sleeve to share with you on video soon, too.
Remember all of the videos can be seen on my Video Tips page as well as on Mel's Kitchen Cafe You Tube channel where you can subscribe so you'll know the very minute I post a new video (I know, hold yourself back).
Disclaimer: I am a participant in the Amazon Services LLC Associates Program, an affiliate advertising program designed to provide a means for me to earn fees by linking to Amazon.com and affiliated sites. As an Amazon Associate I earn from qualifying purchases.