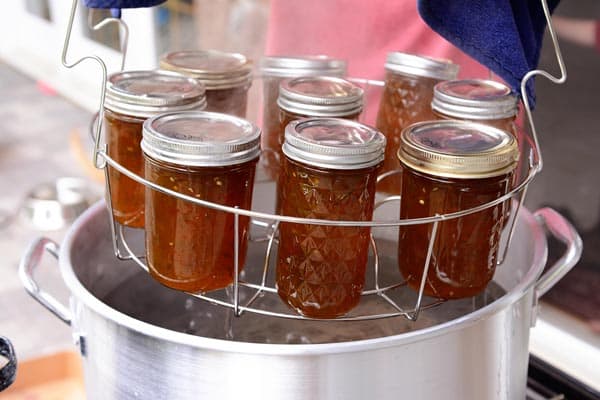 I'll admit that the idea of jalapeno jelly was a little, well, interesting, when my Aunt Marilyn gave me one of her precious jars (she's famous for this stuff). And if you are skeptical, too, I get it. I totally get it. But I'm telling you, you need to give this a chance. I am officially a skeptic no longer and I kind of want to convert the world to jalapeno jelly.
It is incredible. Sweet and spicy (the heat level is totally in your control), it is heavenly on crackers with a little dab of cream cheese. Heavenly, meaning: it's kind of the best thing ever. (Or try softening a whole brick of cream cheese, spooning on the jalapeno jelly and going to town with crackers.)
And if you think that's good (I do, I do!), try it on a panini sandwich. The best sandwich I've ever had in my life (and trust me, I've eaten a lot of sandwiches; they are one of my favorite food options ever) is a turkey, swiss, bacon, avocado, tomato, jalapeno jelly sandwich. Made even yummier panini-style (pressed and heated until melty and delish). I'm making myself very, very hungry.
More? Try it as a dipping sauce with grilled chicken or steak or just dabbed on a crusty roll. The options really are endless. Jalapeno jelly is in the running for the yummiest stuff on earth. Plus, because it's packed with intense flavors, a little dab'll do ya. I'm not going to say a jar of it will last forever (we blazed through my Aunt's jar in no time flat because I was anxious to try it on everything) but just know that a little goes a long way to get that sweet and spicy flavor.
Last summer, I promised you more canning recipes/tutorials. Consider this one in the lineup of hopefully many more to come! Tis the season for canning, after all. Below is a helpful step-by-step guide on water bath canning. If you are new to the whole canning thing, the same basic process can be used with any bottled recipe that can be canned in a water bath instead of in a pressure canner (low-acid foods need to be pressure canned but high-acid foods are safely processed in a water bath). Canning can seem intimidating but I promise, it's not hard. Check out this post on Water Bath Canning 101. It gives a great overview for the equipment you need to get started..
I know I'm kind of a nerd and all but when I was making this jalapeno jelly last weekend, I think the words "Canning is my life" actually came out of my mouth (and I even said it all alone out on my porch with no one to hear me…issues: I've got them). Hearing the little jars pop after they have sealed is like music to my ears and there's just something really satisfying (like, pioneer satisfying) about canning your own food. So let's get started!
A few tips on this jalapeno jelly:
1) You can make it as spicy or mild as you want. Keep in mind: jalapenos that are starting to turn red or have brown spotty stripes down the sides are going to be hotter than others. For this batch, I kept the seeds in just less than half (I doubled the batch so out of 20 jalapenos, I left the seeds in about 8 of them; my jalapenos were pure green without any stripes or signs of red and after tasting the jelly, I'm wishing I would have left the seeds in at least half – the jelly is still delicious but I want a bit more heat so my recommendation would be to start with seeding half the jalapenos if they have no signs of stripes or redness).
2) The original recipe calls for six cups of sugar (it is jelly after all) but I think you could play around with the sugar and suggest 5-6 cups in the recipe. Taste as you go and add more sugar if you want it sweeter.
3) I talk about it in this post, but 99% of the time, I use Pomona's pectin when canning fruit jams, jellies and syrups because you can get away with adding way, way, way less sugar than traditional pectins. But because this jalapeno jelly recipe relies on the sugar to give you that perfect blend of sweet and spicy, I stuck with the liquid pectin in my Aunt's recipe. If you decide to experiment with Pomona's or any other pectin, be sure and report back!
4) You'll see from the step-by-step pictures below that I take no chances when working with this many spicy peppers and don rubber gloves to avoid the accidentally-rub-my-eye-hours-later-and-pay-the-price scenario. I encourage you to do the same so no one ends up howling in spicy pain.
Okie doke. Let's get started. Oooh, boy, I'm excited. Aren't you?
Update August 2015: Several recent commenters have checked back saying their jelly isn't setting up. I'm going to test out another batch soon to see what may be happening since it's always set up for me. Keep in mind it is a soft set, not super firm. Also, if you are using powdered pectin, I can't know for sure why the jelly isn't setting up so be sure to use liquid pectin and if you like a firmer set, use another 2-3 ounces of pectin.
Ingredients
1 large red bell pepper
1 large green bell pepper
10 jalapenos (see note)
1 1/2 cups white vinegar
1/2 teaspoon salt
5-6 cups granulated sugar (see note)
1 3-ounce pouch liquid fruit pectin (like Certo)
Directions
Finely chop the bell peppers and jalapenos in a food processor fitted with a fine shredding blade (if you don't have a food processor, no worries, grab a knife and get started chopping up those peppers into little tiny pieces).
Add the peppers to a large pot (the jelly will foam when it first comes to a boil so use a pot at least 5-6 quarts for a single batch and larger if doubling the batch).
Stir in the vinegar, salt and sugar. Bring the mixture to a boil for 10 minutes, stirring often.
Add the liquid pectin and boil for 1 more minute.
Remove the pot from the heat. Pour the jelly to within 1/4-inch of the top of clean, warm canning jars. Wipe the rim of the jar with a damp rag. Place a lid and ring on each jar and process in a water bath canner for 10 minutes (you may need to add additional time if you live above sea level; the pectin box/info should give details).
Once removed from the water bath canner, let the jelly rest for 1-2 days to let it fully set up.
https://www.melskitchencafe.com/jalapeno-jelly-and-a-canning-tutorial/
Printed from Mel\'s Kitchen Cafe (www.melskitchencafe.com)
Recipe Source: from my Aunt Marilyn

——————————————————————————————————————————–