Mary's Very Authentic Egg Rolls
Get this recipe Mary's very authentic egg rolls. They are absolutely delicious, and are sure to wow your asian-food loving family and friends!
I'm a sucker for recipes that have existed for generations without any changes because they are that good. You just know you are going to get a winner with a recipe like that.
This recipe for egg rolls fits the bill in a most deliciously authentic way.
Last year while living in Wisconsin, I met a Hmong woman named, Mary. We instantly connected and became really good friends.
My last wish before moving was for Mary to teach me how to make her (actually they should probably officially be called Mary's husband's great-great grandmother's famous egg rolls). It is actually a recipe passed to her from her mother-in-law who lives with her and who came to the United States from Vietnam and still speaks very limited English.
This egg roll recipe is a staple in their family – they make it at least four or five times a week and the cutest thing you'll ever see is Mary's four-year old son, Kinkai, pound down four of these piping hot egg rolls like it is no one's business.
When Mary taught me how to make these, I had to force measured ingredients out of her because she has the recipe memorized and basically throws things together.
We finally got a written recipe together and oh my, they are divine.
Here are the secrets to these egg rolls that will make them better than any egg roll you have ever tasted (honestly, I wasn't a fan of egg rolls until these babies came into my life):
1) Do NOT use traditional egg roll wrappers (large wonton wrappers) – the reason these egg rolls are so good is they are wrapped in spring roll pastry. This makes the egg roll light and crispy instead of heavy and greasy. I have only ever found the TYJ (SpringHome) brand. They are square, about 6 inches, and are usually sold frozen. Just leave them out for an hour to defrost before wrapping the egg rolls.
2) These egg rolls are light on cabbage and heavy on vermicelli noodles and that is just the way my anti-cabbage husband likes them.
3) It wouldn't be the same eating these egg rolls without dipping them in a sweet red chili spring roll sauce. Find some at a grocery store near you – and clear the shelves. It is really delicious.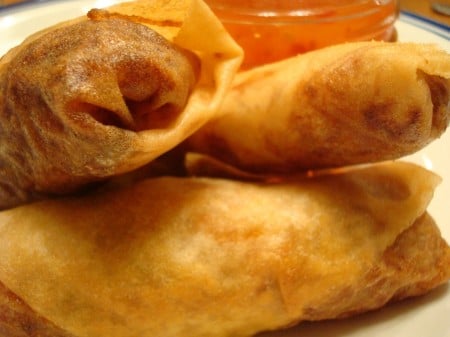 These rolls would be perfect as an appetizer, or as a main dish (which is how we ate them with some crisp veggies and salad on the side).
Mary's Very Authentic Egg Rolls
Total Time:
1 hour
5 minutes
Ingredients
Filling:
2 packages vermicelli (or Muong Bean Thread noodles) noodles (6 ounces total)
2-3 pounds meat (I use a combination of ground pork and ground turkey)
1 head of cabbage, shredded finely (or use 1 10-ounce package of pre-cut cabbage)
4 whole eggs
3 egg whites (save the egg yolks for sealing the egg rolls)
1/2 pound carrots, shredded finely (or use the 10-ounce bag of shredded matchstick carrots)
2 onions, finely chopped
Sauce:
3 tablespoons salt
8-10 tablespoons oyster sauce
4-5 tablespoons black soy sauce (I have trouble finding this so I just use normal soy sauce)
1 tablespoon black pepper
2 tablespoons fish sauce
50-100 spring roll pastry wrappers (not traditional egg roll/wonton wrappers - these are much thinner and lighter)
Instructions
Put the vermicelli noodles in a large bowl and pour hot water over noodles and let soak for 15-20 minutes (if using boiling water, soak for 10 minutes). Once soaked, drain very well and chop noodles up a bit into 2-3 inch pieces (not too short).
Mix all the filling ingredients (noodles, meat, cabbage, whole eggs, egg whites, carrots and onions) in a large bowl. Hand mixing works best. Then add the sauce ingredients.
Mix together.
Pull apart spring roll pastry wraps. Leave main stack of wraps covered with a damp towel while rolling egg rolls. Lay the wrap so it is a diagonal in front of you. Put a large spoonful of filling about an inch above the bottom diagonal. Fold up the bottom triangle and tuck under the filling then proceed to roll up the egg roll, folding in the sides and tucking them in. Moisten the top triangle with the remaining egg yolks and roll/press to seal.
Heat canola or vegetable oil (I always use canola oil) 1/3 full in pot. (I use my electric fry pan). Heat the oil to about 375 degrees. Fry egg rolls until golden brown and cooked through. Constantly turn the egg rolls so they don't overcook on one side. Drain on crumpled paper towels and serve with sweet chili sauce.
Recommended Products
As an Amazon Associate and member of other affiliate programs, I earn from qualifying purchases.