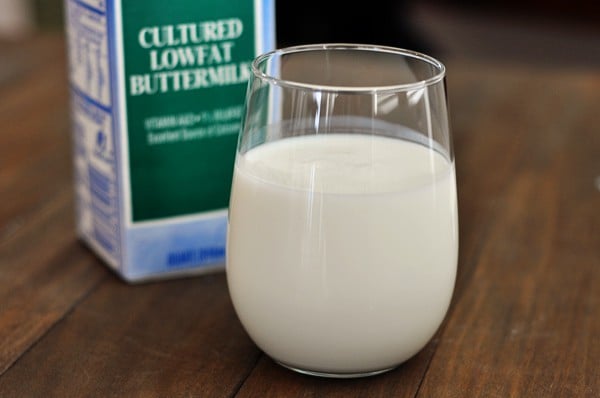 I have a zillion recipes that call for buttermilk (see below for a partial list of favorites). I love the stuff. It adds a delicious flavor to food and because of the acidity, when it is combined with baking soda, little bubbles are released during baking that give a wonderful lightness to baked goods. I almost always have the real deal on hand but it's been known to happen that I have run out. The horror! What's a girl to do when she's longing to make her favorite Buttermilk Banana Bread and there's no buttermilk? Well, never fear because buttermilk substitutions are some of the easiest to whip together and chances are you have all the needed ingredients (count: two) to make a great substitution.
Let's break it down, shall we? You basically have four options: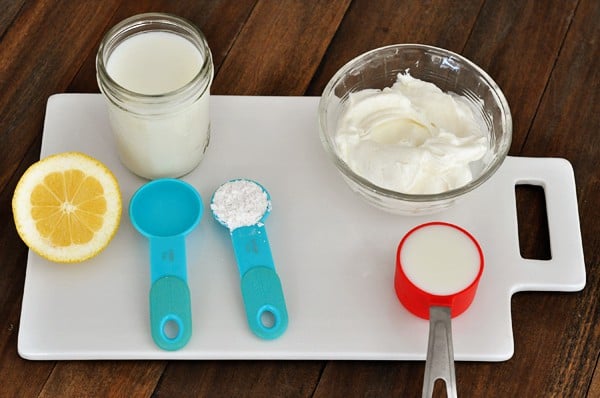 For the first three, you need a cup of milk. Choose ONE of the following to stir into the cup of milk: 1 tablespoon lemon juice, 1 tablespoon white vinegar or 1/2 tablespoon cream of tartar. Let the mixture sit for 5 minutes before using.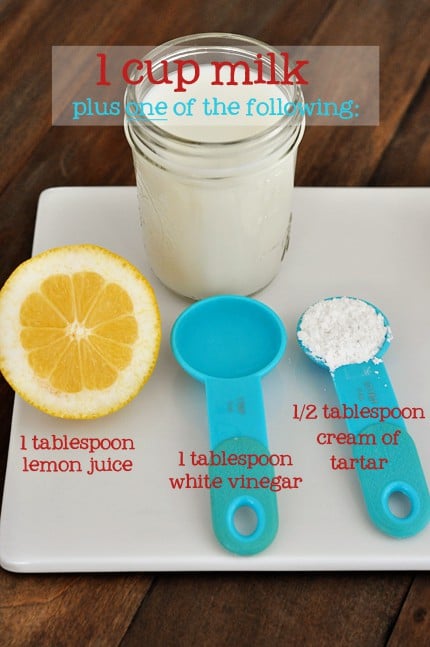 For the fourth option, whisk together 3/4 cup plain yogurt with 1/4 cup milk. Easy peasy!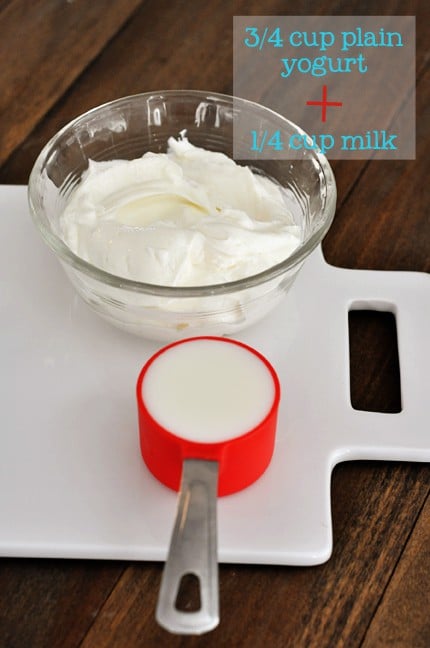 For the printable:
Click HERE to access a .jpg image – simply right click and select "copy image" and then paste it into a Word document (or other similar document type) and resize it larger or smaller depending on how big you want it to be when printed. For a simpler option, click HERE for a .pdf version (there are two printables on the page so find a friend and give one away or keep the extra in your scrapbook or something heartwarming like that).
Leftover homemade buttermilk can be stored in the refrigerator for a week or so, or better yet, freeze it in small 1/4 or 1/2 cup increments (storebought buttermilk freezes great, too). Now what are you waiting for? Go make some buttermilk…
Here is a list of my favorite recipes that call for buttermilk:
Buttermilk Lime Shortbread Bars
Buttermilk Banana Bread
Buttermilk Cinnamon Rolls with Cream Cheese Glaze
Gourmet Buttermilk Cookies
Classic Buttermilk Waffles
Vanilla Buttermilk Cupcakes
The Best Drop Biscuits
Refrigerator Bran Muffins
Sweet Orange Rolls
Whole Wheat Blender Pancakes
Red Velvet Sheet Cake
Whole Wheat Dinner Muffins
Chocolate Orange Swirl Muffins
Cheddar Herb Biscuits
Healthy Banana Bran Muffins
Rhubarb Streusel Cake
Oatmeal Pancake Mix
Heath Bar Cake
The Best Blueberry Muffins