Mel's Mini Holiday Gift Guide: All Things Kitchen
Check out my list of the best, of course tried-and-true, kitchen-themed gift ideas! There's something for everyone!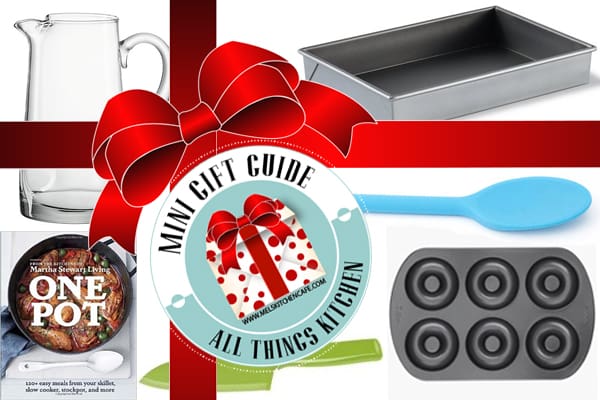 Disclaimer: this post is unsponsored (just sharing things I love); there are a few Amazon affiliate links scattered here and there. As always, feel free to shop around for the best deal!
The gift guide love continues! And today it's all about gifts from the kitchen. Not the homemade kind (we'll get to that in a few weeks!) but the all-wrapped-up-under-the-tree kind (some of these would make great stocking stuffers, too).
The gift ideas below range from practical to fun to essential, and each and everyone one of them I love and use often (as always, none of the items below are sponsored, although there are Amazon affiliate links scattered throughout – feel free to shop around for the best deal!). Some of them, I'm positively giddy to share with you and I'm kind of proud of myself for holding out so long. I've been wanting to talk about favorite kitchen stuff for a while now and if you know me well, you'll understand patience isn't my strong suit.
And as you know, I love hearing your favorites, too, so please share any kitchen recommendations in the comments! Here we go!


1) Almighty Baked Doughnut Pan. Over the last year, scattered throughout my posts, I've referenced my love for this doughnut pan. I've basically been using almost every muffin recipe on my site for this pan, which is magic because then my kids think they are eating donuts all.the.time; little do they know it's actually a healthy applesauce oat muffin. My sister gave me two of these earlier this year and I've probably used them 50 times. Love. Super love.
2) Oh My Goodness Cookbook. I am super choosy about cookbooks. Super. In fact, I don't really own that many. But I love this one. Not only is it packed with crazy good recipes (I've made the oatmeal cream pies, sweet Thai chili chicken, and a handful of others), it is filled with hand lettered art and the wittiest, most down to earth commentary ever (seriously, it had me laughing out loud). Written by two sisters, this is exactly what I would want a cookbook to be if I ever wrote one. P.S. If you go to the amazon link, you need to select the "more buying options" on the right to get to the Prime options.
3) Stackable Cooling Rack. I never knew I needed this so badly until I had it. Considering I sometimes have all my counters lined with baked goods, maximizing that space is critical (hello, holiday baking) and this stackable rack is fantastic. It's a little unwieldy setting it up, but it breaks down into a flattish piece and I store it with my other cooling racks. It's the largest of many of the stackable racks out there so I can get more cookies cooling. #priorities

4) Impressions Pitcher. From Crate and Barrel, this 2-quart pitcher is my favorite and it gets comments (nice ones) every time I pull it out for company thanks to it's slightly imperfect indentations (which is what I love about it the most). We use it almost nightly for ice water at the dinner table and because it is so reasonably priced, I actually have two which has come in really handy for when we have friends and family over. Let me back up, I had two until my innocently helping 6-year old accidentally dropped and cracked one a few weeks ago. Looks like I know what's back on my wish list.
5) French Bread Pans. Several of you recommended these pans to me when I posted homemade French bread on instagram months ago and I'm a huge convert. They are amazing; the French bread bakes crispy and golden on the outside and soft and chewy on the inside. Plus, they work well with doughs that are slightly softer (so they rise up instead of rising out and flattening). A definitely must for those that enjoy bread making and bread eating.
6) Smart Weigh Kitchen Scale. With great sadness, I said goodbye to my old kitchen scale I had been using for years and years. It died (read: was submerged in hot, soapy water by my 3-year old dishwashing assistant). I decided to go with this Smart Weigh kitchen scale because as much as I liked the other, I couldn't always read the display when using larger bowls or platters. Needless to say, I'm kind of wishing Cam had dunked the old kitchen scale earlier. I love this flat digital scale. It's accurate and easy to use + my large mixing bowls work perfectly. The only downside is the display shuts off fairly quickly so I have to keep an eye on that and work a little faster. No biggie, though, for all it's perks.


7) OXO Bench Scraper. I'd be lost without my bench scraper. This OXO model (my favorite of all the bench scrapers I've owned over the years) is heavy duty and durable and straight. Believe it or not, some bench scrapers are not and it irks me. I use this baby nearly daily. Slicing off pieces of dough for rolls, separating bread loaves, cutting brownies, caramels, scraping off my counter if it's crusty with flour and who knows what else. The list goes on and on. Get your friend a bench scraper. He or she needs it even if they don't know it yet.
8) Food Saver. A bigger ticket item, a food saver was something I resisted for a long time. But when I finally caved, I realized what I'd been missing. I don't use it daily but when I do pull it out, I'm so happy it's in my life. I've used it mostly for leftover meats and meals, freezing fresh meats, and the handy dandy attachment that sucks the air out of mason jars is brilliant (think: granola that can last a long, long time).
9) Small Santoku Knife. This is one of the most used knives in my kitchen. The smaller 5-inch blade is perfect for so many things and it is an essential tool for me (and my older kids can handle it pretty well, too).


10) 2-Cup Measure. Seriously, I love this measuring cup so much. Do you know how many stinking recipes there are out there that call for two cups this or two cups that? No more wasting precious time measuring cup after cup. Not only has it made me more efficient in the kitchen, it's also made me realize that two cups chocolate chips is just not enough for a batch of cookies.
11) Zeal the Spoon. Ok, I'm going to sound like a freak. But I have never loved something as much as this spoon. Seriously. My brother-in-law, Brad, and his wife, Cass, gave me one of these last year and I was instantly smitten. It's a heavy-duty metal spoon incased in silicone and this thing is amazing. I use it for everything. Everything! Cookies, soups, scrambled eggs, muffin batter. The list is endless. But here's the problem, it's not available on Amazon anymore. The best place to get these spoons is in local kitchen stores (unless you want to pay shipping from Australia or the United Kingdom). Why am I even mentioning it? Because, if you ever, ever find one of these spoons in a store anywhere, buy them out and give them as gifts for the rest of your life (incidentally, their vegetable peeler and smaller spoons and spatulas are pretty awesome, too). Also, if you happen to live in Orem, Utah, the Harmons in Orem has a huge selection of these (you don't even want to know how many of them I bought when we drove through there last month).
12) Flour Sack Towels. My mom told me the other day that I'm getting quite old-fashioned in my kitchen favorites since flour sack towels used to be all the rage when she was a young mom. Of course, back then, they were probably embroidered with acorns and leaves. I love these towels. They are thin and durable and I use them for everything from drying dishes to covering my rolls and bread while they rise (so long greased plastic wrap). You can't go wrong with these.
13) Rada Bread Knife. Another recommendation from some of you! I agree whole-heartedly that this Rada bread knife is rad. I've been using an old, old serrated knife from a Sam's Club knife set we've had for 13 years and although it was fine, I didn't realize how maybe un-fine it was until I got this Rada beauty. Economically priced, this thing is a beast. It cuts through nearly frozen bread loaves and has actually revolutionized my kids being able to slice their own pieces of homemade bread. I have the longer knife but there's a shorter model and a bagel knife, too.
14) Penzey's Spices. It's no secret I love Penzey's – I'm a loyal fan and their spices make great gifts. I've listed my recommendations many times in archived posts but for the record you can't go wrong with these: sweet curry powder, sandwich sprinkle, their proprietary cinnamon blend, dutch-process cocoa, smoked or sweet paprika, chili powder, and many others.
15) Cookie Scoops. I've talked in length about how much I love my cookie scoops (and use them for many other things besides just scooping cookies!). All cookie scoops are not the same. I love the OXO brand because the spring doesn't pop out causing me to say bad words. I use the medium #40 size the most but the other two sizes come in awfully handy. Here's a link to the 3-pack.


16) Martha Stewart's One Pot Cookbook. Again, I'm a choosy cookbook buyer. But this is another cookbook that has completely won me over. I've made probably six recipes (pressure cooker chili, coconut beef curry, and more) and let me tell you, it's a winner of a cookbook. The recipes truly are one pot (using a variety of methods: slow cooker, skillet, casserole dish, etc.) and are from-scratch recipes that are simple and super delicious. It would make a fabulous gift. Great job on this one, Martha.
17) Calphalon Baking Pan. Seriously, waxing poetic about a 9X13-inch pan? Oh yes I am. And let me tell you why. It is very difficult to find a durable 9X13-inch pan that bakes evenly and has 90-degree straight edges. Do those curved edges on many 9X13-inch pans drive anyone else nuts? OCD'ers unite. This pan is for you and me. I have two and they are the only 9X13-inch pans I use for baking (plus they come with a lid which makes me love them even more).
18) Crate and Barrel Mini Spatulas. And finally. Mini spatulas for the win. Why on earth would one need a mini spatula? Don't make me count the ways. I've been wordy enough in this post. Suffice to say, these handy little tools are used all the time. Perfect stocking stuffers!
And that's a wrap! (haha) I'll be sharing my last two little gift guides next week or so along with obviously some delicious eats and treats. If you are looking for more gift ideas, here are a few past gift guides I've put together.
Disclaimer: I am a participant in the Amazon Services LLC Associates Program, an affiliate advertising program designed to provide a means for me to earn fees by linking to Amazon.com and affiliated sites. As an Amazon Associate I earn from qualifying purchases.