Overnight Maple & Brown Sugar Oatmeal
The combination of pure maple syrup and brown sugar in this overnight maple & brown sugar steel-cut oat oatmeal makes for a delicious and healthy breakfast.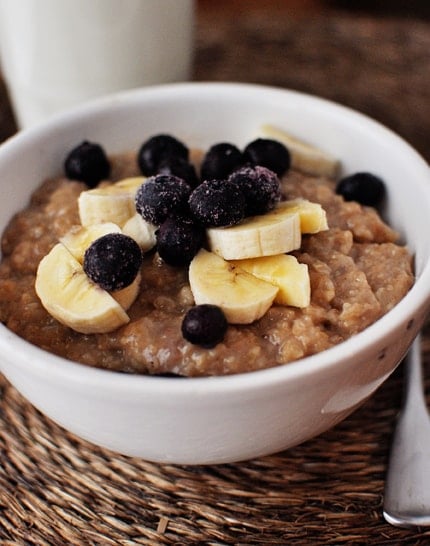 Here's the rundown on what breakfast looks like around here on any given week:
2-3 mornings a week = my favorite Oatmeal Pancake Mix
1-2 morning a week = simple french toast (with homemade whole wheat bread, usually pulled out of the freezer)
1 morning a week = scrambled eggs and toast (sometimes we mix it up by putting the eggs in a tortilla with cheese – I know, crazy)
1 morning a week = fresh or frozen fruit smoothies with Refrigerator Bran Muffins or toast
1-2 mornings a week = cold cereal (my kids think I'm ultra-boring because the options usually consist of shredded wheats, cheerios, or….cheerios – I told you we were crazy)
I like to send my kids off to school (and keep the tummies full of the little ones still at home) with a hearty and hopefully hot breakfast but sometimes (all the time!) mornings are hectic with lunch-packing and generally just getting out the door.
So imagine my delight when my sister, Emily, introduced me to the concept of overnight oatmeal. Um, huh? What? Where have I been?
Basically, steel cut oats cook in a slightly sweet bath all night long and the kids and I get to wake up to an instant breakfast. I was skeptical that it would really work and wondered if the oats would fall apart after cooking that long.
The key is using steel cut oats. They hold up beautifully to the long cooking time and the oatmeal, after a good, thorough stir, is ready for scooping and heaping upon lots of fresh fruit. The combination of pure maple syrup and brown sugar with the hearty oats makes for a fantastically, delicious and healthy breakfast.
We prefer our oatmeal with a sturdier consistency because we like to pour a bit of milk over it when adding fresh or dried fruit (I've included a note with the recipe below allowing for the right oatmeal consistency). I usually pull out the myriad of fruit options, stick them on the counter, chop up what needs to be chopped and my kids go at it.
I scoop oatmeal in their bowl and they load on the fruit and milk. It has definitely become a favorite breakfast around here and our fruit options consist of any of the following: raisins, dried cranberries or cherries, dried/fresh/frozen blueberries, sliced bananas, chopped apples or pears, chopped nectarines or peaches (when in season), fresh pineapple chunks, fresh orange segments, fresh or frozen strawberries…and probably others I am forgetting.
We eat breakfast around 7:00 a.m. so I set the oatmeal to cooking in the slow cooker around 11:00 p.m. and head to bed. It's perfect right around the time we all wake up starving. I'm so happy to be able to add another do-able breakfast option to the above list. Enjoy!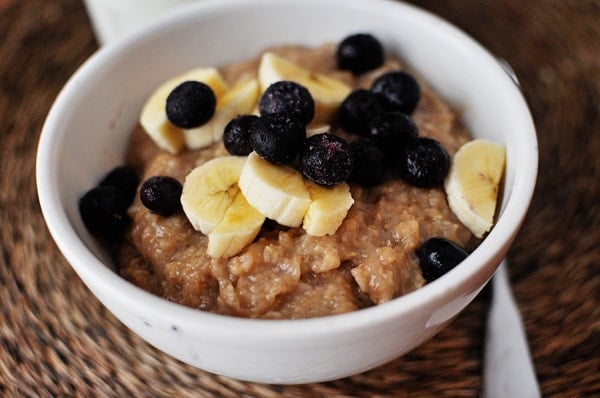 One Year Ago: Southwestern Chicken Barley Chili
Two Years Ago: Classic Italian Lasagna
Three Years Ago: Asian Lettuce Wraps
Overnight Maple & Brown Sugar Oatmeal
Yield: 6-8 servings

Prep Time: 5 minutes

Cook Time: 8 hours

Total Time: 8 hours 5 minutes
Ingredients
6-8 cups water (see note)
2 cups steel cut oats
1/4 cup pure maple syrup
1/4 cup packed light brown sugar
1/2 teaspoon salt
1 teaspoon ground cinnamon
3/4 cup dried blueberries (optional)
Instructions
Lightly coat the inside of a 4-5 quart slow cooker with cooking spray.
Combine all the ingredients in the slow cooker and stir.
Cook for 7-8 hours on low. Stir thoroughly before serving with a rubber spatula or wooden spoon. Serve immediately.
The leftover oatmeal can be portioned into tupperware-like containers and refrigerated to be reheated and enjoyed for 3-4 days.
Notes
Oats: steel cut oats are essential in this recipe. Quick oats or regular rolled oats won't hold up to the long cooking time in the slow cooker.

Liquid: also, the liquid measurement completely depends on how you like your oatmeal. My sister, who gave me the recipe, cooks her oatmeal in the slow cooker with 8 cups water to 2 cups steel cut oats but she doesn't add any milk or liquid in the morning when serving. I, on the other hand, like a sturdier oatmeal consistency because we pour a bit of milk on ours when serving, so I use 6 cups water to 2 cups steel cut oats. Judge the liquid-to-oats ratio based on how you like to eat your oatmeal.
Recommended Products
As an Amazon Associate and member of other affiliate programs, I earn from qualifying purchases.

Recipe Source: sent to me by my sister, Emily
Disclaimer: I am a participant in the Amazon Services LLC Associates Program, an affiliate advertising program designed to provide a means for me to earn fees by linking to Amazon.com and affiliated sites. As an Amazon Associate I earn from qualifying purchases.