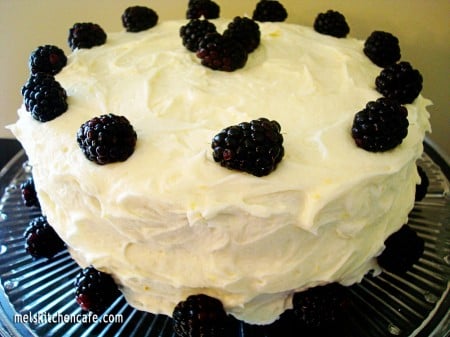 This cake is phenomenal. I've had it bookmarked from my friend Kristin's blog, You Got Served, for months now and I finally got around to making it for my birthday earlier this year. It did not disappoint. The cake was intensely moist and perfectly zingy with lemon flavor and the frosting is absolutely divine. In fact, I'm convinced the secret weapon of this cake is the frosting. I'm definitely glad to add this to my tried-and-true cake arsenal! (Sorry for the lack of pictures once the cake was cut into – my only defense was it was my birthday and I was more interested in satisfying my birthday cake craving than in taking pictures!)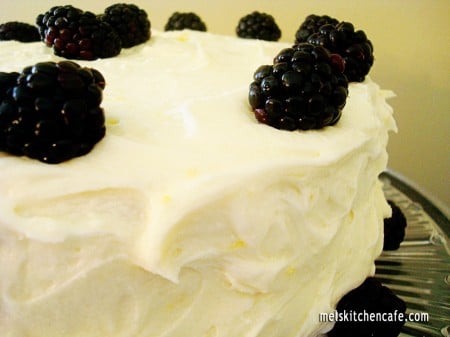 Ingredients
1 package lemon cake mix
1 cup sour cream
3/4 cup water
3/4 cup oil
4 eggs
1 small package lemon instant pudding
1 cup (2 sticks) butter, very soft
6-8 cups powdered sugar
1/2 cup fresh lemon juice
1 teaspoon grated lemon zest
Directions
For the cake, mix dry ingredients. Add wet ingredients. Mix with electric mixer on medium speed for about two minutes. Pour into a greased 9×11 pan or two round pans. Bake at 350 degrees for 25-30 minutes. Don't overbake or the cake will be too dry!
You can also make cupcakes and bake them at 350 degrees for 20 minutes. The cupcakes will fall after they come out of the oven, but this is normal. Just fill up the indentation with more frosting.
For the frosting, place the butter in a large mixing bowl. Add 4 cups of sugar, then the juice and the zest. Beat until smooth and creamy. Gradually add the remaining sugar, 1 cup at a time, until icing is thick enough to be of good spreading consistency (I added about 6 cups total). Use and store at room temperature. (Don't refrigerate and it will last in a covered container for about three days.)
Garnish with berries, if desired.
https://www.melskitchencafe.com/perfect-lemon-cake/
Printed from Mel\'s Kitchen Cafe (www.melskitchencafe.com)
Recipe Source: adapted from You Got Served