Lemon Cream Cheese Crumb Muffins
In these ultra-soft and tender lemon cream cheese crumb muffins, cream cheese is mixed right into the batter making the tastiest lemon muffin ever. And that crumb topping? Divine!
It might surprise you to know I was not planning on sharing lemon cream cheese crumb muffins with you today.
No, no. I had another post entirely planned.
And if you didn't know, planning is kind of my middle name.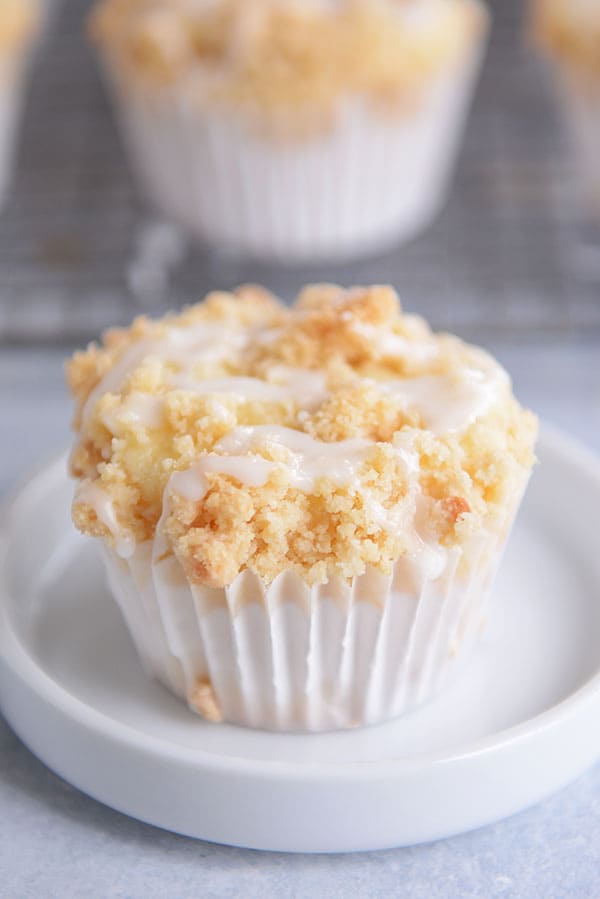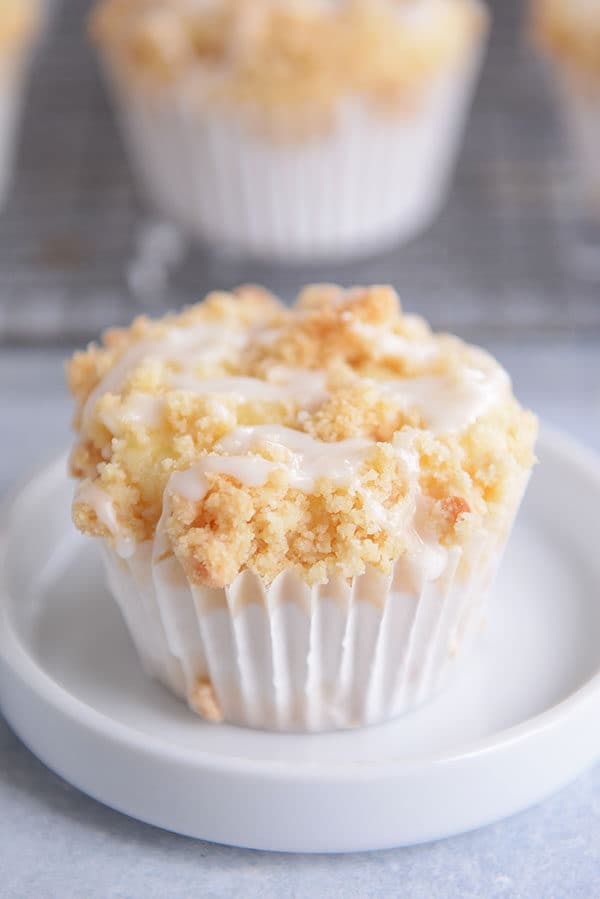 I plan. I plan all the time. I plan my life. And I'll even plan your life if you want me to (nothing better than telling someone else how to map out their life!).
I love it. Planning and scheduling.
It calms me and makes me happy, even if most my time is spent planning, instead of, you know, actually doing.
My sister makes fun of me every time she can, because I still use an old school paper planner to chart out our family's schedule and my never-ending to-do lists.
Don't mock it, man.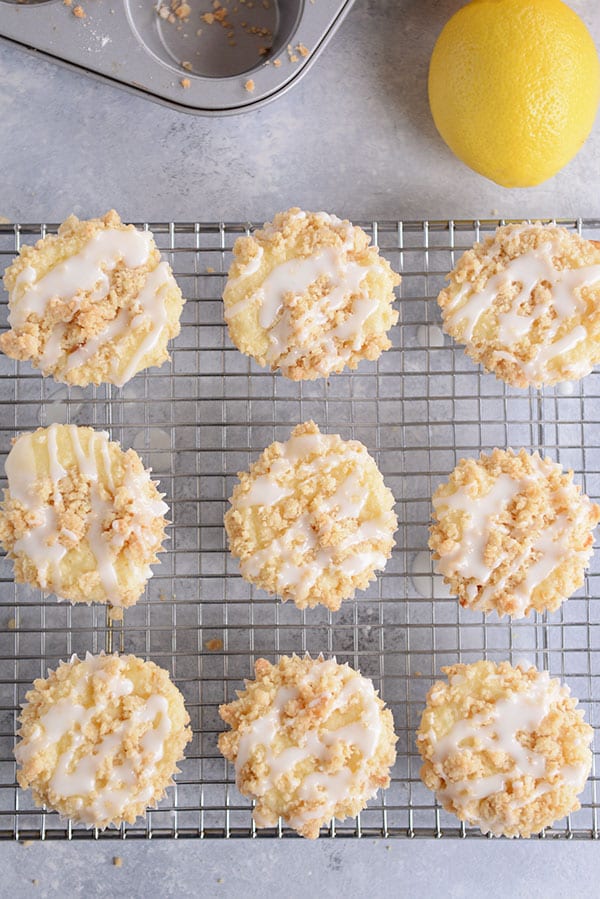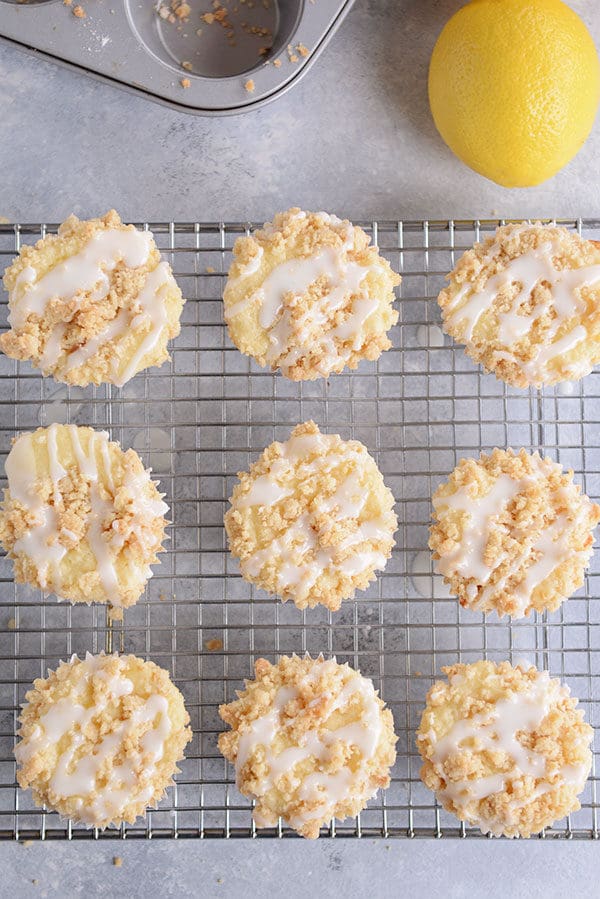 Every time a phone dies a sad, sad death and loses a lifetime of calendaring to the black abyss of virtual and electronic nothingness, I sit over here clutching my spiral bound paper planner, peacefully gloating (er, I mean knowing) that I still know who I am, where I need to be, and what I need to do.
Don't get me wrong.
I do a lot of electronic list-making and calendaring, especially for my blog, but it's always handwritten as a 2nd backup in my trusty planner.
My point with all this (I promise, I'm getting there) is that in tiny little scribbles in my planner and in Corbel font on my electronic calendar, I was fully intending on telling you all about fruit pizza today.
Yummy, right?
I promise I'll get to that some other day.
But after I made these lemon cream cheese crumb muffins on a whim Friday afternoon, I knew fruit pizza was getting replaced (sorry, FP).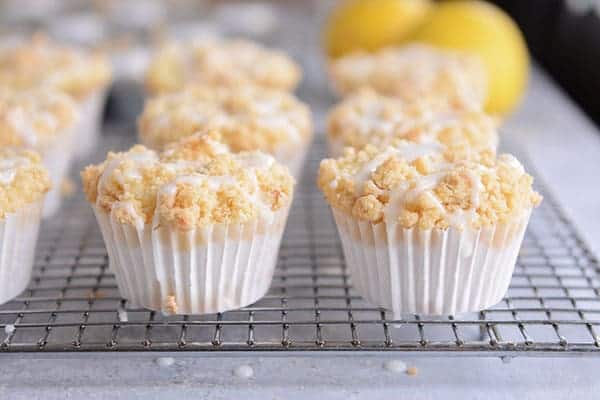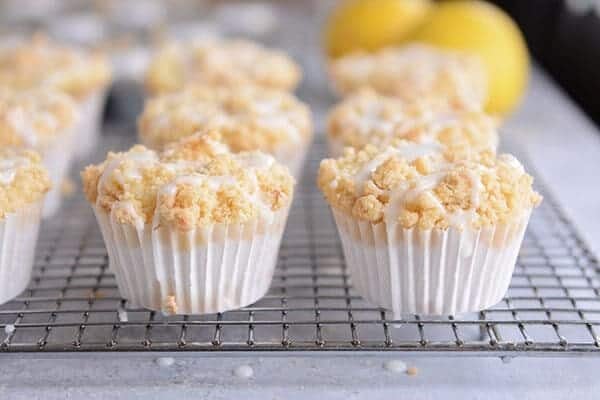 You may have seen my Instagram stories about these muffins, but if not, it basically consisted of this: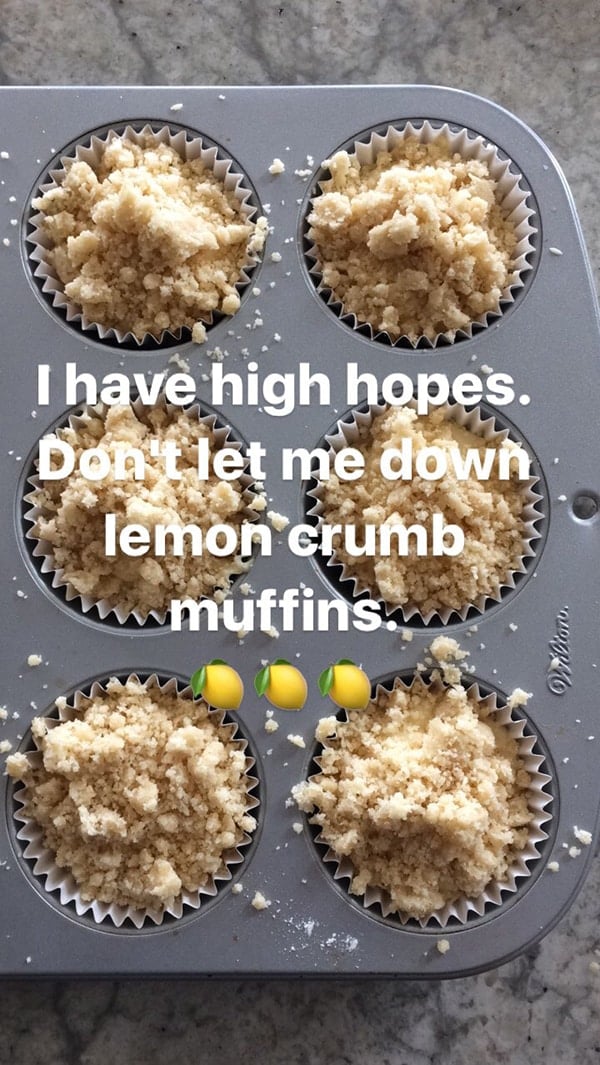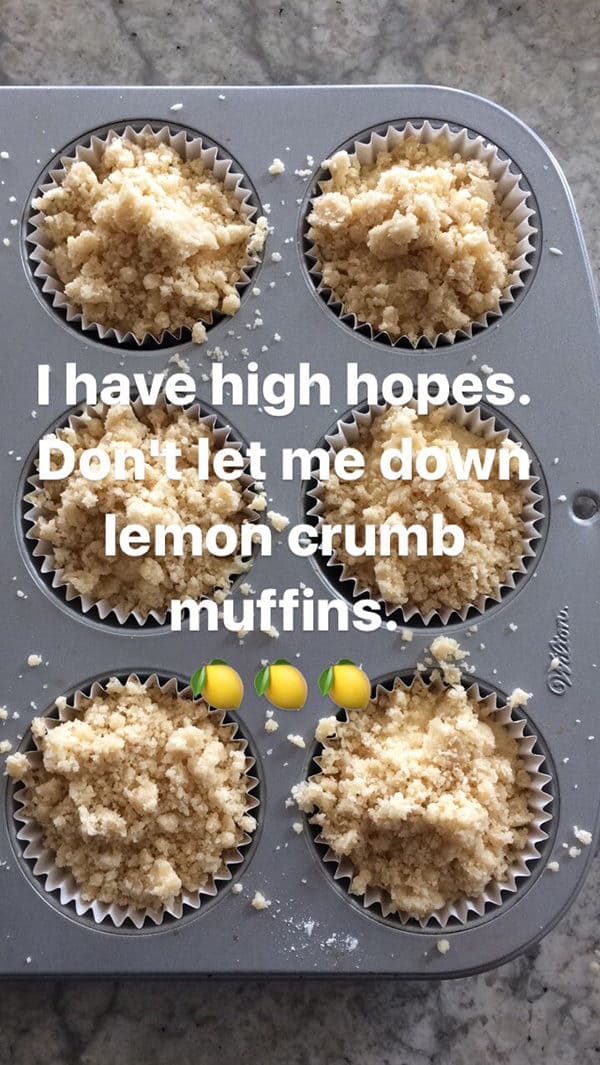 And then approximately 22 (baking + glazing) minutes later, it was this (just ignore that misshapen muffin up there; it was gobbled up for research purposes):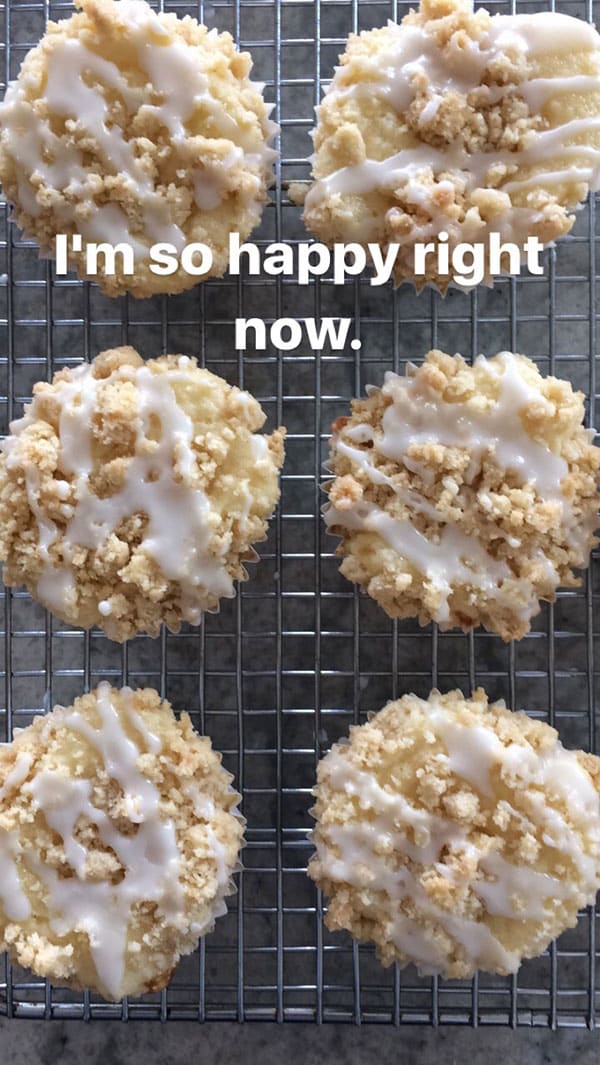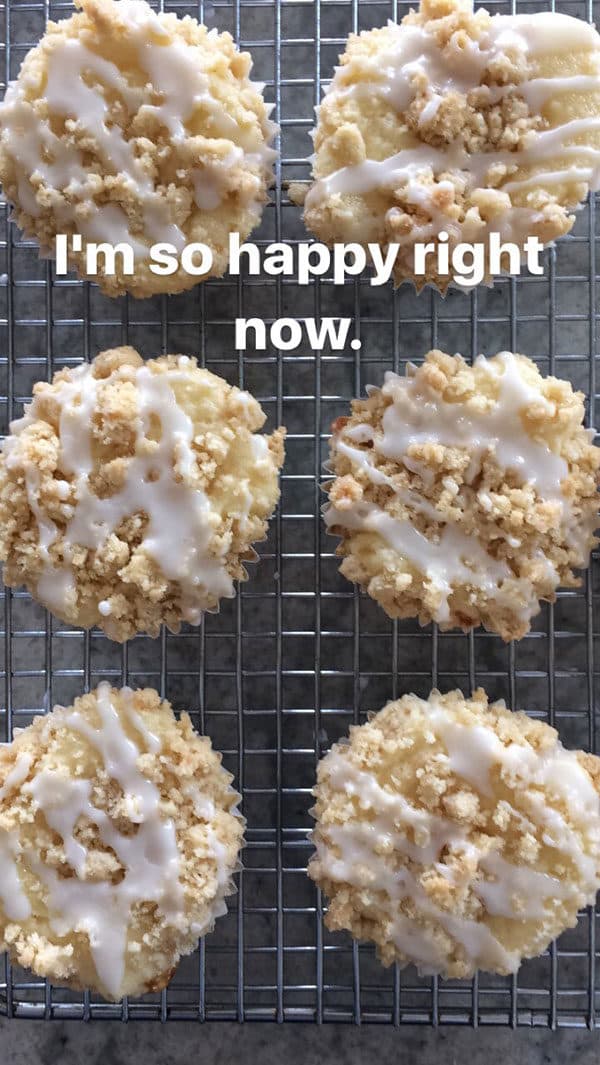 Seriously, these lemon cream cheese crumb muffins are some of the most delightful, most delicious muffins EVER.
Hence the reason I threw my planner to the wind (not literally, I would die if I did that), and decided to post the recipe for these muffins today instead of my longterm fruit pizza plan.
I hesitated to even put "cream cheese" up there in the title, because I think some people may misinterpret that and think they are going to get a dollop of sweetened cream cheese in the center of the muffin.
Not so, not so.
If you've made these divine blueberry cream cheese muffins, you'll know where I'm going with this.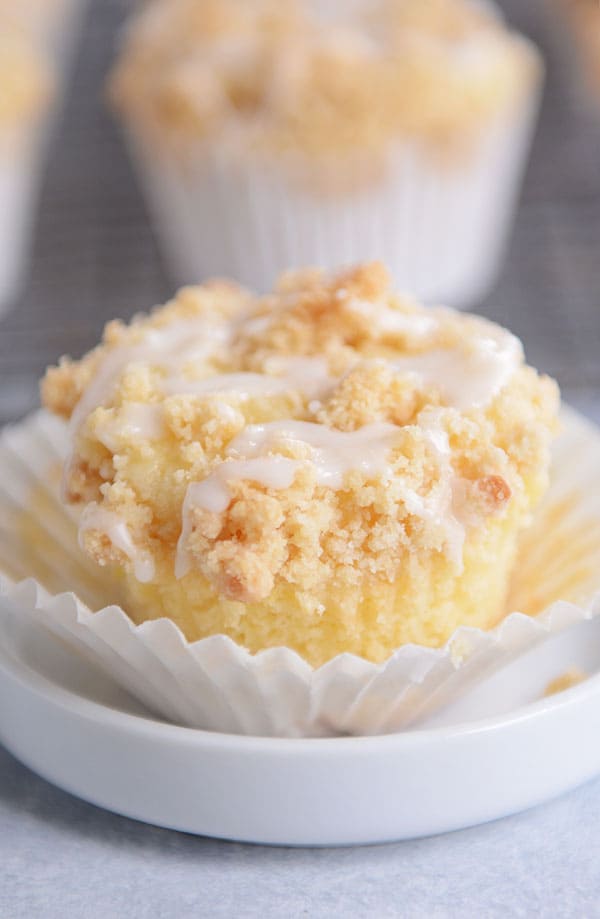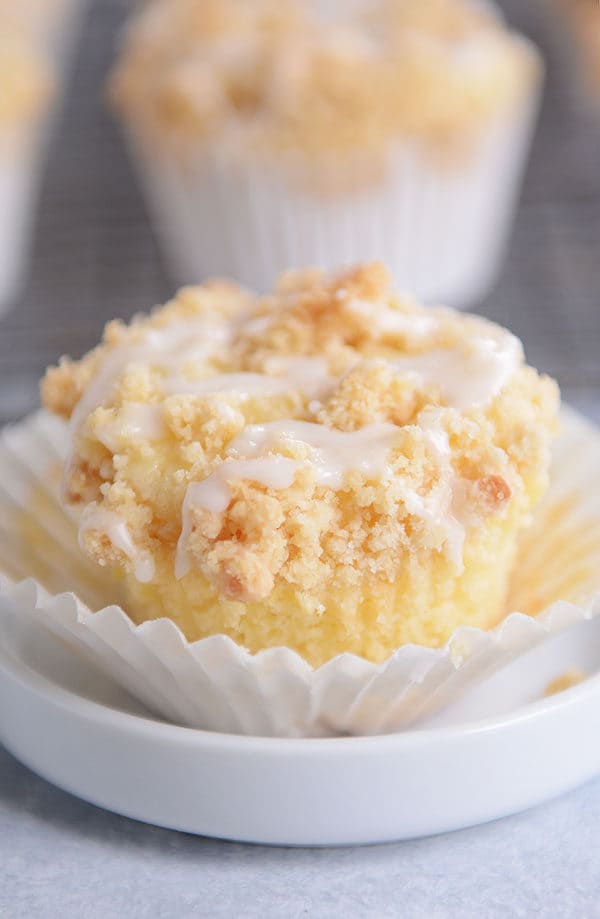 Cream cheese is actually mixed into the batter with the butter and sugar. And it is amazing.
It's what makes the crumb of the muffins sturdy but still so creamy and ethereally soft.
If you want a testimonial of the glorious and miraculous things cream cheese does when it forms the basic foundational elements of muffin batter, just read the comments on the blueberry cream cheese muffins.
There are a lot of believers out there, not just me.
Cream Cheese Muffin Batter Believers Unite.
On Friday, when I found myself with an unexpected pocket of time and a bag of lemons staring me in the face, I decided instead of, you know, mopping my floors, it might be a good idea to take that fabulous blueberry cream cheese muffin recipe and turn it into a lemon cream cheese muffin.
And then add a buttery, sweet crumb topping.
And then, of course, a delightfully tart glaze.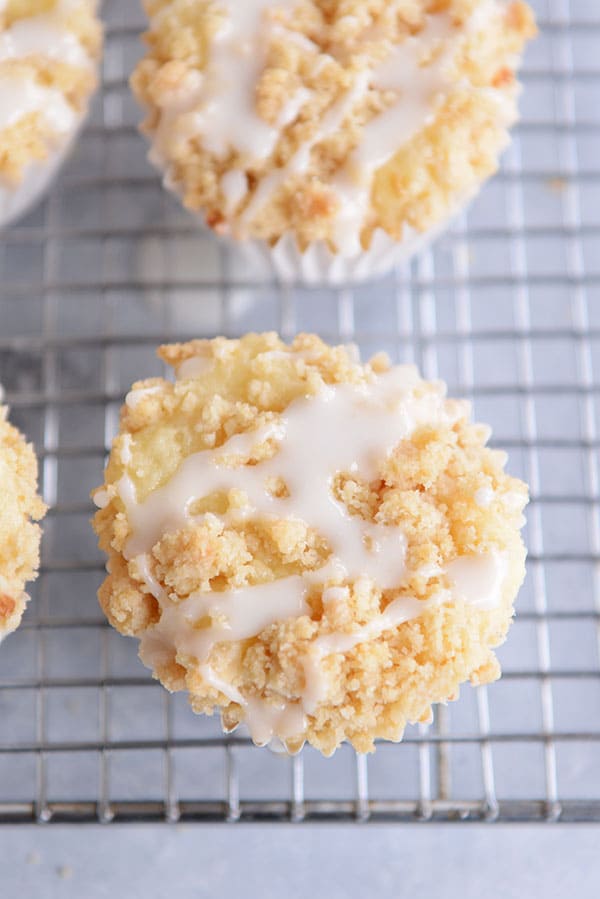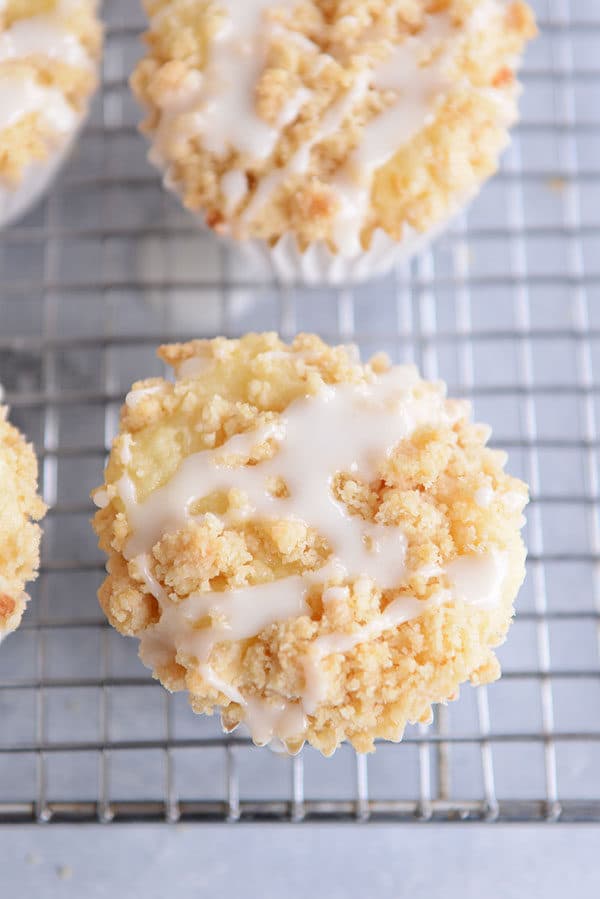 I couldn't believe how perfectly these lemon cream cheese crumb muffins turned out.
Enough fresh lemon flavor in the crumb to be be decidedly lemon (no vanilla muffins here posing as lemon muffins), the crumb topping and creamy glaze are like the icing on the cake.
In fact, the base of the lemon cream cheese muffin is so ridiculously yummy, I can see it standing very well on its own without the topping or glaze.
Or, maybe tossing in some poppy seeds and going straight for a lemon poppy seed muffin.
These crumb-topped lemon cream cheese muffins clearly fall on the "treatsy" (totally a word) side of muffin making.
While the actual muffin isn't overly sweet, the crumb topping and sugary glaze basically strip out any "healthy and wholesome" muffin points.
I have no beef with this, personally, but it's a valid disclaimer for those that think muffins should only consist of spinach and chia seeds.
Instead of a breakfast muffin, these might be more suited to bridal/baby showers. Parties. Luncheons.
Or you know, after school snacks or late night lemon binging. Let us all be the masters of our own muffin making and consumption; no judging here.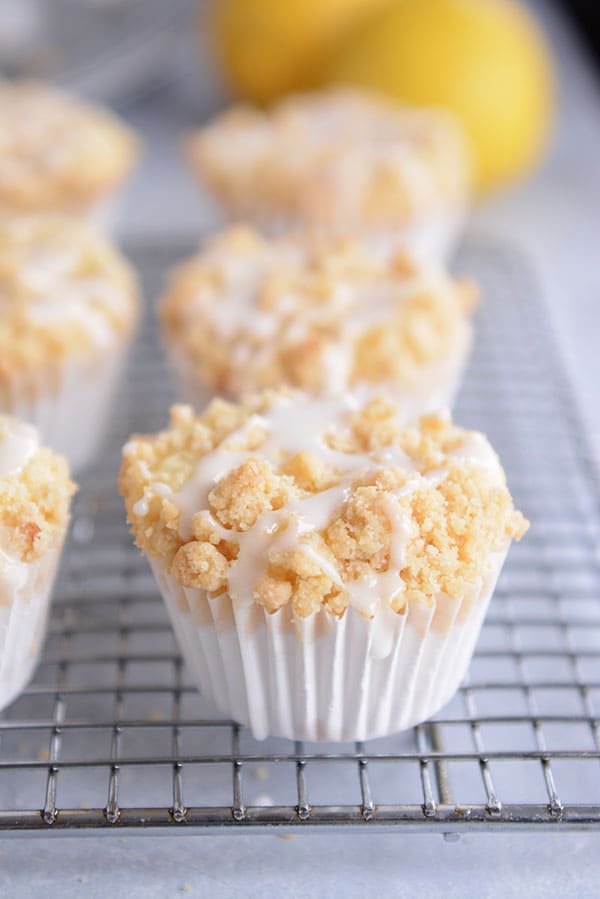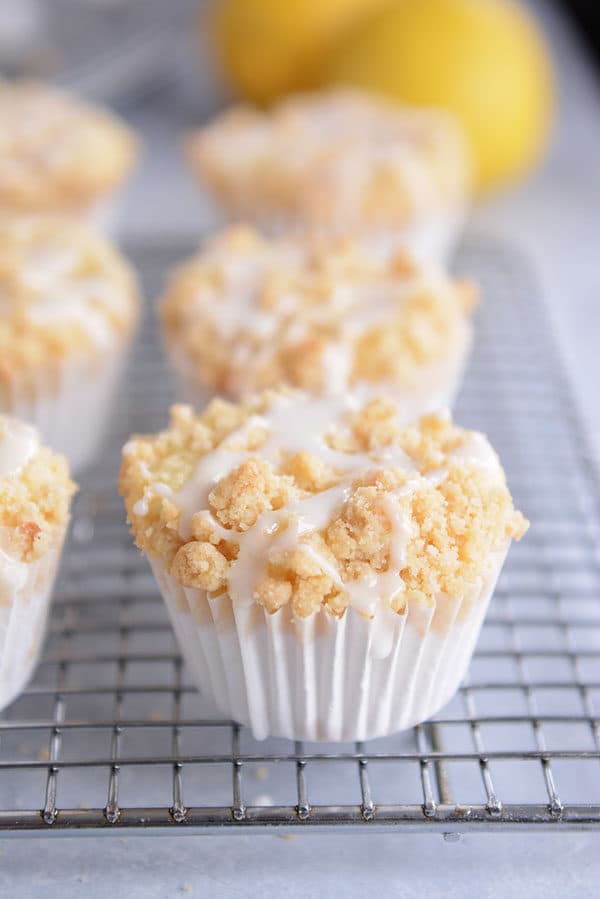 After the success of the blueberry version and now this lemon number, you don't even want to know how long I've spent contemplating all the ways I can incorporate other variations of cream cheese muffin batter into my future.
I really need to get a life.
While I plan out a more exciting life in the handwritten notes section of my planner, you go make these muffins, ok?
Bye.
Lemon Cream Cheese Crumb Muffins
Ingredients
Muffin Batter:
1

cup

(

142

g

)

all-purpose flour

1

teaspoon

baking powder

¼

teaspoon

baking soda

¼

teaspoon

salt

4

ounces

(

113

g

)

cream cheese

,

light or regular, softened to room temperature

2

tablespoons

salted butter

,

softened to room temperature

¾

cup

(

159

g

)

granulated sugar

Zest of 2 large lemons

,

about 2 tablespoons

1

large egg

½

teaspoon

vanilla extract

¼

cup

buttermilk (see note)

¼

cup

fresh lemon juice

,

from 1-2 large lemons
Crumb Topping:
¾

cup

(

107

g

)

all-purpose flour

2

tablespoons

granulated sugar

2

tablespoons

brown sugar

4

tablespoons

(

57

g

)

salted butter

,

melted
Lemon Glaze:
3

tablespoons

fresh lemon juice

½

cup

(

57

g

)

powdered sugar, more or less
Instructions
Preheat the oven to 350 degrees F (or 325 degrees F for convection bake). Line a 12-cup standard muffin tin with paper liners (see note above about making smaller muffins).

For the muffin batter, in a medium bowl, whisk together the flour, baking powder, baking soda and salt. Set aside.

In another bowl with an electric handheld mixer or in the bowl of a stand mixer fitted with the paddle attachment, beat the cream cheese, butter, granulated sugar, and lemon zest together until light and fluffy, 1-2 minutes.

Add the egg, vanilla, buttermilk and lemon juice. Mix until well-combined, scraping down the sides of the bowl as needed.

Add the dry ingredients to the muffin batter and mix by hand with a wooden spoon or spatula until just combined. Don't overmix. It's ok if the batter is slightly lumpy.

Divide the batter evenly among the muffin cups, filling about 2/3 full (see note above).

For the crumb topping, in the same bowl that held the dry ingredients for the muffin batter (no need to wash), whisk together the flour, granulated sugar, and brown sugar. Add the melted butter and stir/mash with a fork until the mixture looks evenly moistened and forms tiny clumps.

Top each muffin evenly with the crumb topping (use it all up!).

Bake the muffins for 15-18 minutes until a toothpick inserted in the center comes out clean.

Let the muffins cool in the tin for 2-3 minutes then gently move to a cooling rack to cool completely.

For the glaze, add the lemon juice to a small bowl or liquid measuring cup and gradually add powdered sugar, whisking constantly, until the desired consistency is reached (I like it thick but pourable). Drizzle glaze over the top of each cooled muffin.
Notes
Buttermilk Substitution: if you don't have buttermilk, equal parts sour cream and milk whisked together (so, 2 tablespoons each for this recipe) works great.  Muffins: the pictures in the post are from a batch where I made 12 muffins with the batter/crumb topping. If you want slightly smaller muffins (or if you live at high/er altitude where baked goods sometimes overflow or rise more while baking), you might want to make 14-15 muffins instead of 12, which would necessitate using a 2nd muffin tin or baking a second batch of just a few muffins. Crumb Topping: these muffins are heavy on the crumb topping, just the way I like it. Feel free to make a smaller amount of topping or sprinkle it on with a lighter hand if you like a little less crumb topping to your muffin. Plain Batter: the batter for these muffins is divine (don't ask me how I know), and I have a feeling this recipe would do VERY well even if the the crumb topping and glaze were eliminated and poppy seeds were tossed into the batter for a lemon poppy seed number (or just bake up plain lemon muffins). 
Serving:
1
Muffin
,
Calories:
243
kcal
,
Carbohydrates:
37
g
,
Protein:
3
g
,
Fat:
10
g
,
Saturated Fat:
6
g
,
Cholesterol:
40
mg
,
Sodium:
199
mg
,
Fiber:
1
g
,
Sugar:
22
g
Follow @MelsKitchenCafe on Instagram and show me the recipes you are making from my blog using the hashtag #melskitchencafe. I love seeing all the goodness you are whipping up in your kitchens!
Recipe Source: from Mel's Kitchen Cafe (adapted from these favorite blueberry cream cheese muffins)
Disclaimer: I am a participant in the Amazon Services LLC Associates Program, an affiliate advertising program designed to provide a means for me to earn fees by linking to Amazon.com and affiliated sites. As an Amazon Associate I earn from qualifying purchases.