Red Berry Risotto Oatmeal
This red berry risotto oatmeal is absolutely divine. Arborio rice plumps perfectly, melds with oats, and is highlighted with sweet berries!
If you haven't tried this recipe, I implore you to make it immediately. Creamy arborio rice plumps to perfection and melds with hearty oats, all of which is highlighted with tart and sweet red berries. Seriously, this is absolutely divine.
AND, it happens to be gluten-free*, which is perfect since I'm posting gluten-free recipes all week!
*Rice itself is gluten-free, however there is debate about whether the coatings used to enrich rice are gluten-free. Uncle Ben's Arborio Rice and S&W Italian Arborio rice are both confirmed as gluten-free. Also, according to my friend, Chris, steel-ground oats are best for a gluten-free diet. Just keep in mind that there are varying levels of gluten intolerance. Always check labels and use your own experience to be sure.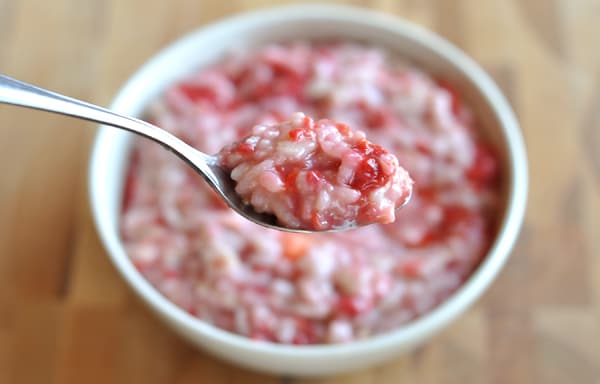 One Year Ago: Soft Wrap Bread
Two Years Ago: Chicken with Mushrooms and Zucchini
Red Berry Risotto Oatmeal
Yield: 4-6 servings

Prep Time: 10 minutes

Cook Time: 30 minutes

Total Time: 40 minutes
Ingredients
1/2 cup regular rolled oats or steel-ground oats (such as McCann's Irish Oatmeal)
1 cup Arborio rice
1/2 cup heavy cream, half-and-half or milk (using lowfat milk will make it less creamy but still delicious)
6 cups water
1 tablespoon pure vanilla extract or 1 vanilla bean scraped
1/2 cup sugar
1/4 teaspoon salt
1 cup ripe raspberries
1 cup ripe strawberries, quartered OR 1 bag frozen raspberries, thawed and lightly drained
Instructions
In a rice cooker (or large pot) add all the ingredients, except the fruit. Cook until done in a rice cooker. If using a pot, bring the mixture to a quick boil and then lower to a simmer and cook, covered, for about 25-30 minutes, stirring occasionally.
Add the raspberries and stir to combine. If using fresh fruit, stir in the strawberries and continue to stir until the berries have turned the risotto slightly pink, 1-2 minutes. Serve immediately. If you are planning on saving leftovers and heating up in the morning, only add berries to each individual serving the morning of and not to the whole batch.
Recommended Products
As an Amazon Associate and member of other affiliate programs, I earn from qualifying purchases.

Recipe Source: My Kitchen Cafe