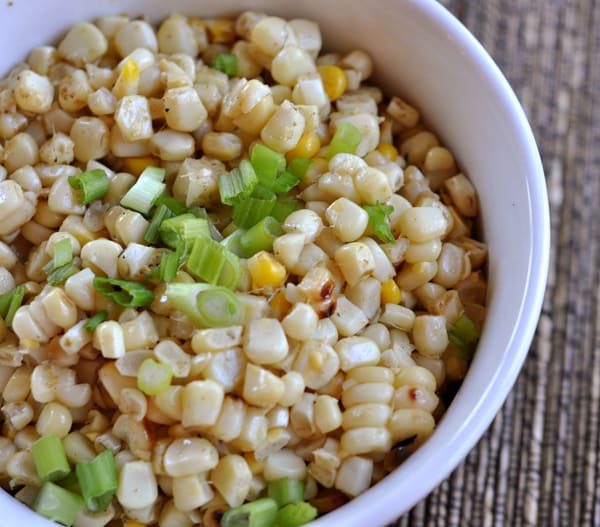 I don't know about you, but many of my friends and family members deal with gluten intolerance and/or Celiac's Disease. I am constantly being emailed and asked by family, friends and many readers for more gluten-free recipes.
You don't have to have gluten intolerance or Celiac's to need or want gluten-free recipes, so in honor of all the requests, I am hosting a Gluten-Free Week here on My Kitchen Cafe.
What does that entail?
Firstly, I'll be posting a recipe every day this week that is gluten-free (I've added a new Recipe Category: Gluten Free which I am slowly updating with past recipes).
They happen to be recipes I love that fit under the gluten-free umbrella. While I don't cook gluten-free every day, I'm finding that preparing gluten-free recipes can be delicious and easy!
Secondly, I am giving away two copies of a fantastic new cookbook called Irresistibly Gluten Free, written by a great friend of mine (click on the cute button underneath the Favorites section in the sidebar for more information).
Chris is the mother of six children and due to Celiac's, she cooks and bakes gluten-free every day. This cookbook is filled to the brim with tried-and-true gluten-free recipes.
I can't wait to get my hands on a copy because a) I've tasted Chris' cooking and let me tell you, she's amazing and b) I need to take dinner to a gluten-free family in my neighborhood and this cookbook is going to help me out!
To enter the giveaway, leave a comment on this post telling me if you have ever made a gluten-free recipe and if so, how you liked it! Winners will be announced Friday morning.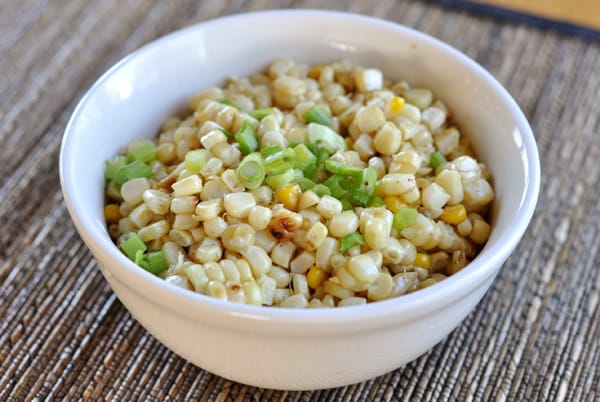 This delicious and simple grilled corn salad is my first contribution to Gluten-Free Week.
The smokiness of the grilled corn is fantastic with the green onions, warm cumin flavor and hint of butter. Plus, grilling corn is just a lot of fun (see the picture below the recipe). You get to char the heck out of something and not stress about it.
See you tomorrow with another great gluten-free recipe!
One Year Ago: Baked Blueberry Pecan French Toast
Two Years Ago: Chicken with Mushrooms and Zucchini
Yield: 4-6 servings as a side dish

Prep Time: 10 minutes

Cook Time: 10 minutes

Total Time: 20 minutes
Ingredients
6 ears of corn, still in their husks
1 tablespoon butter, cut into pieces
1/2 teaspoon cumin
1/4 teaspoon pepper
1/4 teaspoon salt
2 green onions, thinly sliced
Instructions
To prepare the corn, carefully peel back the husk without removing it completely and tear off the silky threads. Gently fold the husk back over the corn. Fill a large bowl or pot with cold water and soak the de-silked corn for 15-30 minutes.
Preheat your grill to medium-high heat. Place the corn (still in it's husk) on the grill and cook the corn, flipping it when each side turns black and charred. The whole grilling process should take about 8-10 minutes (depending on the heat of your grill). The corn husks will get awfully black but don't worry about that. If you are worried about whether the corn is done, using an oven mitt or something else to protect your hands, pull back the husk and gently cut off a piece of the corn to test it.
When the corn is juicy and cooked, cut the kernels off the cob (again, using an oven mitt or towel to hold the hot corn while you cut off the kernels). Toss the hot corn with the butter. Stir in the cumin, salt, pepper and green onions. Serve immediately.
Recommended Products
As an Amazon Associate and member of other affiliate programs, I earn from qualifying purchases.

Recipe Source: based on a recipe from Real Simple
Here is my corn in all it's charred beauty – it's just about ready to come off the grill!