Simple Barley Pilaf
High-protein, high-fiber barley makes a delicious simple baked barley pilaf that is flavorful, tender and pairs wonderfully with many dishes.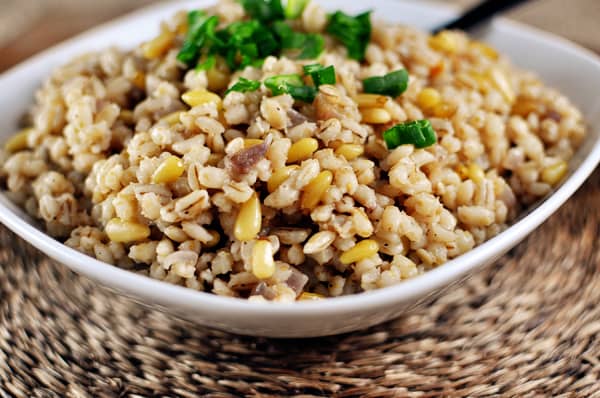 I've said it before and I'll say it again, discussing pilaf isn't the most scintillating food-talk we could be having, especially in light of treats like this and this.
But it is absolutely necessary if you are looking for simple, healthful, delicious side dishes to compliment a myriad of main entrees.
This barley pilaf is no exception.
Not only does it introduce a nutritious grain into your diet, but the high-protein, high-fiber barley makes a delicious baked pilaf that is flavorful, tender and pairs wonderfully with many dishes, not the least of which I'll be sharing later this week (think: broiled parmesan and lemon chicken – yum!).
My kids, the ultimate skeptics, didn't bat an eye at devouring this tasty side dish. Granted, they've become accustomed to eating barley in one of our favorite chilis, but I also helped alleviate their worries by telling them it was like rice – just chubbier and chewier – and for some reason, that sealed the deal and they gobbled it right up.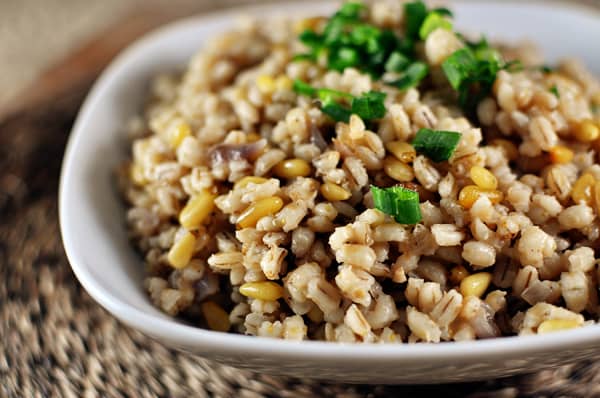 One Year Ago: Skillet Chicken Parmesan
Two Years Ago: Roast Pork Tenderloin with Asian Glaze
Three Years Ago: Chocolate Chip Cake
Yield: 6 servings

Prep Time: 5 minutes

Cook Time: 1 hour 20 minutes

Total Time: 1 hour 25 minutes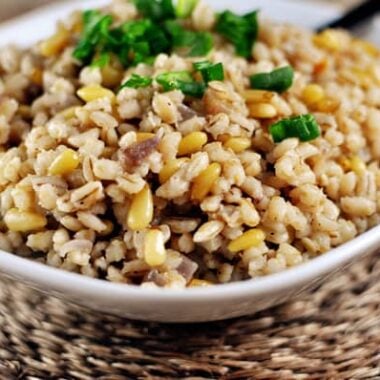 Ingredients
2 tablespoons butter
1 cup medium pearl barley (not quick cooking barley)
1/4 - 1/2 cup pine nuts or almonds, optional
2 garlic cloves, finely minced
1 medium onion, chopped
1/2 teaspoon salt
1/2 teaspoon pepper
3 1/2 cups low-sodium chicken broth
Instructions
Preheat the oven to 375 degrees F.
In a large skillet, melt the butter over medium heat and add the barley, nuts (if using), garlic and onions. Saute the mixture, stirring frequently, until the onions are tender and the barley is golden. Scrape the mixture into a 3-quart baking dish and stir in the salt, pepper and chicken broth. Bake uncovered for 60-80 minutes, until the liquid is absorbed and the barley is tender. Garnish with green onions, if desired.
Recommended Products
As an Amazon Associate and member of other affiliate programs, I earn from qualifying purchases.

Recipe Source: adapted from a recipe that Michele B. sent me and that is a family favorite of theirs – thanks, Michele!
Disclaimer: I am a participant in the Amazon Services LLC Associates Program, an affiliate advertising program designed to provide a means for me to earn fees by linking to Amazon.com and affiliated sites. As an Amazon Associate I earn from qualifying purchases.