Smothered Sweet Pork Burritos
There are countless smothered burrito recipes out there but this version is so simple and delicious- it is worth trying one more version!
I just love a good smothered burrito. And even though there are about a million versions of sweet pork burritos floating around the internet, I had to lend my voice to the one we like best.
It's simple. It's uncomplicated. It's delicious.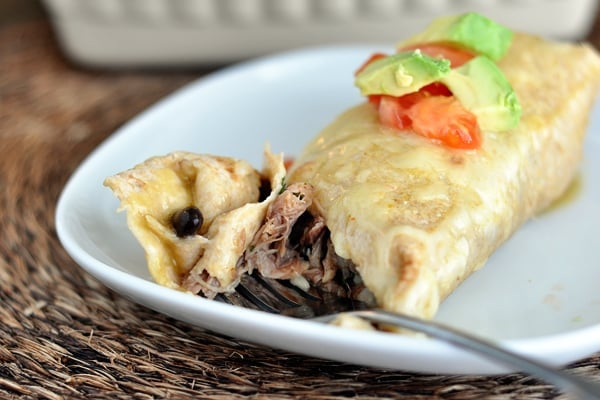 I'm not even going to compare it to the sweet pork at the Cafe Rio's of the world (do you know Cafe Rio?) because I've learned in a long, sordid history of trying every variation of sweet pork under the sun that nothing can live up to the legend of Cafe Rio's sweet pork (trust me, I've tried that recipe, I promise!).
So consider this variation different. But still very, very amazing.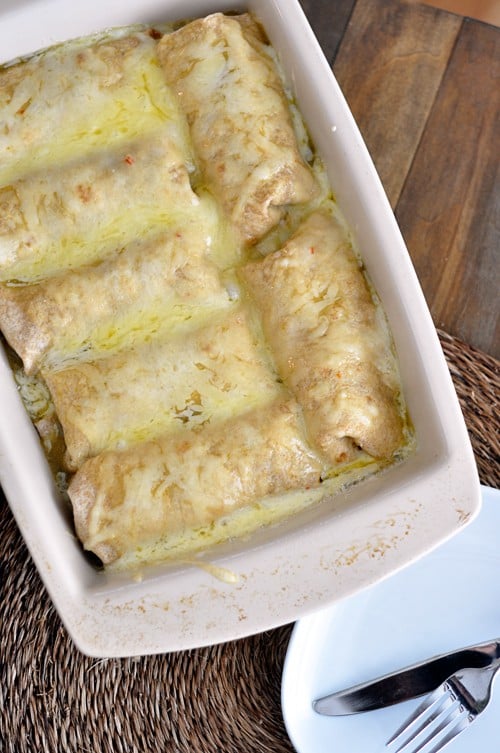 Making use of a slow cooker puts the easy-peasy stamp on this meal especially since the cilantro lime rice (don't even think about not making it) can be made ahead and used when you are ready to assemble the burritos.
Basically what you'll get when dinner rolls around is a hearty tortilla smothered in green sauce and cheese wrapped around succulent, sweet and savory pork, tender cilantro lime rice, black beans and a few tasty, simple spices.
As my old roommate Kate (who gave me this recipe) was wont to say: "Yum, yum, give me some." She also liked likes to say: "Love your buns tons" but I suppose that doesn't really apply to these burritos.
Now if dinner was hamburger night? Totally appropriate usage, I'd say.
One Year Ago: Peaches and Cream Sensation
Two Years Ago: Red Chile Sauce Chicken Enchiladas
Three Years Ago: Buttermilk Cinnamon Rolls with Cream Cheese Glaze
Recipe Source: adapted from my bestest friend and old roommate, Kate (added a few more spices, salt and pepper, subbed in cilantro lime rice for regular white rice and a few other changes).
Disclaimer: I am a participant in the Amazon Services LLC Associates Program, an affiliate advertising program designed to provide a means for me to earn fees by linking to Amazon.com and affiliated sites. As an Amazon Associate I earn from qualifying purchases.