Smothered Sweet Pork Burritos
There are countless smothered burrito recipes out there but this version is so simple and delicious- it is worth trying one more version!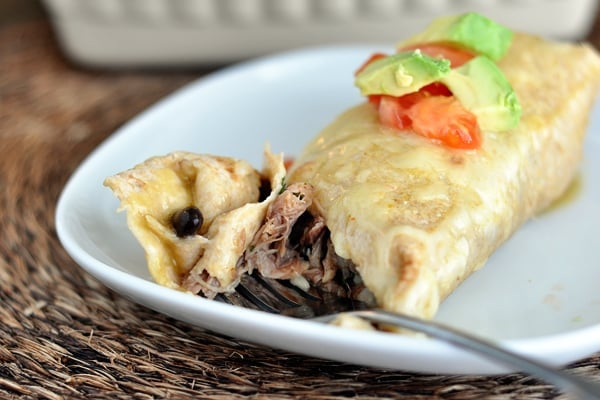 I just love a good smothered burrito. And even though there are about a million versions of sweet pork burritos floating around the internet, I had to lend my voice to the one we like best.
It's simple. It's uncomplicated. It's delicious.
I'm not even going to compare it to the sweet pork at the Cafe Rio's of the world (do you know Cafe Rio?) because I've learned in a long, sordid history of trying every variation of sweet pork under the sun that nothing can live up to the legend of Cafe Rio's sweet pork (trust me, I've tried that recipe, I promise!).
So consider this variation different. But still very, very amazing.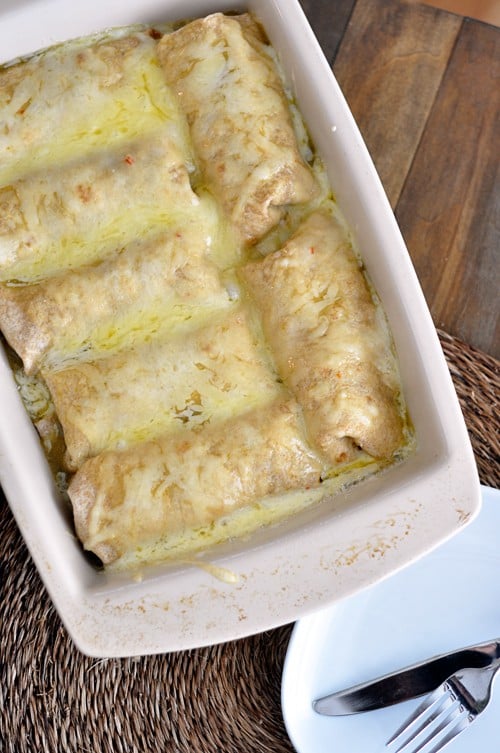 Making use of a slow cooker puts the easy-peasy stamp on this meal especially since the cilantro lime rice (don't even think about not making it) can be made ahead and used when you are ready to assemble the burritos.
Basically what you'll get when dinner rolls around is a hearty tortilla smothered in green sauce and cheese wrapped around succulent, sweet and savory pork, tender cilantro lime rice, black beans and a few tasty, simple spices.
As my old roommate Kate (who gave me this recipe) was wont to say: "Yum, yum, give me some." She also liked likes to say: "Love your buns tons" but I suppose that doesn't really apply to these burritos.
Now if dinner was hamburger night? Totally appropriate usage, I'd say.
FAQs for Smothered Sweet Pork Burritos
Can I freeze this recipe?
These freeze great! I usually cover the pan (that's been frozen) with foil and cook them on 350 degrees for an hour until they are heated through and then uncover and cook until they are hot all the way through. You can also freeze the leftover filling.
What can I use to substitute for liquid smoke?
You can leave it out or add a smoky flavor/spice like smoked paprika (about 1/4 – 1/2 teaspoon).

Summer Corn Salad or Guacamole Salad
Tortilla Chips or Toasted Pita Chips
Salsa (for homemade I suggest this Divine One-Minute Salsa)
One Year Ago: Peaches and Cream Sensation
Two Years Ago: Red Chile Sauce Chicken Enchiladas
Three Years Ago: Buttermilk Cinnamon Rolls with Cream Cheese Glaze
Smothered Sweet Pork Burritos
Total Time:
5 hours
20 minutes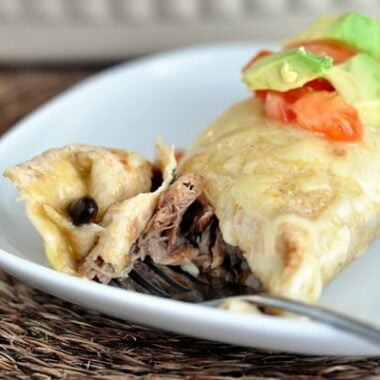 Ingredients
For Burritos:
2 1/2 pounds pork roast like pork shoulder or butt roast
Salt and pepper
1 tablespoon oil
1-2 teaspoons liquid smoke
1/2 cup water
1/2 cup packed light or dark brown sugar
2 (15-ounce each) cans green enchilada sauce
1/2 teaspoon chili powder
1 teaspoon salt
1/2 teaspoon pepper
Dash of hot sauce (optional)
1 (15-ounce) can black beans, rinsed and drained
1/2 cup chopped cilantro
8 ounces Monterey Jack or cheddar cheese (or a combination), grated
6-8 whole wheat or white flour tortillas, burrito-sized
For Cilantro Lime Rice:
1/2 tablespoon butter
1 cup long-grain white rice
2 cups low-sodium chicken broth
3/4 teaspoon salt
1/4 teaspoon freshly ground black pepper
juice and zest of 1 lime
2 tablespoons chopped cilantro
1/4 teaspoon cumin
Instructions
Trim any excess fat pockets from the pork roast (it's ok to leave a bit here and there just trim the large pieces off). Cut the pork into 2-3 large pieces. Season each piece on all sides with salt and pepper.
In a large nonstick skillet, heat the oil until rippling and hot. Add all the pieces of pork and brown on each side, 2-3 minutes total. Transfer the pork to the insert of a 5-6 quart slow cooker.
Add the liquid smoke and 1/2 cup water. Cook on high for 4-5 hours or on low for 8 hours.
While the pork is cooking, prepare the rice. In a skillet or medium saucepan, melt the butter and add the rice. Stir, letting the rice and butter cook for 1-2 minutes. Add remaining ingredients (broth, salt, pepper, lime juice and zest, cilantro and cumin) and bring to a boil. Reduce heat, cover and cook for 15-16 minutes. Remove from heat and let stand, covered, for 10 minutes. This can be made ahead and refrigerated until ready to assemble the burritos.
Remove the pork from the slow cooker and shred into bite-sized pieces (discarding the bone, if needed, or any large pieces of fat). In a large bowl, toss the shredded pork with the brown sugar, 1/2 cup of the green sauce, chili powder, salt and pepper (add more salt and pepper to taste if needed). Add the hot sauce, if using.
Stir in the beans, rice and cilantro to the pork mixture.
Lightly grease a 9X13-inch baking dish with cooking spray and spread about 1/2 - 3/4 cup of the green sauce on the bottom.
Warm the tortillas lightly in a skillet or in the microwave. Scoop about 1/2 cup of the meat mixture into each tortilla and sprinkle with a bit of cheese (you'll want to leave some cheese for the top of all the burritos before they bake). Roll up burrito style (folding the ends in and rolling).
Place the burritos seam-side down in the prepared baking dish. Pour the remaining sauce over the burritos and sprinkle with remaining cheese.
Bake at 350 degrees for 15-20 minutes until heated through and the top is bubbly and slightly golden. Serve immediately.
Notes
Pork: you'll get more flavor if you use a pork roast that has a bone in - it can easily be removed once the pork is done cooking; however, this could also be made with boneless pork loin or a leaner cut of pork. Just keep in mind that it might not be quite as tender as a roast that has darker meat also.
Enchilada Sauce: a note about the enchilada sauce, not all brands are created equal. I love the Herdez brand of green salsa or enchilada sauce (which I use interchangeably) so make sure you find a brand that tastes good (with a heat level you prefer).
Recommended Products
As an Amazon Associate and member of other affiliate programs, I earn from qualifying purchases.
Recipe Source: adapted from my bestest friend and old roommate, Kate (added a few more spices, salt and pepper, subbed in cilantro lime rice for regular white rice and a few other changes).

Disclaimer: I am a participant in the Amazon Services LLC Associates Program, an affiliate advertising program designed to provide a means for me to earn fees by linking to Amazon.com and affiliated sites. As an Amazon Associate I earn from qualifying purchases.