Snapshot Saturday: 7 1/2 Things…
…we are doing to soak up my favorite month of September.
Playing 4 Square in the driveway with new glasses, coordinated outfit and a soccer ball. This is a nightly ritual. 4 Square tournaments are pretty intense around here even if we don't have an official game ball.
Making brownies. Ty made a small batch of brownie bites all by himself the other morning before Kindergarten (2 1/2 year old "help" doesn't count) and was all set to give some to his teacher until the batch only yielded six at which point he declared he forgot that his teacher probably, sort of doesn't like brownies. And then shoved three of them in his mouth at once.
Mini Golfing with the family and about 347 teeny boppers that happened to be there the same evening. Lucky us. Cam had to be watched like a hawk; her only grasp of the game was to run and gather as many of her brother's golf balls as possible to throw in the scenic waterfall marking our path.
Racing dad on the super awesome dirt mountain biking track close to our house. This was before several injuries and knee scrapes that happened all in a row to a few of my boys with the lowest coping skills (why does that always happen?). Quickly recovered, they couldn't stand to miss out on the racing action again.
Getting in touch with our inner artist. This is how most of her afternoon (post nap of course) is spent waiting for her best friends to come home from school.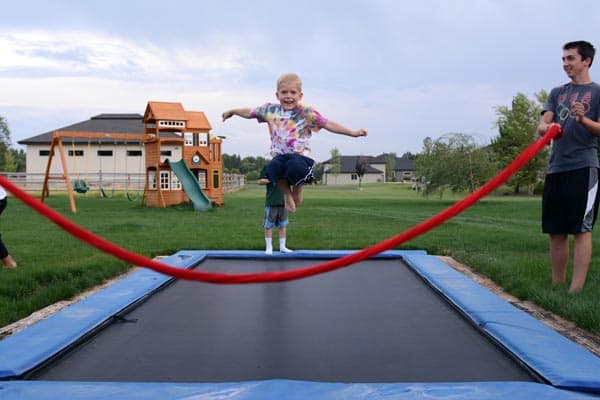 Jump roping contests on Aunt Marilyn's trampoline because nothing says fun like a jump rope this big, an awesome 17-year old cousin once removed willing to play with you, and a trampoline at ground level.
Helping little sis with her shoe whilst wielding the pooper scooper. Because, for heaven's sake, it can't be all fun and games around here all the time.
And of course we can't leave out: potty training (won't include pictures as cute as they may be lest my daughter disown me in about 11 years). I've spent more time sitting on a stool in the half bathroom singing Elmo's potty song than I care to remember this week. I will admit, though, that after four boys, pink undies are pretty adorable.
Have a great weekend!
Disclaimer: I am a participant in the Amazon Services LLC Associates Program, an affiliate advertising program designed to provide a means for me to earn fees by linking to Amazon.com and affiliated sites. As an Amazon Associate I earn from qualifying purchases.