Snapshot Saturday
I spy with my little eye dark chocolate Kit Kat bars at Target. Insert some serious whooping and hollering at the checkout. If you know how infrequently these dark chocolate beauties pop up then you'll know my enthusiasm was warranted.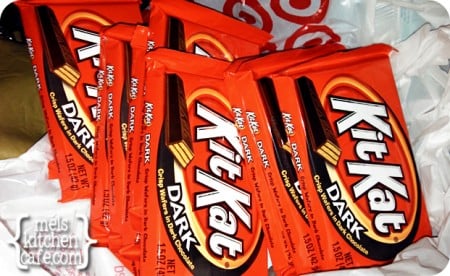 I promptly bought 25 of them. Yes, 25. And tried to act really nonchalant as the cashier looked at me like I was a nutcase for buying so many. As if people haven't come through the checkout line with stranger things than 25 dark chocolate Kit Kat bars. Now if only they were like the grand chocolate bars of Willy Wonka-land and I could eat my way through hundreds to find one that would open and give me a magical coupon for a house.* A house! I'd even take one without a disposal (but running water would be nice).
Sigh. I'm back to reality. But I still might eat my way through the candy bars just for fun.
*Still looking for a residence in our new hometown. Currently I'm in Montana at my parent's home after driving out here with the kids to attend my grandmother's funeral in Idaho last weekend while Brian holds down the fort at his new job. If you would have told me that six weeks into our move and we'd still be "homeless" I'd have said you were cuh-razy. But we're managing and trying to find the good (i.e. dark chocolate Kit Kats, baby!) amid the stress. Thanks for sticking with me through it all!
If you'd like to check out past Snapshot Saturdays, click HERE.
Disclaimer: I am a participant in the Amazon Services LLC Associates Program, an affiliate advertising program designed to provide a means for me to earn fees by linking to Amazon.com and affiliated sites. As an Amazon Associate I earn from qualifying purchases.