Snapshot Saturday: Heat Wave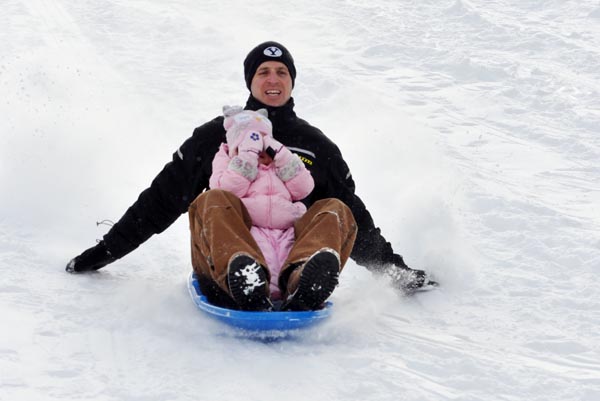 Yeah, yeah, I know it's, like, March in some parts of the world but I swear where I live, we are stuck in January. Today the high is supposed to be -11. My town invented the Polar Vortex and clearly is having a hard time letting go.
A few weekends ago the temperature bubbled over zero which means everyone comes out of hibernation to celebrate the heat wave and we chose to go sledding since the risk of frostbite and hypothermia was slightly lower than normal. It was actually little girl Cam's first sledding experience.
She loved it, can't you tell?
Something about shards of icy snow blowing in her face the entire way down. I have a sinking feeling she inherited my non-dare-devil approach to life. Her brothers, on the other hand, made a goal to see how many people they could wipe out on their way down the sledding hill and had a blast doing so (on the sledding and receiving end).
I'm actually ok with the prolonged winter. Just another excuse to drink my body weight in hot chocolate every day.
Disclaimer: I am a participant in the Amazon Services LLC Associates Program, an affiliate advertising program designed to provide a means for me to earn fees by linking to Amazon.com and affiliated sites. As an Amazon Associate I earn from qualifying purchases.