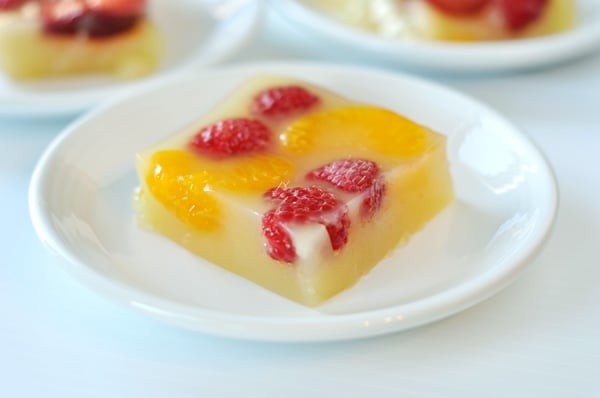 This simple gelatin (jello sounds better but it isn't really, officially jello, if you know what I mean) completely exceeded my expectations.
After spying the recipe in a Whole Foods cookbook, I was excited to give it a try but doubted it would live up to what I wanted it to be: a jello knockoff made with purer ingredients (notice, I didn't say purEST ingredients, just purER…don't want any hate mail over this, friends).
Billed as a dessert, I bucked the cookbook suggestion and served it as a side dish, just like I would a normal jello salad…if I made jello, which I don't.
And yes, I know my children deserve therapy based on this fact but that's not what we are discussing today. Thank goodness.
Subtly fizzy and sparkly (thanks to the ginger ale), the sweetness of the orange juice and tart juiciness of the berries make for such a delicious concoction that we all were literally scraping the dish by the time dinner was over.
Simple enough for a family dinner, it would also be elegant made in individual dessert/trifle cups and served at a more formal gathering. Perfect any way you look at it.
One Year Ago: Italian Meatball Subs
Two Years Ago: Classic Baked Ziti
Three Years Ago: Homemade Spaghetti Sauce
Note: Fresh squeezed orange juice would work here, as well as bottled, but I would stay away from the overly sweetened concentrates. I prefer Simply Orange but you could play around with brands to suit your preference.
Ingredients
2 envelopes unflavored gelatin (1/8 cup)
1/4 cup cold water
1 1/2 cups plus 1/2 cup orange juice
1/3 cup sugar
2 cups ginger ale
15 ounces drained mandarin oranges
8-10 fresh strawberries, sliced
1 cup fresh raspberries
Directions
Place the cold water in a small saucepan. Sprinkle the gelatin over the cold water and let it soften for five minutes then heat it gently on low heat, stirring slowly, until the gelatin dissolves. Add the 1/2 cup orange juice and the sugar. Warm gently until the sugar dissolves, stirring. Do not overheat.
In a large bowl, place the remaining 1 1/2 cups orange juice with the ginger ale and whisk in the gelatin mixture.
Pour the mixture into a 3-quart baking dish (about a 9X13-inch size). Gently stir in the fruit. Refrigerate the mixture until set, about 4-6 hours. Cut into squares and serve as a side dish or simple dessert.
https://www.melskitchencafe.com/sparkling-orange-jello-homemade/
Printed from Mel\'s Kitchen Cafe (www.melskitchencafe.com)
Recipe Source: adapted from Whole Foods Market Cookbook