Sweet and Spicy Pork Tenderloin
This succulent and tender sweet and spicy pork tenderloin has a BBQ flair and it is beyond fantastic.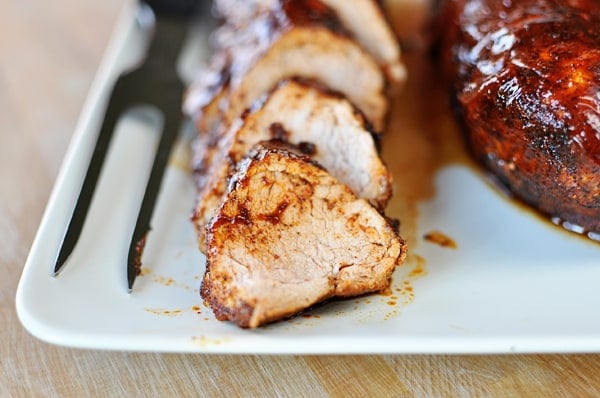 When we ate this meal, I told my husband it was official: pork tenderloin is my favorite cut of meat ever. Which is why I have recipe upon recipe upon recipe for pork tenderloin residing here on this blog (and even one more on the docket coming up in the next few weeks).
I love that it cooks quickly but remains succulent and tender and lends itself well to any variety of flavors, not to mention that it is a leaner meat so is easier to keep lighter and healthier.
Just like the cookies, I figure I could try a 100 more variations of pork tenderloin and never tire of the journey.
This version is the first I've posted with a BBQ flair and it is beyond fantastic.
Slightly sweet and slightly spicy (we are talking very lightly spicy – nothing major to burn out the taste buds, I promise!), the pork benefits from a dry rub that also does double duty in the throw-together BBQ sauce topping the pork after roasting.

I served this with baked potatoes, biscuits and green salad and it was not only a complete meal, but a completely delicious and filling meal. Long live recipes dedicated to the almighty pork tenderloin! The endless options make me a very happy woman.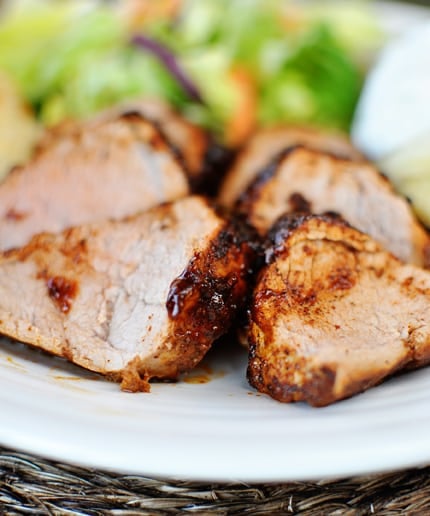 One Year Ago: Festive Fruited Cheesecake Flag
Two Years Ago: Ethereal Chocolate Angel Food Cake
Three Years Ago: Chicken and Rice with Coconut Milk and Pistachios
Sweet and Spicy Pork Tenderloin
Yield: 6 servings

Prep Time: 10 minutes

Cook Time: 25 minutes

Total Time: 35 minutes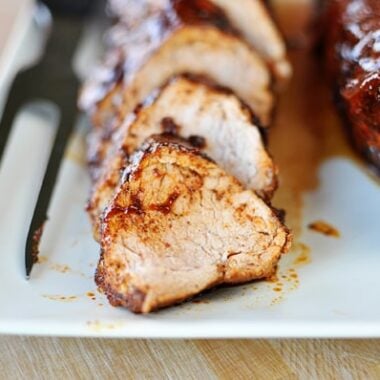 Ingredients
2 tablespoons chili powder
1 teaspoon smoked paprika
1 teaspoon salt
1/2 teaspoon pepper
2 (12- to 16-ounce each) pork tenderloins, trimmed
1 tablespoon vegetable or canola oil
1/4 cup ketchup
2 teaspoons cider vinegar
1 1/2 teaspoons sugar
Instructions
Adjust an oven rack to middle position and preheat the oven to 450 degrees F. Pat the pork tenderloin dry with a paper towel. In a small bowl, combine the chili powder, paprika, salt and pepper. Reserve 1 tablespoon of the spice mixture and use the rest to rub over the pork tenderloin on all sides.
In a large 12-inch nonstick skillet, heat the oil over medium heat until it is rippling and hot. Add the pork tenderloins in a single layer and cook the pork until browned on all sides, 5-7 minutes total (flipping as needed). Transfer the pork to an aluminum-foil lined baking pan and bake until the meat registers 140 degrees at the thickest part, about 15-18 minutes. Transfer the pork to a platter or plate and tent with foil, letting it rest for 5 minutes before slicing.
In a bowl, combine the reserved spice mixture, ketchup, vinegar and sugar and brush over the cooked pork. Slice the pork and serve.
Recommended Products
As an Amazon Associate and member of other affiliate programs, I earn from qualifying purchases.

Recipe Source: from Cook's Country April/May 2012
Disclaimer: I am a participant in the Amazon Services LLC Associates Program, an affiliate advertising program designed to provide a means for me to earn fees by linking to Amazon.com and affiliated sites. As an Amazon Associate I earn from qualifying purchases.