Thanksgiving Dinner 101
I do not claim to be an expert on anything. Well, except for changing diapers. I'm pretty much a self-proclaimed expert on that. But over the years I have come across some terribly fantastic Thanksgiving recipes and since Thanksgiving (for those of us who celebrate it here in the United States) is fast approaching, I want to share them with you.
So welcome to Thanksgiving Dinner 101.
Every day for the rest of this week, I'll be posting one of my go-to recipes for what I consider to be the Thanksgiving basics. In my world, I keep Thanksgiving simple and classic. I know that each Thanksgiving table can range from sparse to loaded, traditional to no-turkey-in-sight, but this week, I'll be giving you my tried-and-true recipes for classics and I'll leave the "extracurriculars" up to you.
Here is a glimpse of things to come:
-A turkey recipe guaranteed to be faster and juicier than all others from no other than the great Aunt Marilyn.
–Homemade stuffing that I've been making for years and plan to convert you to as well (a stuffing so delicious my husband has sworn me to an oath never to try another recipe).
-A new roll recipe (seriously, really??) that trumps all others. No kidding.
-The only pie crust and subsequent pie (flavor to remain secret) you'll ever need.
-A BONUS recipe that will seriously knock your socks off.
-Plus, make-ahead tips for every recipe that will make the day-of a lot easier.
Stay Tuned (and Come Hungry)!!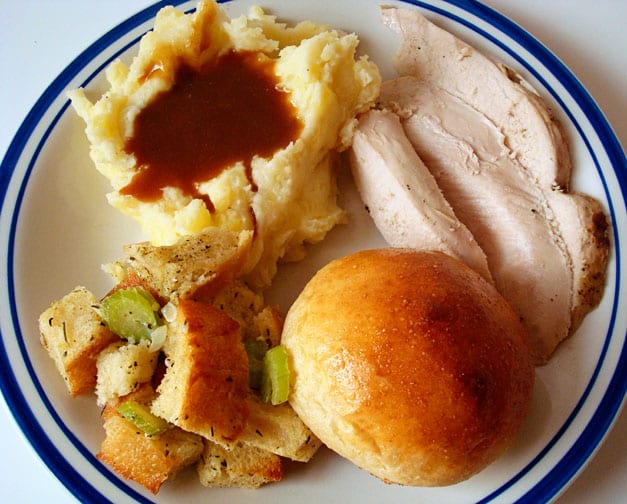 [mv_create key="2824″ type="list" title="Other Recipes Like This:" thumbnail="https://www.melskitchencafe.com/wp-content/uploads/2013/04/Rolls1-Original-PSD.jpg" layout="grid"]
Disclaimer: I am a participant in the Amazon Services LLC Associates Program, an affiliate advertising program designed to provide a means for me to earn fees by linking to Amazon.com and affiliated sites. As an Amazon Associate I earn from qualifying purchases.