Coconut and Cashew Granola
Get this recipe for homemade coconut and cashew granola if you are looking for a fast, fresh, and totally delicious from-scratch granola.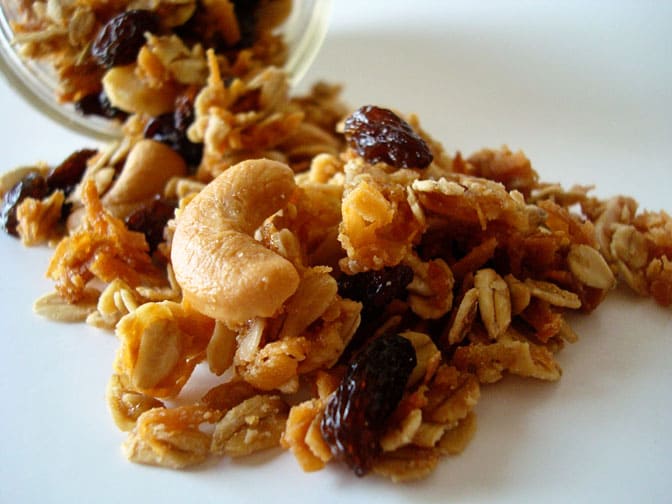 I'm sad to report that ever since I posted about these fabulous granolas, I haven't made granola since.
I blame it all on my dad.
You see, he's kind of a granola, in an old-fashioned, outdoorsy kind of way. He's into hiking, gorp, scaling the highest peak in every state, four-wheeling and that kind of stuff. And he loves him some granola.
He and my mom (who is not granola in any sense of the word) came to visit us recently since we made our cross-country move to the depths of Wisconsin. I knew in honor of their visit I needed to make my granola dad some granola.
Enter my Aunt Marilyn (who happens to be my dad's sister but who is not a granola). She sent me a recipe for granola weeks ago and insisted I must try it. But of course I hadn't because I only make granola when my dad comes to town.
I made it the day before my dad arrived. And there was barely enough left when his plane landed because…
…who knew that my non-granola husband loved granola? Not I.
Three devoured batches later, we are officially in love with this granola. (And so was my granola dad.)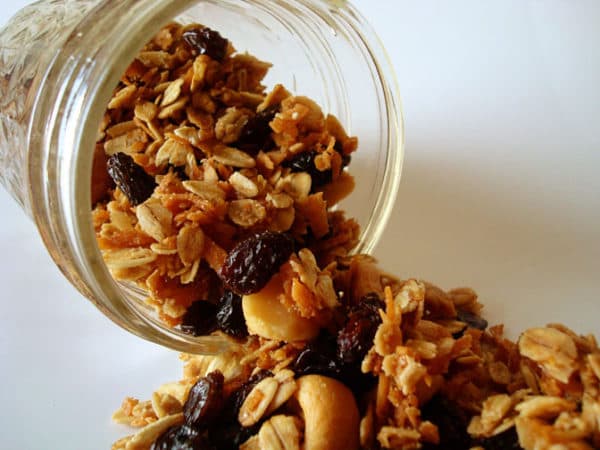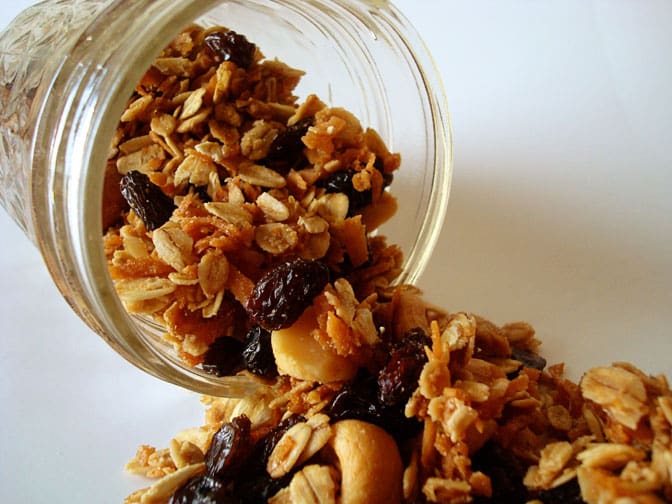 Coconut and Cashew Granola
Yield: about 7 cups granola

Prep Time: 10 minutes

Cook Time: 1 hour 15 minutes

Total Time: 1 hour 25 minutes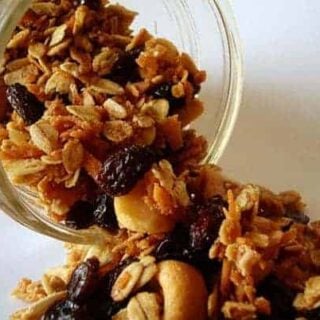 Ingredients
3 cups old-fashioned rolled oats
1 cup slivered almonds
1 cup cashews
3/4 cup shredded sweetened coconut
1/4 cup plus 2 tablespoons dark brown sugar
1/4 cup plus 2 tablespoons pure maple syrup
1/4 cup vegetable oil
3/4 teaspoon salt
1 cup raisins
Instructions
Preheat oven to 250 degrees. In a large bowl, combine the oats, nuts, coconut and brown sugar.
In a separate bowl or liquid measuring cup, combine maple syrup, oil and salt.
Combine both mixtures by slowly pouring the liquid over the oatmeal mixture and stirring well. Divide in half and pour onto two 11X17-inch rimmed baking sheets, spreading out into an even layer on each sheet.
Cook for 1 hour and 15 minutes, until golden.
Remove from the oven and transfer into a large bowl, slightly breaking up the clumps. Add the raisins and gently mix until even distributed.
Recommended Products
As an Amazon Associate and member of other affiliate programs, I earn from qualifying purchases.

Recipe Source: from Aunt Marilyn
Disclaimer: I am a participant in the Amazon Services LLC Associates Program, an affiliate advertising program designed to provide a means for me to earn fees by linking to Amazon.com and affiliated sites. As an Amazon Associate I earn from qualifying purchases.