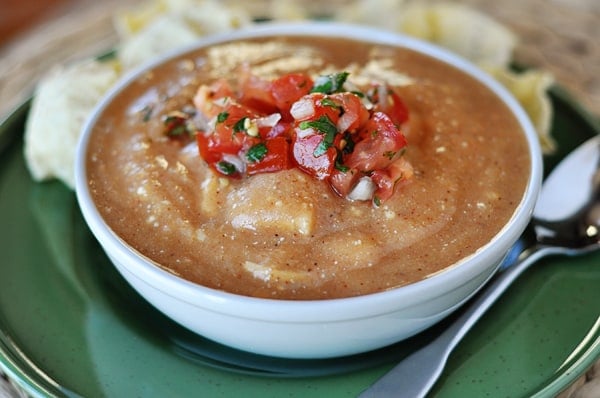 Here it is – the recipe I was telling you about on Friday. The best chicken enchilada soup I've ever laid lips on.
Do you want to know the ultimately dreamy part about this soup? It is wonderfully healthy because the base of the soup is made up of veggies (potatoes, butternut squash, red pepper) and then blended to a silky smooth consistency before adding in the tender chicken, beans and various other ingredients, including the taco seasoning.
My kids, bless their little stinkin' hearts, didn't even know they were gobbling up veggie after veggie after veggie when they inhaled this soup. And of course I didn't bother mentioning it until after dinner was over.
The soup has a creamy, thick consistency and your heart (literally) can rest easy knowing it isn't thick and creamy because of heavy cream and other high-calorie ingredients (not that I'm opposed to using heavy cream or anything, as you probably know, but it is January after all, so I'm giving up heavy cream for at least a week in honor of new year resolutions).
I first had this soup when my cousin-in-law, Susie E., made it for us when we were visiting them a few weeks ago and I probably embarrassed myself by going back for thirds (er, fourths), but in the end consoled myself knowing I was eating a large portion of veggies.

What honestly made this soup so heavenly was Ernesto's (Susie's hubby) homemade pico de gallo. The warm, hearty soup, topped with the fresh, zesty tomato concoction was completely out of this world. Of course it didn't hurt that I threw a bunch of shredded cheese, sour cream and tortilla chips on top, too.
So what are you waiting for? Make this soup today and rest assured that not only are you getting one of the most delicious soups around but you are also getting in a heaping dose of veggies, too. Can't complain about that.
P.S. Don't mind the fact that I didn't whisk quickly enough and ended up with tiny specks of sour cream in my soup (see pictures for a visual). It was delicious, regardless. I know you'll be more attentive than I and whisk more quickly. Right? Right?
P.P.S. Blendtec winner posted HERE. Your response was overwhelming and I can't wait to get started making all the smoothies (and other blending possibilities) you shared. You all are truly the best. Love your guts!
One Year Ago: Classic Blueberry Cobbler
Two Years Ago: The Best Chicken Fajitas
Three Years Ago: Chicken with Green Curry Sauce
The Best Chicken Enchilada Soup
Ingredients:
2 quarts (8 cups) low-sodium chicken broth
2 pounds boneless skinless chicken breasts (about 3-4 chicken breasts)
1 (3.5 ounce) can chopped green chiles
1 large yellow onion, peeled and quartered
4 medium russet potatoes, peeled and quartered
1 red bell pepper, cored, seeded and cut into large chunks
3-4 cups butternut squash cubes (from about 1/2 of a medium butternut squash, peeled and cut)
3 cloves garlic, chopped
1 teaspoon salt
1 1/2 teaspoons cumin
1 cup sour cream, light or regular
1 (8 ounce) can tomato sauce
2 cans white beans, like Great Northern, rinsed and drained
2 tablespoons taco seasoning (homemade version here)
Directions:
In a large pot, add the chicken broth, chicken breasts, green chiles, onion, potatoes, pepper, butternut squash, garlic, salt and cumin. Bring the mixture to a boil and simmer, covered, until the chicken is cooked through and the vegetables are tender, about 20 minutes. If there doesn't seem to be enough liquid for the vegetables/chicken to boil in, try adding in 1-2 cups water but don't add too much extra liquid or the soup won't be as thick as it should.
Remove the chicken from the pot to a cutting board. Let it cool slightly before shredding or dicing. Ladle the remaining vegetables and broth into a blender (in several batches, if needed) and puree the broth and vegetables until smooth. Take care not to overfill the blender since the mixture will be hot and will expand as it blends! Pour the pureed soup mixture back into the large pot. Whisk in the sour cream and tomato sauce. Stir in the taco seasoning, beans and cooked chicken. Cook until heated through.
Serve the soup with additional toppings: tortilla chips, sour cream, shredded cheese, avocado, pico de gallo or salsa, etc. The options are endless!
Notes:
This soup is absolutely unreal with homemade pico de gallo. Here's how I whip it up: 3-4 chopped ripe tomatoes, juice of one lime, handful of chopped cilantro, medium minced yellow onion, seeded and diced jalapeno and salt to taste. Let it chill out in the fridge for an hour or so, if desired, or use right away. Also, I've found that Sam's Club (and I know Costco does, too) sells butternut squash already peeled and cut up. It's a wonderful thing and saves me from severing my hand at the wrist trying to cut through the thick skin of the almighty butternut squash; however when I feel like a real woman (and want to save myself a trip to Sam's and a dollar or two), I cut into it myself…just take care and wield the knife carefully.
All images and text ©
.
Follow @melskitchencafe on Instagram and show me the recipes you are making from my blog using the hashtag #melskitchencafe. I love seeing all the goodness you are whipping up in your kitchens!
Recipe Source: adapted from my cousin-in-law Susie E.