Toffee Butterscotch and Tapioca Pudding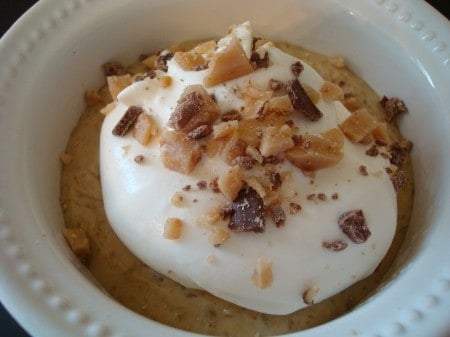 Yum. Yum. Yum. I snagged this recipe from Tartelette's blog.
She has some of the most amazing presentations and recipes of sweets I've seen and this is no exception.
I've been waiting to try this particular pudding recipe.
We love tapioca and I figured combining that with toffee and butterscotch could not be a bad thing. It wasn't.
The only thing I would do differently next time is not refrigerate it overnight (I made it a day ahead to save time). It was more firm than I would like. Next time I'll serve it at room temperature – maybe even slightly warm. Very, very delicious.
Toffee Butterscotch and Tapioca Pudding
Ingredients
1 can evaporated milk
2 egg yolks
2/3 cup whole milk
3 Tb instant tapioca
1/4 tsp. kosher salt (I just used regular table salt)
3 Tb. unsalted butter
2/3 cup dark brown sugar
1 tsp. vanilla
1/2 cup tofffe bits (I used crushed up Heath Bar)
1/2 cup heavy cream
2 tsp. sugar (I always use confectioner's sugar when whipping my cream)
toffee bits for garnish (again, I used crushed up Heath Bar)
Instructions
Warm the evaporated milk in a saucepan until it comes to boiling point. Reduce the heat to low and keep it warm. In a separate bowl, whisk together the egg yolk, milk, tapioca and salt. Let stand 5 minutes.
Melt the butter in a saucepan on medium heat, add the brown sugar and cook until the sugar melts and starts to foam, about 4 minutes. Slowly whisk in the warm evaporated milk, stirring until smooth. Be careful as it will bubble like mad. Add the tapioca mixture and bring the pudding to a gentle boil. Cook, stirring constantly for an additional 3-4 minutes. Remove form the heat. Stir in the vanilla.
Pour half the pudding among 4 serving dishes, divide the toffee bits evenly on top, pour the remaining half of pudding. Cover with plastic wrap, pressing it to the surface as to prevent a skin from forming. Let stand or chill until serving time. Whip the heavy cream to soft peaks with the sugar and garnish the puddings with it. Garnish with more toffee bits.
Recipe Source: adapted from Cuisine at Home from Tartelette
Disclaimer: I am a participant in the Amazon Services LLC Associates Program, an affiliate advertising program designed to provide a means for me to earn fees by linking to Amazon.com and affiliated sites. As an Amazon Associate I earn from qualifying purchases.