Macadamia-Crusted Chicken with Mango Salsa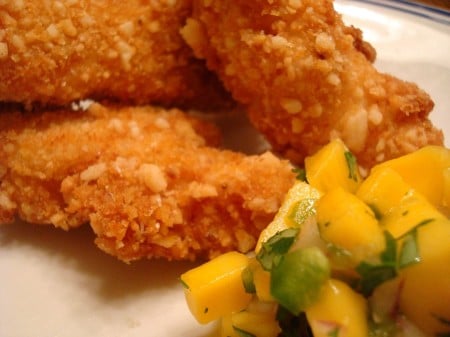 Oh heavens, this meal was so yummy I wish I still had leftovers, but darn it all, my kids and husband liked it just as much as I did.
Again, this recipe is from The Complete Cookbook, via my friend Nicole.
The breading on this chicken is the crunchiest, crispiest, most delicious crust I have ever tasted.
I know I say this all the time in my posts, and maybe the truth is that my husband would rave about anything I made because he loves me and is afraid to hurt my tender cooking feelings, but really, this dinner, he kept repeating, "I can't believe how crunchy this is.
It is the best chicken I've ever eaten!"
Really, it is so good. And paired with the mango salsa? It is to die for. I've made several recipes for mango salsa in the past, but for a quick, throw-together recipe, this one wins.
Trade Secrets: I actually didn't realize this was a deep-fried recipe until I was almost done breading the chicken. Ooops. But since we love deep-fried food (don't judge me) and I always have canola oil on hand, I went with the deep-fry technique. It definitely "crisped" the breading perfectly.
However, based on how the chicken looked before frying, I really think this would turn out fabulously oven-baked, probably right around 375 degrees. I think I'll try that next time for a healthier version (but please don't misunderstand because I really want to emphasize that it was delicious fried).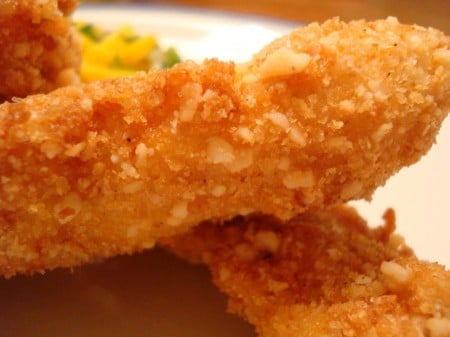 Also, the original recipe didn't call for any seasoning of the chicken strips after their dip in the oil.
If there is anything I've learned from frying food, it is that it always tastes better if it is seasoned piping hot, right after it exits the fryer.
I sprinkled the chicken strips with a little salt as they were draining on the paper towels, and I am so glad I did because it definitely enhanced the flavor.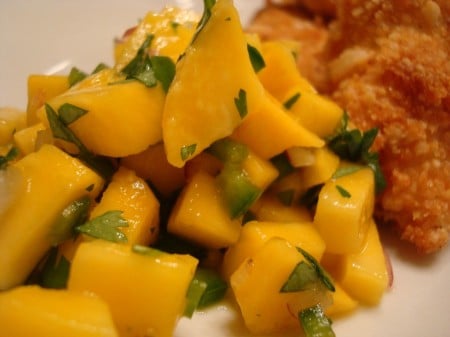 Tri Color Pasta Salad or Confetti Rice and Bean Salad
Cheesy Cauliflower Bake or steamed vegetable
Mango Slices or other fresh, cut up fruit
Macadamia-Crusted Chicken with Mango Salsa
Yield: 6 servings

Prep Time: 40 minutes

Cook Time: 20 minutes

Additional Time: 30 minutes

Total Time: 1 hour 30 minutes
Ingredients
For the chicken:
12 chicken tenderloins (14 oz.), larger ones cut in half (chicken breasts cut into thin slices would work great, too)
1 cup flour, seasoned generously with salt and pepper
2 eggs, lightly beaten
8 oz. macadamia nuts, finely chopped
2 cups breadcrumbs
oil, for deep-frying
Salt for seasoning
For the Mango Salsa:
1 medium mango, finely diced
3 tablespoons finely diced red onion
2 tablespoons roughly chopped cilantro
1 fresh jalapeno, seeded and finely chopped
Juice from 1 lime
Instructions
Cut the chicken into strips, Dust the chicken strips with the flour, then dip them in the egg and, finally, coat them generously in the combined nuts and breadcrumbs. Chill for at least 30 minutes to firm up.
To make the salsa, combine all the ingredients in a small bowl and season to taste with salt and black pepper. Set aside.
Fill a large, heavy-based saucepan (I used my electric frypan) one-third full of oil and heat to 350 degrees, or until a cube of bread dropped in the oil browns in 15 seconds. Cook the chicken strips in batches for 4-5 minutes, or until golden brown all over, taking care not to burn the nuts. Drain on crumpled paper towels (brilliant!). Serve the chicken strips warm with the salsa.
Notes
I actually didn't realize this was a deep-fried recipe until I was almost done breading the chicken. Ooops. But since we love deep-fried food (don't judge me) and I always have canola oil on hand, I went with the deep-fry technique. It definitely "crisped" the breading perfectly. However, based on how the chicken looked before frying, I really think this would turn out fabulously oven-baked, probably right around 375 degrees. I think I'll try that next time for a healthier version (but please don't misunderstand because I really want to emphasize that it was delicious fried).

Recipe Source: adapted from The Complete Cookbook