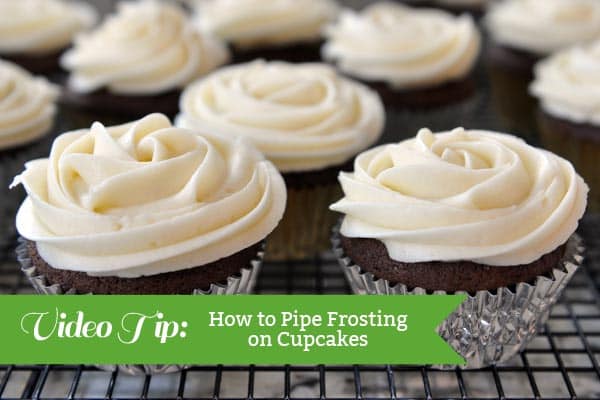 Today's video tip is for all of you who want beautifully decorated cupcakes like you get from fancy bakeries without, you know, going to a fancy bakery to get one.
Make a cupcake. Whip up some frosting. Watch this quick, 2 1/2 minute video. And then go pipe some swirls on top! It's easy and you'll feel like a rock star when your cupcakes look good enough to sell. But don't sell them. Keep them and wow your family and friends with your newfound skills.
The frosting I'm using in the tutorial is this Quick Vanilla Buttercream but I've also piped cupcakes with my favorite Magical Frosting and the chocolate frosting from Friday's post. The key is to use a frosting that can hold it's shape (and that tastes good, too). While I do mention what tip I use during the video (Wilton 1M), I don't mention that I usually use these 12″ or 16″ piping bags and never bother with a coupler – just snip off the point of the bag and slide the tip right in.
Any questions? Feel free to leave them in the comments section of this post.
A quick little note: Keep in mind that these video tips are simply a way to help you conquer life in the kitchen – from one friend to another. I do not have a fancy studio (nor do the other guest video tippers). I do not clean off my counters (or shut cabinet doors) for you. I do not aspire to be on television. I do not set up extra lighting and cameras. It's just me and my video camera – giving you one little tip at a time and trying to get the shooting done in one short nap time (not mine, little Cam's). Think of it like we are hanging out at my house. It's pretty down to earth and casual. If you need studio and lights and makeup and a real, live wardrobe…um, I'm probably not your girl. Peace out.
Remember all of the video tips can be seen on the main Video Tips page as well as on Mel's Kitchen Cafe You Tube channel.