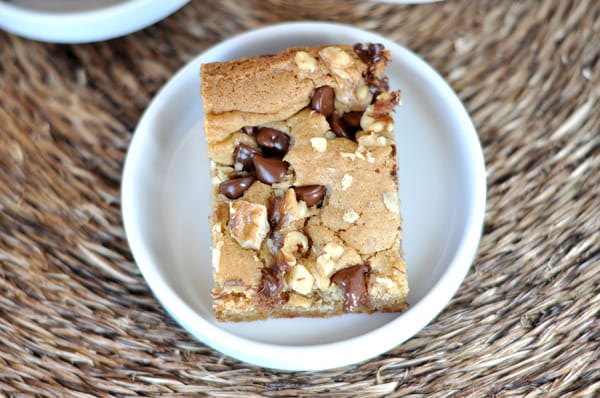 I have to say that for as many brownies, blondies and other decadent bar cookies that have made it down my gullet, I've never had a blondie quite like this one.
These bars are golden and chewy. Chewy, chewy, chewy. Thanks to the exclusive brown sugar, the blondies bake up luscious and dense and well, did I mention, chewy?
Studded with chocolate chips and walnuts, these little blondies are absolutely magical. I've never had the original at Applebee's but when my Aunt Marilyn sent me a recipe she had found for a general look-alike blondie and the word "YUMMY!" was scrolled across the top of the page, I knew I needed to make these a part of my life (and hips).
Totally worth it. Totally. Unique in their chewiness (seriously, can I stand to say that word one more time in this post?) and utter deliciousness, these blondies need to be a part of your life (and hips) immediately, also. Everything about them is perfect. And chewy.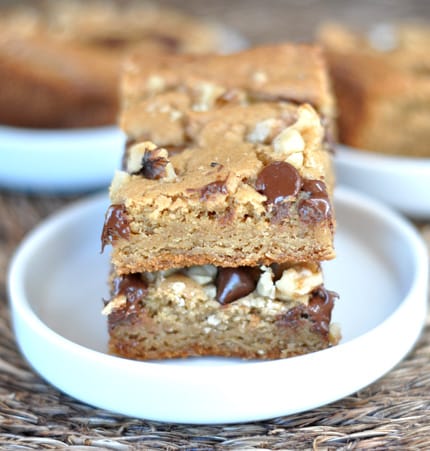 One Year Ago: Roasted Garlic and Cauliflower Pasta
Two Years Ago: Cornbread and Fluffy Honey Butter
Three Years Ago: Sugar Gems
Walnut Chocolate Chip Blondies
Ingredients
2 cups all-purpose flour
1 teaspoon baking powder
1/2 teaspoon salt
1/4 teaspoon baking soda
10 tablespoons butter
2 cups packed light brown sugar
2 large eggs
2 teaspoons vanilla
3/4 cup semisweet or milk chocolate chips
3/4 cup chopped walnuts (or pecans)
Directions
Preheat the oven to 350 degrees F. Line a 9X13-inch pan with foil and lightly grease with cooking spray.
In a medium microwave-safe bowl, melt the butter. Add the brown sugar and mix well. Add the eggs and vanilla and mix. Add the flour, baking powder, salt and baking soda and blend until combined.
Spread the batter in the prepared pan. Sprinkle the chocolate chips and nuts over the batter. Bake for 25-30 minutes until a toothpick inserted in the center comes out clean or with a few moist crumbs.
If desired, serve warm with a scoop of ice cream.
https://www.melskitchencafe.com/walnut-chocolate-chip-blondies-applebees-knock-off-recipe/
Printed from Mel\'s Kitchen Cafe (www.melskitchencafe.com)
Recipe Source: sent to me by my Aunt Marilyn