Whipped Chocolate Buttercream Frosting
Get this simple and delicious whipped chocolate frosting recipe! It is decadent, delicious and perfect for cakes, cupcakes, and everything in between.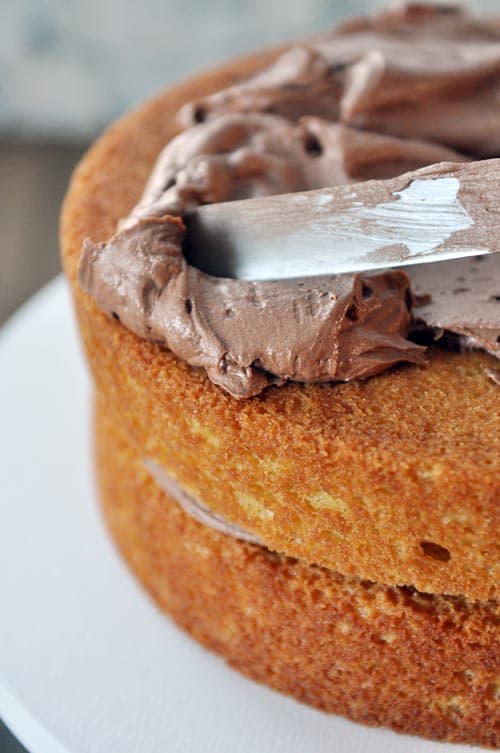 This is my favorite chocolate frosting (and incidentally, that is yellow cake #9 that I made during my Quest to Perfect Yellow Cake and just so you know, it wasn't even close to perfect which resulted in #10 through #15). #16 is happening right now in my kitchen. Today. And I have a good feeling that it is The One.
But today isn't about the cake. It's about the frosting.
Simple as simple can be, this frosting is four easy ingredients whipped together into creamy, fluffy goodness.
We eat it on cake.
Atop cupcakes.
We eat it sandwiched between graham crackers.
And we have even been known to slather it on a random brownie or two.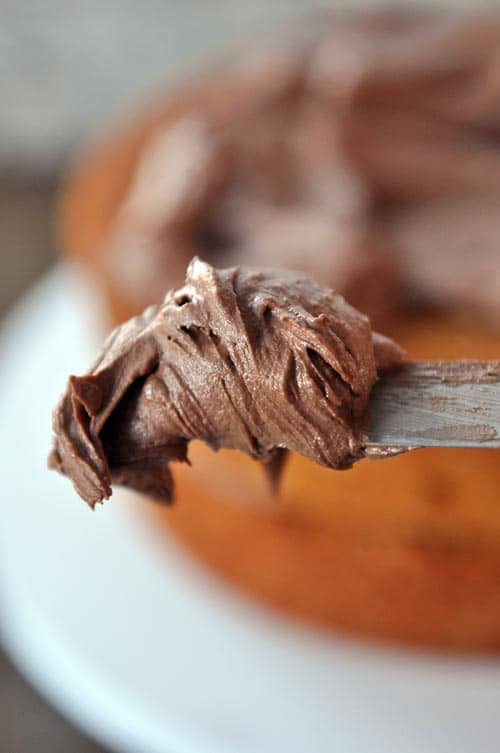 Because it is so simple to make and the taste is so incredibly ethereal and decadent, it is my chocolate buttercream of choice to use anytime I want to frost something. Anything.
I haven't used it for finer piping details (like a small star shape) but it works magically well for frosting layer cakes, especially when you employ the super technical frosting method of randomly swooping the frosting over the cake in swirly dips and divets like I do.
Cake decorating professionals should probably look away at this point.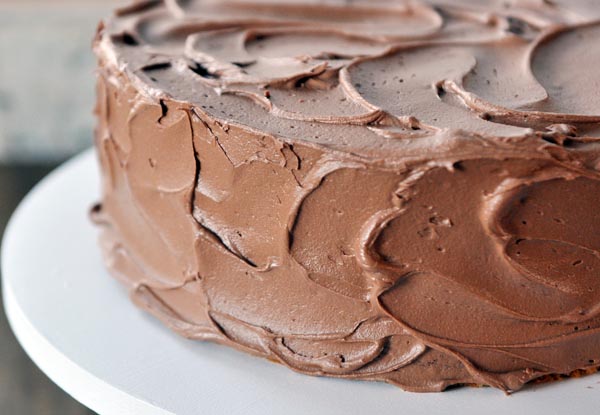 And the frosting is great for piping a large swirl on a cupcake (video coming Monday!), too. I don't know about you but it doesn't get much better than a really great cupcake topped with a giant dollop of whipped chocolate buttercream frosting.
One Year Ago: Honey Lime Tilapia
Two Years Ago: Garlic and Herb Butter Spread
Three Years Ago: Classic Chicken Noodle Soup
Whipped Chocolate Buttercream Frosting
Yield: 2-3 cups frosting

Prep Time: 10 minutes

Total Time: 10 minutes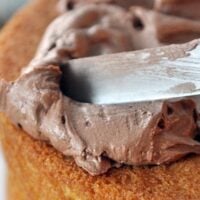 Ingredients
1 cup (2 sticks, 16 tablespoons) butter, softened to room temperature
2 cups powdered sugar
1 teaspoon vanilla extract
1 cup (6 ounces) good-quality semisweet or bittersweet chocolate chips, melted and cooled to room temperature
Instructions
In the bowl of an electric stand mixer or in a large bowl using a handheld electric mixer, whip the butter on medium speed until light and fluffy, 2-3 minutes. Gradually add the powdered sugar (so it doesn't fly everywhere!) and mix until well-combined and the frosting is creamy, 3-4 minutes. Blend in the vanilla.
Drizzle in the cooled melted chocolate and whip the frosting on medium speed until it is creamy and fluffy, 3-4 minutes. Frost away!
Notes
I highly suggest using semisweet or bittersweet chocolate even if you are mostly a milk chocolate fan. The chocolate lightens beautifully and doesn't have an overly dark chocolate taste.

And speaking of chocolate, use a good-quality chocolate chip. It really does make a difference since that is the only chocolate flavor in the recipe. Ghirardelli semisweet or bittersweet chocolate chips are my preference - they taste amazing and melt really well.

If refrigerating this frosting, you may need to let it come to room temperature and whip it with an electric mixer for 1-2 minutes before using it to frost a cake/cupcakes.

The frosting is on the soft, creamy side - I've used it to pipe swirls on cupcakes but haven't used it for finer piping like a small star tip for cakes.

Finally, if you are using unsalted butter, throw in a pinch of salt with the powdered sugar.

Recipe Source: Mel's Kitchen Cafe (from a really old recipe binder that I've used for 10 years or so)