Why I Went to Africa
I've mentioned a time or two that Brian and I had the opportunity to travel to Africa earlier this summer. I've been waiting for just the right time tell you about it.
Now is the time! And I am so excited. Like, my stomach is in knots kind of excited.
This trip to Africa, well, it was life-changing in the most non-cliche sense of the word, I promise. And I'm not saying that just because I was able to taste a cocoa bean fresh off the tree (it was squishy and slimy, FYI).
Being in Africa literally changed my perspective on so many facets of my life. I knew it would be amazing, I just didn't realize quite how impactful it would be. The 30+ hours traveling home, I kept grabbing my pen and notebook from my bag and writing down thoughts and impressions about how to reorder my life when I got home. There's a whole set of pictures/stories surrounding the overall craziness and excitement of us actually being in Africa (I could never quite get over how the people there carry everything so gracefully on their heads) – including what we ate! – but today I want to talk about the main reason we were there.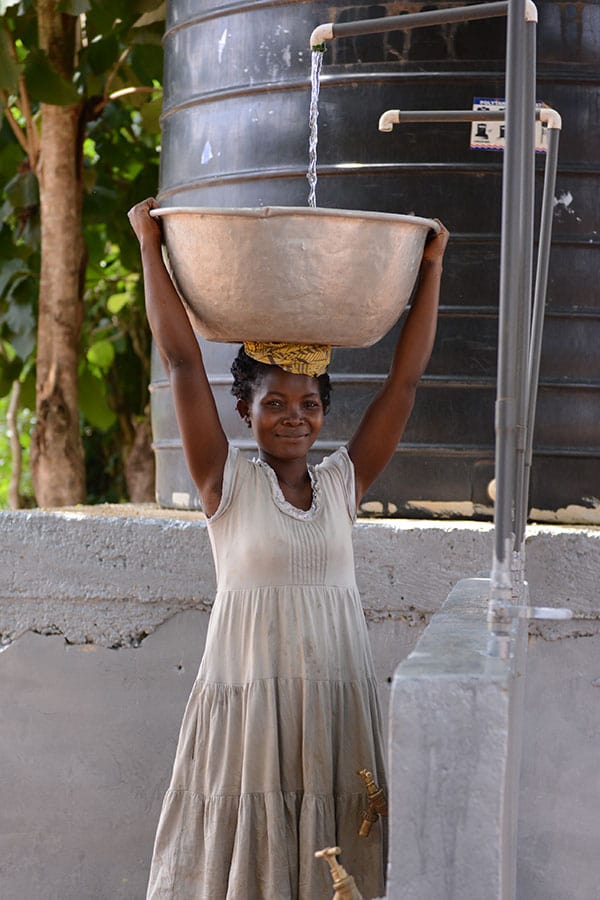 I've agonized over this post, hoping that as I try to give you a summary of the incredible people we met, the feelings and passion I have for what's happening there in Ghana will come through despite the somewhat sterile environment of the internet (I wish you could just all be in my living room right now watching my slide show of pictures; of course I don't blame you for that little jiggle of relief you are feeling right this second for avoiding the 1000+ picture marathon – you are forgiven).
Over the last nearly decade of blogging, I have been blessed beyond measure as this website has grown beyond what I ever could have expected. Truly. What began as a personal blog with maybe two visitors a month (me and my mom!) now has millions of readers worldwide. I feel so blessed and sometimes still a bit shell shocked. Thank you for being here and continuing to support me through your readership and kindness.
For a long while, I've wanted to find a meaningful way to give back – to somehow express my gratefulness for all that I've been blessed with. This trip to Africa was timely in so many ways (personally and professionally), and there's no question in my mind that right now, this is my way to give back and raise awareness for a cause that has become so dear to me.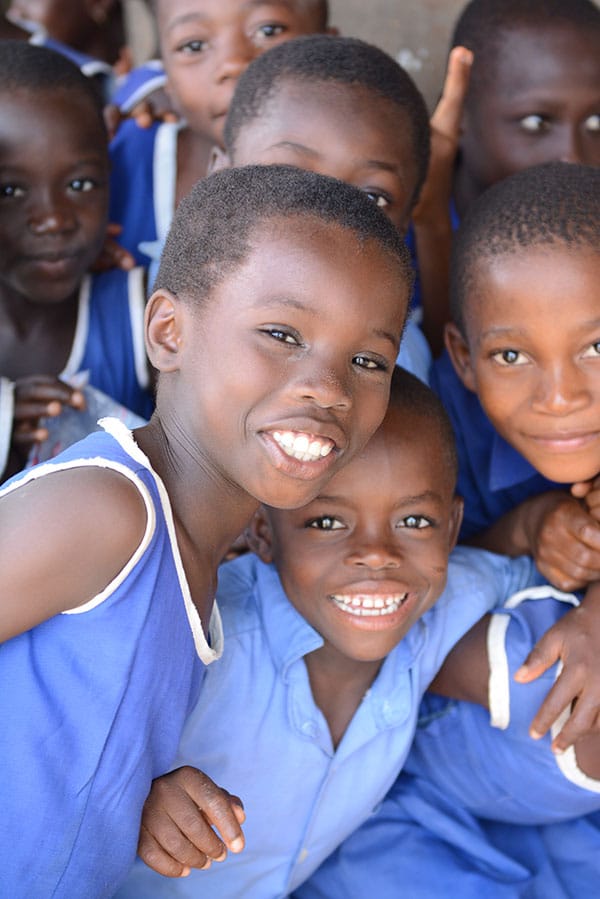 Why We Went
Brian and I flew over to Africa with a non-profit organization that we've known about for several years: Mentors International.
In a nutshell, Mentors goal is to end poverty through self-reliance.
In an expanded nutshell, Mentors is changing lives by providing education and microloans to clients (90% are women!) who want desperately to change their circumstances (and in most cases, to be able to educate and empower their children and grandchildren). Mentors operates in many countries, including Honduras, Guatemala and the Philippines, and they've done so for many years. However, their work in Ghana just started last year (thanks to doTerra's Healing Hands Foundation).
Brian and I had the unique opportunity to travel to Ghana and see firsthand how this microloan program has affected and benefitted hundreds of Ghanaians in the year and a half they've been in operation. Because most Ghanaians don't have access to viable financial solutions (we're talking banks that charge over 70% interest – yikes!), many of Mentors' clients in Ghana have doubled and even tripled their income with the help of the microloans. What's absolutely astounding? Mentors Ghana has a 100% payback rate throughout all of their clients. That's insane! (In a very awesome way.)
Those facts are all pretty cool, but don't hold a candle to what it meant and felt like to meet these incredible men and women in person.
While we were there, several hundred Mentors' clients gathered for a cultural celebration one of the first days we were traveling through the villages outside of Accra (near Abomosu); these joyous people wanted simply to say thank you to Mentors for how the microloan program has changed their lives for the good. Look at all the gorgeous dresses! While many of these people live in extreme poverty, they still dressed up in their finest clothes to come celebrate.
I can honestly say I felt truly honored to be among them; I've never met a prouder, happier people in my entire life.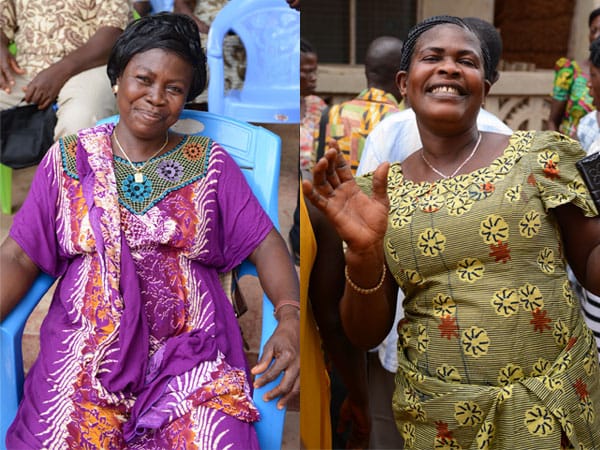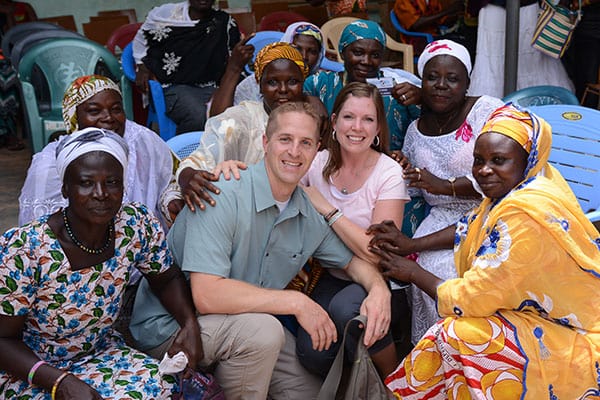 The minute they realized I was there to take millions of pictures, they went absolutely crazy (especially when they figured out they could see their pretty faces on the back of my camera after I took the picture – it was awesome).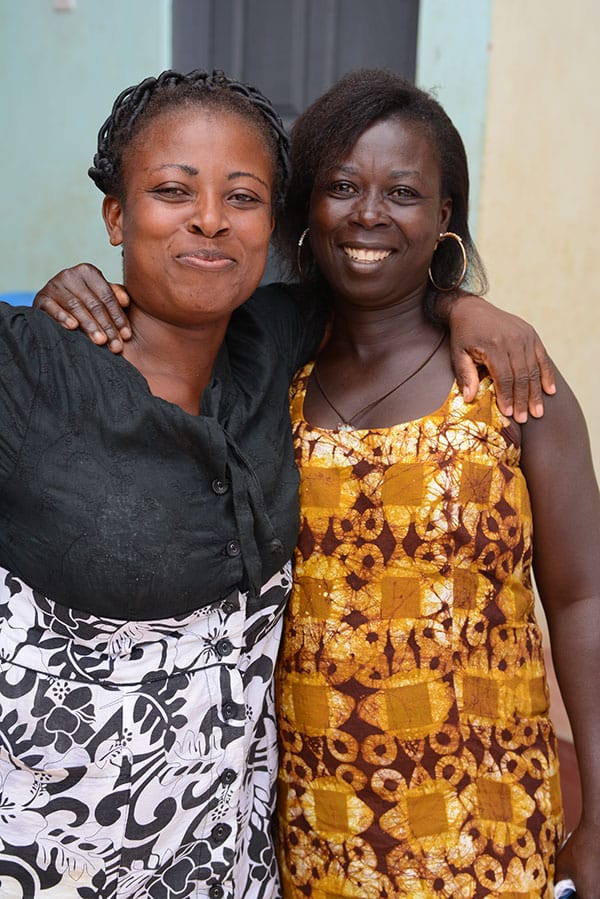 Mostly, today, I want to tell you about two of the remarkable women I met in Ghana. I could tell you dozens and dozens of stories, but these are the two that have stayed with me most of all.
Naomi
This lady! She's inspiring beyond words. Naomi lives in the tiny village of Apampatia and is serious and soft-spoken. When Naomi was a small child, she developed an infection that crippled her legs and back. In Africa (and anywhere), this poses a lot of difficulties, but later in life, Naomi found herself as a single mother responsible financially for her daughter, several grandchildren, and her own ailing mother. She literally had no one to fall back on.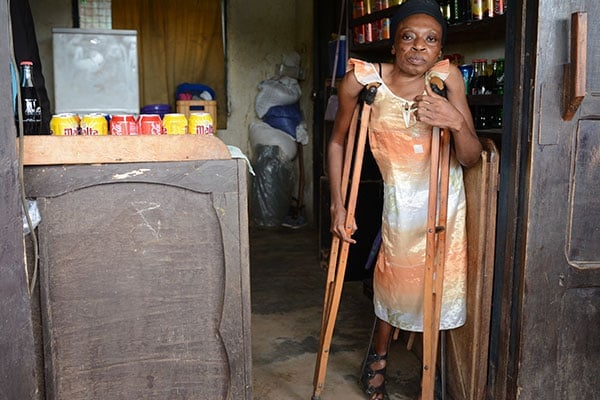 Desperate to find a way to provide, Naomi, with the help of her daughter, approached several banks in Ghana asking for a loan to start a business selling drinks in her little village. All of them said no. They were clear that they didn't feel she would be a suitable client in light of her physical disability. Incidentally, most banks in Ghana charge upwards of 70% interest on a given loan with additional collateral – a daunting financing prospect to say the least.
Months later, Naomi's daughter heard that a group called Mentors was holding business education meetings in a nearby village. She went and came back with the news that Naomi could apply for a loan through Mentors if she attended the education classes. After her daughter communicated with Mentors about Naomi's desire for a loan, the loan officers decided to come to Naomi and began meeting with her one-on-one in order for her to prepare to receive a loan.
That was last year.
Naomi's first loan was for the equivalent of $125 US dollars. She repaid it in half the time (three months instead of six months). She used the loan to stock her small shop with drinks for her village. She has since received several subsequent loans from Mentors – and she has paid them all back in full. Among other things, she's used the money to buy a secondhand refrigerator so that not only can the villagers buy a drink, they can now get a cold drink (a novelty in many parts of Africa).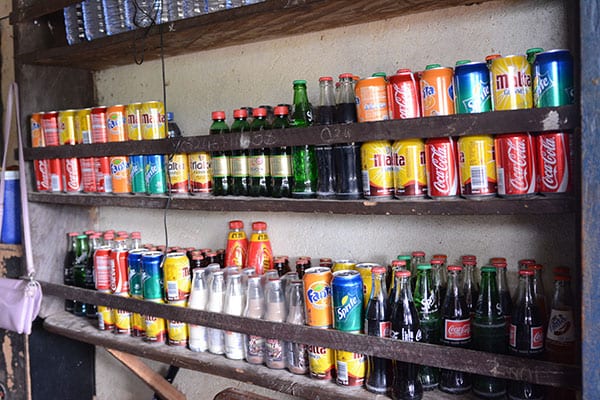 Now, she's using the loan money to provide mobile banking to her remote village (this is the way many Ghanaians pay their bills and receive money, even in the villages). Once shunned by her own community, Naomi's shop is truly at the heart and center of her village. She is a leader in her community and even employs two other villagers, in addition to her daughter, to work for her.
When asked how Mentors has helped her, Naomi told us that no one else ever believed in her and her ability to be succeed, but Mentors did (and still does). She said: "If I can change the way I live, anyone can." And I believe that. I left feeling so inspired by Naomi's courage and filled with gratitude that Mentors decided to give her a chance. Not only has she changed her own life, she now has a way to send her children and grandchildren to school and hopefully end their family's circle of poverty.
Gladys
If I had to pick a favorite Mentors' client (that would kind of be like choosing a favorite child), it would be Gladys. Her soft-spoken but determined manner touched my heart. Gladys lives in the village of Sankubenase.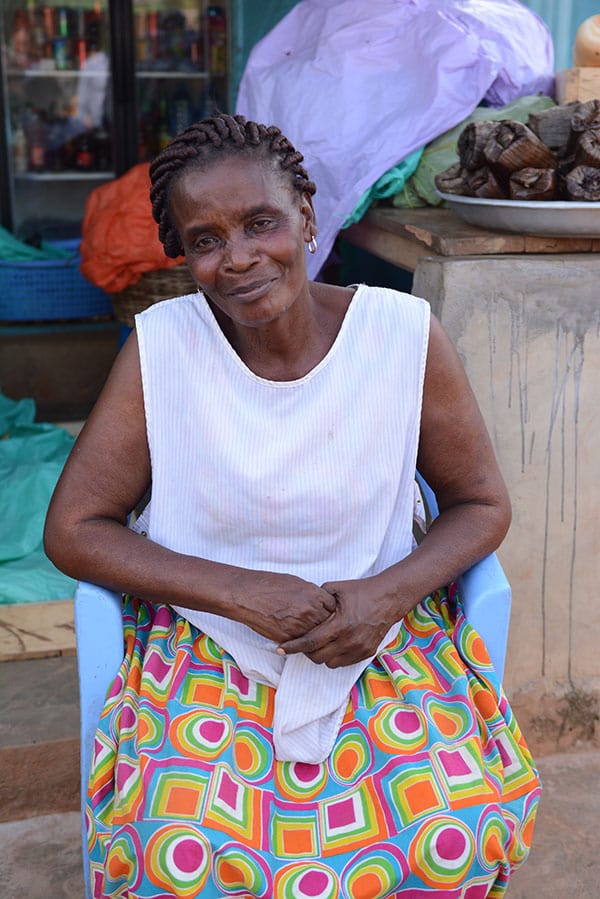 A refugee from Nigeria, Gladys never finished her basic education because her father wanted her to do house work instead of go to school. When her husband died, Gladys found herself completely alone to care for her family. In addition, she had a sister who also died, leaving Gladys to care for her niece, as well as her own children.
Working on credit from Ghanaian banks, Gladys opened her shop to sell homemade bread. She had been operating it for years without making hardly any profit, thanks to those exorbitantly high interest rates, leaving her and her family in desperate circumstances. When she found out about Mentors, she couldn't wait to start attending business education classes and apply for a loan.
Mentors taught her to manage and save her money. After receiving her first loan, the equivalent of around $100 US dollars, and with the advice from the Mentors' loan officers, Gladys began to sell drinks with her famous bread. Villagers began expressing an interest in chilled drinks, so she used savings and a second loan for a refrigerator and more flour for bread.
Gladys' bread now supplies six villages! It is literally known for kilometers around that she has the best bread in all of Africa (Brian will attest to this; he downed a whole loaf by himself). Gladys makes a whopping 1,200 loaves of bread every couple of days and always sells out. Currently, she, along with the villagers she employs, bakes the bread in an old mud oven. Her dream is to save enough money to buy a more modern oven and open a larger shop. She is also determined to someday mill her own flour to avoid having to go to town to buy it – and she wants to be able to employ more villagers.
Gladys was visibly emotional as she spoke to us. You could tell from every word she spoke that she was humbled and grateful for Mentors and the chance they've given her to be a successful business woman. She expressed several times how thankful she is for the business education classes Mentors provides and how much they've taught her.  Her life was destitute and hopeless before but now, she has so much hope for the future.
When asked what she would say to those people who have donated to the Mentors Ghana project, Gladys, with tears in her eyes, said "I would say may God bless you. May God bless you as he did Abraham with infinite blessings. I would say this if I could see these people." No pleas for more money, no requests that people continue to donate and give, just a simple hope that God would bless them.
This faithful, resilient woman inspired me in so many ways.
So Many Others
I could tell you about so many others – like Agnes who wakes up at 4 a.m. every morning to sell pastries so she can send her younger siblings to school and Alomenu who was living off of 75 cents a day when all she wanted and needed was $50 to set up a roadside table to sell bread and oatmeal to provide for her child and mother – the number of determined women (and men) who have risen out of poverty already with Mentors Ghana is remarkable.
There's more than 800 more stories from clients in Ghana that could be shared; each are equally inspiring. The sobering fact is there are hundreds more men and women in Ghana waiting to change their lives in the same way through Mentors (literally, they are on the waiting list) but they can't do so until more funding becomes available through donations. 
I left Ghana feeling immensely grateful for all the privileges I have that often go unnoticed because they are just there. Clean water. A full pantry. A house with windows and more than one room. It's still hard for me to understand and come to terms with the disparity between my life and the lives of these inspiring but destitute villagers that I met.
The amount of money I regularly spend at Costco is the average starting loan for a Mentors client in Ghana. About $125 US dollars. That's enough to completely change a life of one of Mentors' clients in Ghana! That thought still kind of blows my mind – and has made me try to be much more intentional and aware of how I spend (and give) my money.
A dollar is not just a dollar to Mentors.
One dollar will give back hundreds of times as it is loaned out and repaid. Enyonam Mensah-Dotsey, the incredible man who leads Mentors Ghana, emphasized this to us many times. One dollar can do so much in Ghana and will continue to give over and over and over. I've seen it in action there in the villages of Ghana – it is truly amazing what these dollars are doing.
Can we help? Can we make a difference in Ghana?
I think we can. Actually, I know we can.
How amazing would it be if Mel's Kitchen Cafe readers banded together to provide 100 more loans for villagers across poverty-stricken Africa?
We are all in different circumstances with different abilities to help, but if you are able, will you give?
Even a dollar.
Five dollars.
Fifty dollars.
Every dollar will make a difference to someone in Africa waiting to change their life with the help of Mentors International – and they can't do it without our help. If every single one of my readers gave ONE DOLLAR to Mentors, the total would skyrocket into the millions (insert major goose bumps).
I think we can handle 100 new loans. Don't you? 
That's $10,000. It makes me incredibly nervous to even suggest it…to throw that amount out in the wide open and not reach the goal, but I believe in us as a community of caring people who want to make a difference, and I think we can do this. 100% of the donations will go to Mentors Ghana. Yessss!
UPDATE 10/16: It's unbelievable to actually type this but over the last several months, between the donations here and with the sale of my eCookbook, you have generously donated just over $50,000 to Mentors! Can you even believe it?? I am excited to share some stories of what your money has done. Stay tuned!
And this is just the beginning of how we are going to give back. Check back tomorrow; I can't wait to tell you more. I have a feeling it is going to be incredible.
Disclaimer: I am a participant in the Amazon Services LLC Associates Program, an affiliate advertising program designed to provide a means for me to earn fees by linking to Amazon.com and affiliated sites. As an Amazon Associate I earn from qualifying purchases.