You just can't have an Easter season celebration without carrot cake, in my opinion. Even if you aren't a carrot cake fan, you have to love it for approximately 10 days, give or take a few, just in time for carrot cake season to come and go. I happen to know about one of the most unbelievable carrot cake recipes, and it is…well…unbelievable. But sometimes necessity requires a simpler version – a carrot cake that doesn't have to be layered and tediously frosted, a cake that can feed a crowd and maintain its delicious simplicity.
This carrot cake fits the bill. Sent to me by a reader, Alisha, apparently this recipe has been around for a long time and was a renowned recipe in a large bakery that has since closed down. It definitely lives up to its fame! This cake is dense and moist and perfectly spiced. Topped with the whipped cream cheese frosting and it is a dream. I even took liberties with the recipe, subbing applesauce for half of the oil, adding vanilla extract and reducing the eggs by one (thanks to Alisha's own tip) and the result was an absolutely rewarding finish to a lovely meal.
I love the deliciousness of this cake, but I also love that it is easy, down-to-earth, and feeds a crowd. Let me repeat that: this cake feeds a crowd! Seriously, people, I didn't read far enough ahead in the recipe and made the entire batch for my little family. We had carrot cake coming out of our ears for days. Not necessarily a bad thing for my taste buds but a travesty for my thighs. Thanks, Alisha! (For the recipe…not the thigh issue.)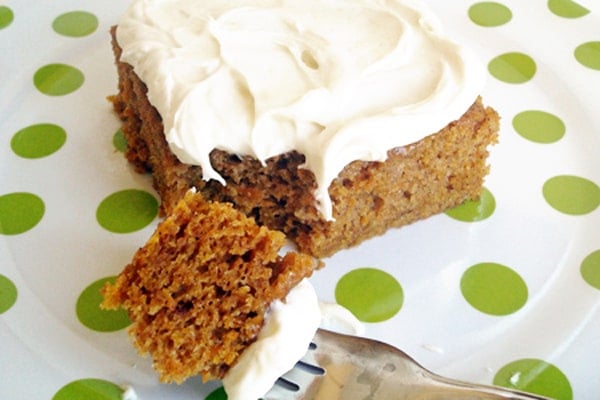 One Year Ago: Simple and Delicious Cheese Bread
Carrot Sheet Cake with Whipped Cream Cheese Frosting
Note: I haven't tried it but am guessing you could easily half this recipe and bake it in a 9X13-inch pan. Also, you can eliminate the whipped cream from the frosting recipe, but you'll be missing out on an ethereal confection that takes cream cheese frosting to a whole new level.
Ingredients
4 large eggs
3/4 cup oil
3/4 cup applesauce
3/4 cup water
2 teaspoons vanilla
3 cups sugar
3 1/2 cups flour
1 tablespoon cinnamon
1 teaspoon allspice
2 teaspoons salt
2 teaspoons baking soda
2 teaspoons baking powder
1 1/2 pounds carrots, washed and ends trimmed (they don't need to be peeled)
1/2 cup butter, softened
8 ounces cream cheese, softened
3 3/4 cups powdered sugar
2 teaspoons vanilla
2/3 cup heavy whipping cream
Directions
Preheat the oven to 350 degrees. Grease and lightly flour an 11X17-inch rimmed baking sheet. Shred the carrots, finely, on a box grater or food processor. Set aside.
In a large mixing bowl combine the eggs, oil, applesauce, water and vanilla. Whisk in the sugar to combine until evenly mixed.
In a second bowl mix flour, spices, salt, soda and baking powder. Stir the dry ingredients into the wet ingredients just until moistened. Gently fold the carrots into the batter until evenly distributed. Bake the cake for 30-32 minutes until a toothpick inserted in the middle comes out with a few moist crumbs. Cool completely.
For the frosting, mix the cream cheese, vanilla and butter with an electric mixer until light and creamy. Gradually beat in the powdered sugar until smooth. In a separate bowl, beat the heavy whipping cream until stiff peaks form. Fold the whipped cream into the frosting and whip to combine (don't overmix or the frosting will become too stiff). The frosting should be smooth and creamy.
http://www.melskitchencafe.com/2010/03/carrot-sheet-cake-with-whipped-cream-cheese-frosting.html
Printed from Mel's Kitchen Cafe (www.melskitchencafe.com)
Recipe Source: adapted from Alisha O.

Click the above image to see all the Easter/Spring recipes!