The Best Spinach Artichoke Dip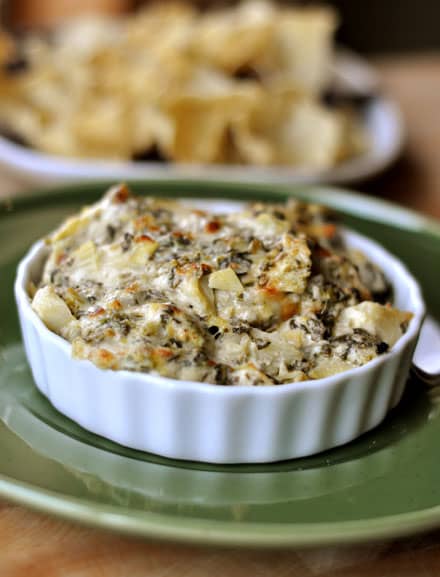 Spinach artichoke dip is one of those foods that if I see on a menu anywhere, I have to order. I love the stuff. The good news is – it's fairly easy to throw together at home with delicious results.
My old much-loved recipe that I used to make all the time called for a jar of store-bought alfredo sauce.
Since I am trying my best to avoid prepackaged, processed foods these days (let's not start on how the dip itself isn't exactly health food), I decided I would try my hand at creating my own recipe mimicking that creamy sauce base.
I've forgotten where exactly, but recently, I saw a technique on a spinach florentine recipe that thickened the cream sauce quickly in the microwave. Using that easy step, I threw everything else into the bowl, gave it a quick stir, and it was ready to be baked to golden bubbly perfection.
This dip is as good if not better than any I've had in a restaurant and far surpasses my old recipe. I love it when that happens!
One Year Ago: Naan
Two Years Ago: Rice Pudding
The Best Spinach Artichoke Dip
Yield: 9X13-inch pan of dip

Prep Time: 10 minutes

Cook Time: 35 minutes

Total Time: 45 minutes
Ingredients
1 1/2 cups whipping cream, half-and-half or milk (see note)
2 tablespoons flour
1/2 teaspoon garlic powder
1 teaspoon salt
1/2 teaspoon black pepper
8 ounces cream cheese, light or regular, softened
16 ounces frozen, chopped spinach, defrosted and squeezed dry
2 (15-ounce) cans artichoke hearts, drained
1 teaspoon hot sauce (like Tapatio brand)
1 cup freshly grated Parmesan cheese
1 cup freshly grated mozzarella cheese
Instructions
Preheat the oven to 350 degrees. Lightly grease a 9X13-inch or similar sized baking dish.
In a large microwave-safe bowl, whisk together the cream, flour, garlic powder, salt and pepper. Microwave the mixture in 1-minute intervals, whisking fully after each minute, until the mixture is thickened, about 4-5 minutes.
Stir in the remaining ingredients until well combined. Spread the dip into the prepared pan. Bake for 25-30 minutes until bubbling and golden on top. Serve warm with bread or tortilla chips.
Notes
This dip is completely luxurious if you use whipping cream for the base. However, I usually lighten it up a bit and use milk and have had great results with 1% and whole milk. You'll need to watch the thickening step a bit more and stir every 30-45 seconds but sure enough, after 5 or so minutes, it's thick and perfect (not quite as creamy and decadent as the cream, but it sure saves a lot of calories).

Recipe Source: Mel's Kitchen Cafe