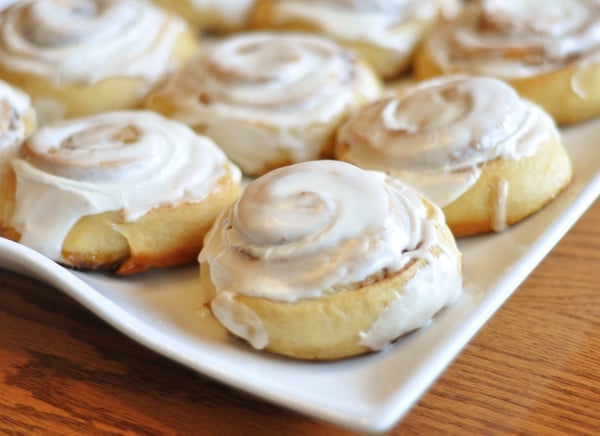 I have to confess something. It's big. I hope we can still be friends.
I've been cheating on my favorite cinnamon roll recipe with these bad boys. I've made these rolls no less than eight times in the last couple of months and although I didn't believe cinnamon rolls could get any better, these definitely are in the running for the best cinnamon roll.
In my defense, I've only been partially cheating, using the tasty brown sugar filling from the "old" recipe and pairing it with the velvety soft and tender dough from this newer recipe. The result of the merge is near perfection, especially with the simple cream cheese glaze swirling over the tops of the warm rolls.
The buttermilk dough is so soft and supple that a rolling pin isn't even necessary when rolling them out (similar to the other vanilla pudding recipe) – I can easily press it into a rectangle with my hands without it being overly sticky. The difference lies mainly in the flavor of the dough. The buttermilk adds a special depth of flavor to the dough and must aid in tenderness because the baked rolls are fabulously soft and light in texture.
I have a feeling I'll alternate between the two recipes, since I still absolutely adore the vanilla pudding recipe, but if you twisted my arm and pinned me down for a confession, I'd have to admit that these are definitely my new cinnamon roll flame.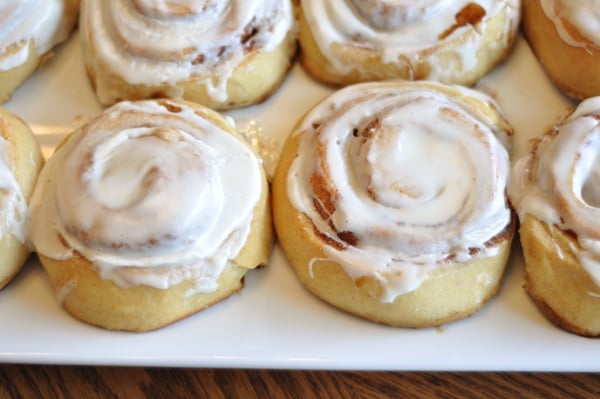 One Year Ago: Basil Chicken in Coconut Curry Sauce
Two Years Ago: Chocolate Chip Cookie Dough Cheesecake Bars
Buttermilk Cinnamon Rolls with Cream Cheese Glaze
Make-Ahead: to make these rolls ahead of time, once the rolls are formed and placed on the baking sheet, immediately cover them with lightly greased plastic wrap and refrigerate them; do not let them rise. Refrigerate overnight, up to 16 hours. Let the rolls sit at room temperature, covered, until they have doubled in size about 3-4 hours and then uncover and bake as directed. The rolls can also be frozen at the same point as mentioned above (cover with a layer of greased plastic wrap and a top layer of tin foil). They will need to sit at room temperature for 9-11 hours to defrost and rise before baking.
Note: as with all yeast doughs, I never use the flour amount called for in the recipe as a hard fast rule (unless a weight measure is given and then I pull out my kitchen scale). Because humidity, temperature, altitude and a multitude of other factors can impact how much flour you need in your yeast doughs, I always judge when to quit adding flour by the texture and look and feel of the dough rather than how much flour I've added compared to the recipe. This tutorial on yeast may help identify how a perfectly floured dough should be.
Ingredients
3/4 cup buttermilk, warm

(I pour the buttermilk in a glass liquid measuring cup and microwave for 1 minute on 50% power)

(here is a guide for making your own buttermilk)
6 tablespoons butter, melted and cooled
3 large eggs
4 1/4 cups (21 1/4 ounces) flour
1/4 cup (1 3/4 ounces) sugar
2 1/4 teaspoons instant yeast
1 1/4 teaspoons salt
1/2 cup (1 stick) butter, softened to room temperature
1 cup brown sugar
2 teaspoons cinnamon

Glaze:

(or use the delicious cream cheese frosting from

this recipe

):

1 1/2 cups (6 ounces) confectioners sugar
2 ounces cream cheese, softened
3 tablespoons buttermilk or milk
1/2 teaspoon vanilla extract
Directions
For the dough, whisk the warmed buttermilk and butter together in a large liquid measuring cup. Combine 4 cups of flour, sugar, yeast and salt together in a standing mixer fitted with dough hook (or you can use a large bowl and mix with a wooden spoon or electric handheld mixer). With the mixer on low speed, add the buttermilk mixture and eggs and mix until the dough comes together, about 2 minutes. Increase the mixer to medium speed and knead the dough until it is smooth and elastic, about 10 minutes (knead for 15-18 minutes by hand). If after 5 minutes of kneading, the dough is still overly sticky, add 1/4 cup flour 1 tablespoon at a time until the dough clears the sides of the bowl but has a slight tacky feel when pressed between your fingertips. (See this tutorial for a visual.)
Place the dough in a large, lightly oiled bowl and cover the top tightly with plastic wrap. Let the dough rise in a warm place until doubled, around 2 to 2 ½ hours, depending on the warmth of your kitchen.
Meanwhile, lightly grease a 9X13-inch baking dish (if doubling the recipe, I've found using a large rimmed baking sheet, 11X17-inches, works great). In a small bowl, mix the brown sugar and cinnamon together. Set aside.
When the dough is ready, turn it out onto a lightly floured counter (I use my trusty roul'pat for this step) and press it into a 16 by 12-inch rectangle (if you have doubled the recipe, split the dough in half and roll out one half at a time). Gently brush the softened butter over the rectangle, using an offset spatula or rubber spatula. Sprinkle on the brown sugar mixture, leaving a 1/2-inch border along the top and bottom edges. Lightly use the palms of your hands to press the brown sugar mixture into the butter, adhering it to the dough.
Lift the longest edge closest to you and begin rolling the dough into a tight log. Pinch the seam closed and roll the log so it is seam side down. Gently stretch the log to be 18 inches in length with an even diameter all the way throughout and pat the ends to even them up.
Using a serrated knife, slice the log into 12 evenly sized rolls (or more if you like your rolls thinner). Arrange the rolls cut side down on the prepared baking pan and cover with lightly greased plastic wrap. Let the rolls rise in a warm place until doubled, 1 to 1 ½ hours.
Bake at 350 degrees for 22-25 minutes, until the rolls are lightly golden on top and cooked through but not overly browned.
While the rolls are baking, mix the softened cream cheese and buttermilk together until smooth. Add the vanilla and mix. Whisk in the confectioner's sugar. Add additional milk or buttermilk one teaspoon at a time until desired glaze consistency is reached. It should be thick yet pourable. Drizzle the warm rolls with the glaze.
http://www.melskitchencafe.com/buttermilk-cinnamon-rolls-with-cream-cheese-glaze/
Printed from Mel\'s Kitchen Cafe (www.melskitchencafe.com)
Recipe Source: adapted from America's Test Kitchen Family Baking Handbook