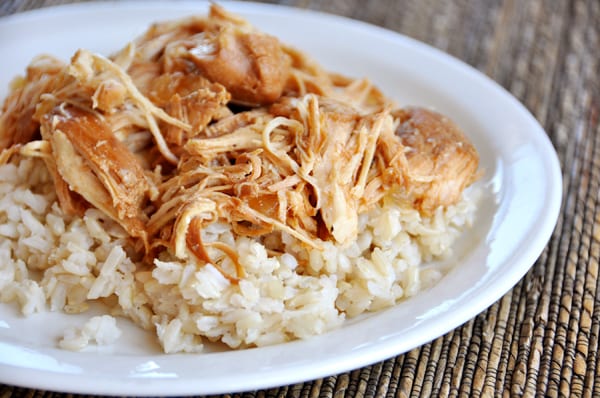 While I managed to use my slow cooker plenty over the summer, I've now officially kicked into Slow Cooker High Gear thanks to the cooler weather and fall leaves changing. This is great news for me because the slow cooker fantastically simplifies my life.
This particular recipe, sent to me by Tammy* is slow cooker perfection. The tender, juicy chicken soaks up all the flavors of the sweet and tangy sauce and it requires, oh, maybe five minutes of prep work. I like to think of this as a sweet and sour slow cooker shredded chicken. But I happen to like the original name better, even though I have no idea who Sue is and why this recipe is tied to Kansas City.

I served it over brown rice with a green salad and steamed peas on the side. Simplicity and deliciousness at it's best.
*Have I mentioned I love it when I receive recipes from all of you? I don't have time to try them all but some of my favorite recipes have come from readers and I appreciate each and every one you send to me!
One Year Ago: Basil Chicken in Coconut Curry Sauce
Two Years Ago: Chocolate Chip Cookie Dough Cheesecake Bars
Kansas City Sue's Chicken
Note: The chicken cooks up with quite a lot of juicy sauce. I prefer lightly draining the sauce and serving it on the side so that it isn't so "soupy" as we are dishing it up over our rice. Serve it as you please!
Ingredients
4-6 boneless, skinless chicken breasts
2 tablespoons butter or olive oil
1/4 cup ketchup
1/2 cup apple cider vinegar
1/2 cup granulated sugar
1 onion, diced
1 tablespoon soy sauce
1/2 teaspoon dry mustard
1 cup low-sodium beef broth
Directions
In a large skillet, heat the butter/olive oil. Season the chicken breasts with salt and pepper and cook them for 1-2 minutes on each side, until nicely browned but not cooked all the way through. Remove the chicken to the slow cooker. In a large bowl, combine all the other ingredients. Whisk well. Pour the sauce over the chicken.
Cover the crockpot and cook on low for 6 hours. Serve with rice or noodles.
https://www.melskitchencafe.com/kansas-city-sues-chicken-slow-cooker/
Printed from Mel\'s Kitchen Cafe (www.melskitchencafe.com)
Recipe Source: adapted slightly from Tammy, a reader