This post has been updated October 1, 2016 as part of the Whole Foods Market 5 Affordable Weeknight Dinners Campaign. My family was able to enjoy this recipe again in a whole new way with ingredients from my recent Whole Foods Market trip.
This Maple Pecan Crusted Salmon has been a family favorite over the years, and so I knew I wanted to give it a shot with extra fresh ingredients from Whole Foods.
We started the week with Greek Meatball Pitas with Tzatzki Sauce, which is not a bad way to start a week, not at all. But today we're eating Maple Pecan Crusted Salmon, with salmon direct from Whole Foods' seafood department.
Whether wild-caught or responsibly-farmed, the fish, shrimp, and shellfish I found when I went on my grocery trip just looked gorgeous (if fish can actually look gorgeous), and I love that I can feel confident in the quality of the salmon from the get-go. Like I originally said when I created the recipe, there's nothing worse than feeling the need to cry over fish.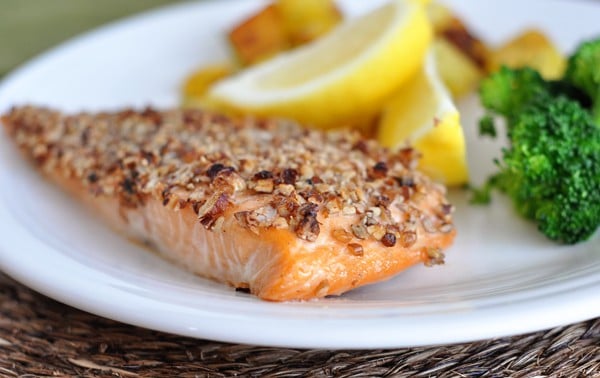 If you are like me, when it comes to salmon (or other seafood, for that matter) you might be a little choosy with recipes, since good-quality, affordable salmon may not be widely available where you live. When I lived in landlocked Northern Minnesota, that was certainly the case for me.
But since salmon ranks high up there with foods I love with my whole soul, when I make it, I often stick with my tried-and-true recipes. My anti-risk taking personality might have something to do with that.
I took a risk trying this recipe because it clearly didn't fit into salmon recipes I've tried and loved before, but I trust my friend, Michelle, who gave it to me and know she has great food taste. Don't you love knowing people like that? Me, too.
I'm here to say that the risk was well worth the taking. In fact, I think this salmon is my all-time favorite preparation so far. The fish marinates in a simple maple mixture complimented with a few savory flavors and is then crusted with toasted pecans, a bit of salt and baked to golden deliciousness.
I am hereby in love with maple marinades. A perfect, perfect flavor profile for my beloved salmon. I served this with steamed broccoli and the ever-fantastic golden skillet potatoes. Winner, winner salmon dinner.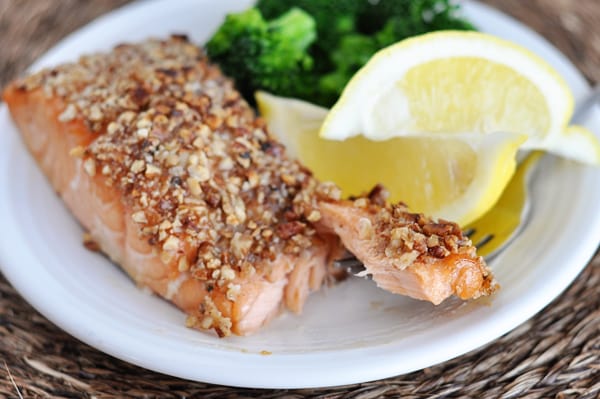 One Year Ago: Healthy Banana Bran Muffins
Two Years Ago: Key Lime Bars
Three Years Ago: The Ultimate Stuffed Zucchini
Maple Pecan Crusted Salmon
Ingredients
2 to 2 1/2 pounds salmon fillets
2 tablespoons butter
1/3 cup pure maple syrup
1 teaspoon Worcestershire sauce
1/2 teaspoon salt
1/4 teaspoon pepper
1/2 teaspoon ground mustard
1/2 cup pecans
Salt for sprinkling
Fresh lemon wedges for serving
Directions
In a medium saucepan, melt the butter. Stir in the maple syrup, Worcestershire sauce, salt, pepper, and ground mustard. Stir over medium heat until the mixture is warmed through, 3-4 minutes. Remove from the heat and let cool to room temperature.
While the marinade is cooling, pour the pecans into a dry skillet and heat over medium heat, tossing frequently, until golden and toasted. Remove from heat; let the pecans cool to room temperature and then chop finely.
Place the salmon fillets in a gallon-sized ziploc bag. Pour the maple marinade over the salmon, coating the salmon pieces evenly. Seal the bag and refrigerate for 30 minutes or up to 4 hours.
Preheat the oven to 325 degrees F. Line a baking sheet with foil and lightly spray with nonstick cooking spray.
Place the toasted, chopped pecans on a plate or shallow pie dish. Remove the salmon from the refrigerator. Dip the top side of each salmon fillet in the pecan crumbs pressing the salmon lightly into the pecans so they adhere to the top of the salmon. Place the fillets pecan-side up on the prepared baking sheet.
Sprinkle the salmon with a pinch of salt.
Bake the salmon for 20-22 minutes until cooked through but still tender inside (not overcooked). The salmon should flake easily with a fork but still be soft and not dry.
Serve immediately with fresh lemon wedges.
http://www.melskitchencafe.com/maple-pecan-crusted-salmon/
Printed from Mel\'s Kitchen Cafe (www.melskitchencafe.com)
Recipe Source: adapted slightly from Michelle (omitted brown sugar from marinade, simplified baking instructions)