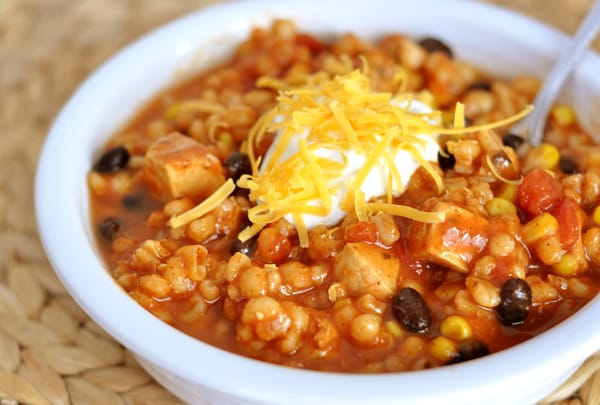 Remember the barley from yesterweek? (Which I have to say, the response to that recipe positively cracked me up – 51% of you wanted to vomit at the sight and the other 49% made it and loved it.*) Well, the almighty barley has risen to the occasion again and managed to make this chicken chili an absolute knockout.
If you haven't given barley a go yet, this recipe should go on your to-make list. I happen to love the hearty texture the barley adds to this chili, not to mention the fiber and protein boost it gives. Because most of the ingredients simmer together in 40-minute bliss, the flavors meld together deliciously. I ate this for about four days in a row without tiring of the tasty treat it provided when I reheated it for lunch or dinner (thanks to my husband for being out of town and allowing me the guiltless repetition!). My kids gobbled this up using baked tortilla scoops as the medium for transferring the chili from the bowl to the mouth.
All in all, this has landed a place in my very top favorite chili recipes…and it earns super major awesome points for being simple and relatively quick to prepare.
*Not a scientifically pure poll, but you catch my exaggerated drift, eh?
A really, great dinner roll (for homemade, I'd suggest French Bread Rolls or Buttery Cornmeal Crescents)
Fresh fruit or a light fruit salad like this Honey Lime Fruit Salad
Sliced cheddar cheese
One Year Ago: BBQ Chicken Braid
Two Years Ago: Asian Lettuce Wraps
Three Years Ago: My Favorite Cheesecake
Southwestern Chicken Barley Chili
Note: in anticipation of the questions, yes, I think this would freeze very well, even though it might be ultra-thick when reheated (simply add some chicken broth or water to thin). Also, I think it would fare quite well in the slow cooker, adding the first set of ingredients (perhaps all??) to the slow cooker and cooking on low for about 7 hours and then adding in the corn and beans (if you didn't throw them in first) for the last hour.
Ingredients
1 (14.5-ounce) can diced tomatoes, undrained
1 (16-ounce) can tomato sauce
1 3/4 cups low-sodium chicken broth
1 cup medium barley (not quick cooking)
4 cups water
1 tablespoon chili powder
2 teaspoons cumin
1 teaspoon dried oregano
dash cayenne pepper (more or less to taste)
2-3 boneless skinless chicken breasts (about 1 1/2 pounds), cut into bite-size pieces
1 (15-ounce) can black beans, rinsed and drained
1 1/2 cups frozen corn kernels
Garnishes: shredded cheddar cheese, sour cream, sliced green onions, tortilla chips
Directions
In a large pot (about 6-quarts), combine the diced tomatoes, tomato sauce, chicken broth, barley, water, chili powder, cumin, dried oregano and cayenne (if using). Stir well. Bring the mixture to a boil over high heat and add the chicken. Stir to combine. Reduce the heat to medium-low, cover, and simmer the chili for 40 minutes, until the barley is tender and chewy and the chicken is no longer pink. Stir occasionally, while it simmers to prevent sticking and to make sure it stays at a steady simmer. After 40 minutes, add the beans and corn. Stir to combine and simmer for five more minutes. Serve the chili with optional garnishes, if desired.
The chili will thicken considerably upon cooling. Add chicken broth or water as needed to achieve a desirable consistency (especially if reheating the leftovers).
http://www.melskitchencafe.com/southwestern-chicken-barley-chili/
Printed from Mel\'s Kitchen Cafe (www.melskitchencafe.com)
Recipe Source: adapted from the back of the Quaker Medium Barley box