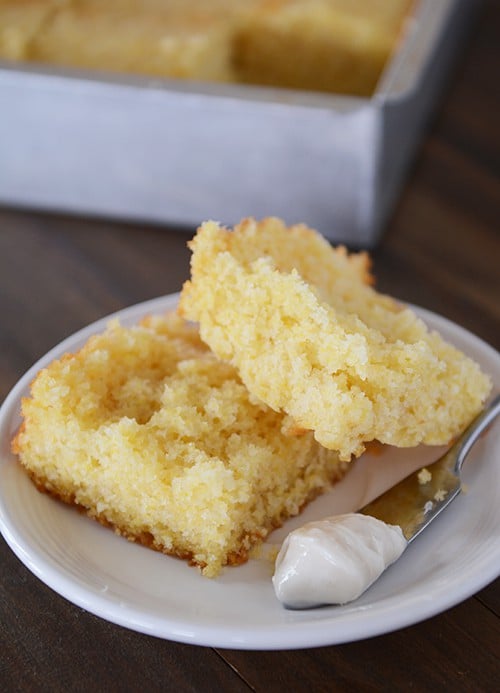 Since I'm on a bread kick, let me pose this thought: everyone needs a go-to cornbread recipe, don't you think? Cornbread is so versatile and we definitely love cornbread around these parts, making it quite often.
I already have a tried-and-true recipe for cornbread muffins which are fantastic and I make often, but sometimes a basic, no-fail cornbread recipe is needed. I've gone through recipe after recipe and always been a tad disappointed: too dry, too crumbly, too sweet.
I'm here today to announce that my search is over. I've found The One. I've made this cornbread four times in the last three weeks. Excessive? Maybe.
But not only am I in love with this cornbread but the honey butter that accompanied this recipe from my brother and sister-in-law is so amazing, I could eat it by the spoonful (not that I am admitting to anything).
Food snobs, look away! The honey butter has a rather unique ingredient, but I tell you what, I've never tasted a honey butter more fluffy and delicious than this one.
And the cornbread? Moist and perfect. Enough said.
Update 2/2015: After five years of having this cornbread as my go-to, I've finally updated the pictures and a few notes under the recipe (I've taken to decreasing the sugar a bit). You know it's a good one when it hasn't been replaced by another favorite recipe after all these years!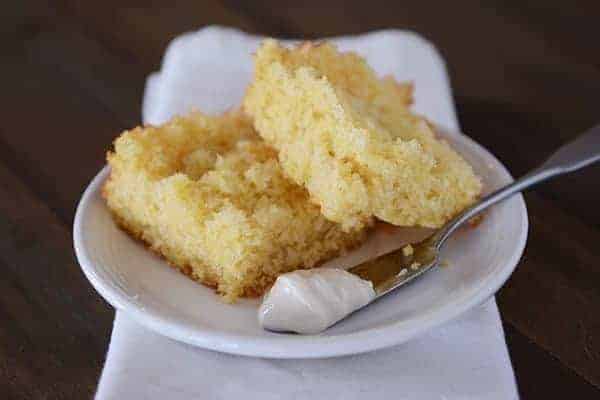 I often use half to 3/4 finely ground white whole wheat flour with good results - and sometimes I get crazy and use 100% whole wheat flour (always finely ground white wheat); the cornbread is a bit more dense with all wheat flour but still delicious.
Over the last few years of making this, I've toyed with the sugar amount and almost always end up decreasing it (often cutting it in half). The cornbread is still plenty sweet and delicious.
Ingredients
1/2 cup cornmeal
1 1/2 cups flour (see note above)
2/3 cup sugar (see note above)
1 tablespoon baking powder
1/2 teaspoon salt
1/3 cup oil
3 tablespoons butter, melted
2 eggs, beaten
1 1/4 cup milk
2 sticks butter, softened
1/2 cup honey
1/2 cup marshmallow fluff
Directions
For the cornbread, add dry ingredients, make a well and add oil, butter, eggs, and milk into the center. Stir until just mixed (batter will be runny – don't be alarmed!). Bake in an 8" square pan at 350 degrees for 35 minutes. This doubles perfectly for a 9X13-inch pan.
For the honey butter, whip all together with an electric mixer and serve at room temperature (can be refrigerated and softened).
https://www.melskitchencafe.com/the-cornbread-and-fluffy-honey-butter/
Printed from Mel\'s Kitchen Cafe (www.melskitchencafe.com)
Recipe Source:
 My brother Nate and his wife, Kylie (love you forever!)