A Lazy Girl's Guide to Disneyland
If there is anyone like me who wants a great Disneyland experience with minimal fuss, I give you: A Lazy Girl's Guide to Disneyland.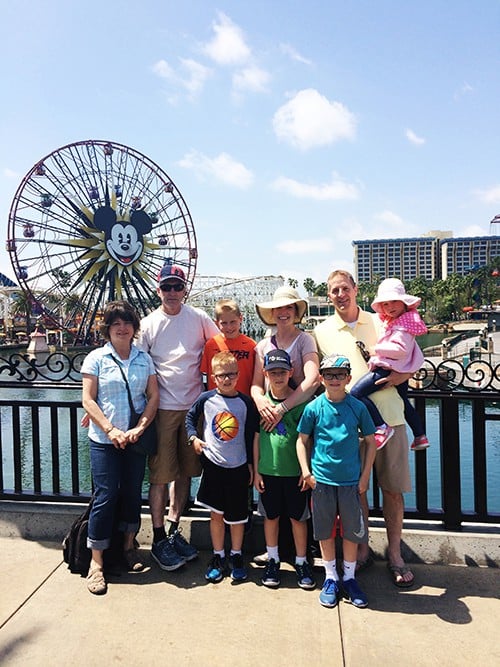 Disclaimer: none of the items in this post are sponsored – just sharing things I love; there are a few Amazon affiliate links scattered throughout but as always, feel free to shop around.
A couple of weeks ago when I went MIA, we were on a road trip to California to take our kids to Disneyland for the first time. When we decided to go, I started doing some research on how to make this the best, most economical, fun, memorable, efficient trip ever.
It took about three google searches and six minutes before I was completely overwhelmed. It was like this whole underworld of Disney enthusiasts (some way more exuberant than others, holy cow) was suddenly brought to my sheltered attention, and it was rather eye opening…and a little frightening.
If I'm being honest, a trip to Disneyland hasn't ranked in my top 50 things to do with the family, but I got quickly and thoroughly outvoted by everyone when we realized we'd be in the general area of Disney for my cousins' wedding. My precious minutes of research confirmed the fact that Disneyland sounded stressful and busy and full of crowds (my worst nightmare), and everything I read discussed how to maximize every single second of your day(s) in Disney with apps and spreadsheets and plans. So.Many.Plans.So.Much.Stress.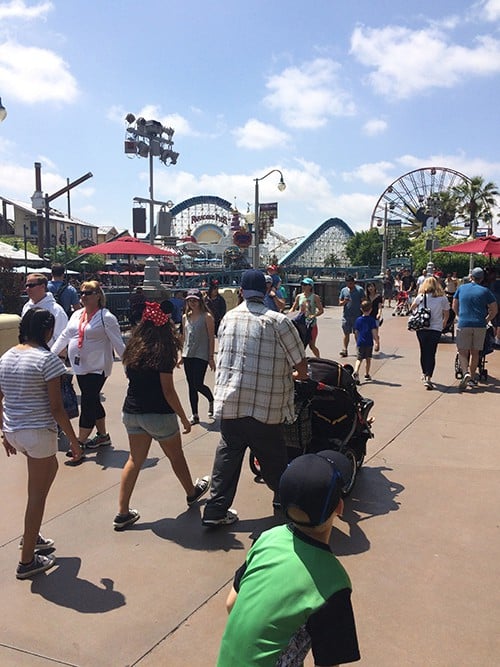 Even though those types of plans usually jive with my scheduled soul, I couldn't do it. That probably had everything to do with the months and weeks leading up to our trip. General life busyness and stress, company almost every weekend, some health challenges, and a sudden foray into homeschooling had me feeling pretty much at my max, and I didn't have the emotional energy or time to plan a multi-page document outlining our minute-by-minute trip to Disney.
But guess what? Despite the rather unplanned and headlong approach to our Disney trip, it was fabulous! About a million times better than I could have imagined, and I still can't believe I'm saying that. We really, truly loved it.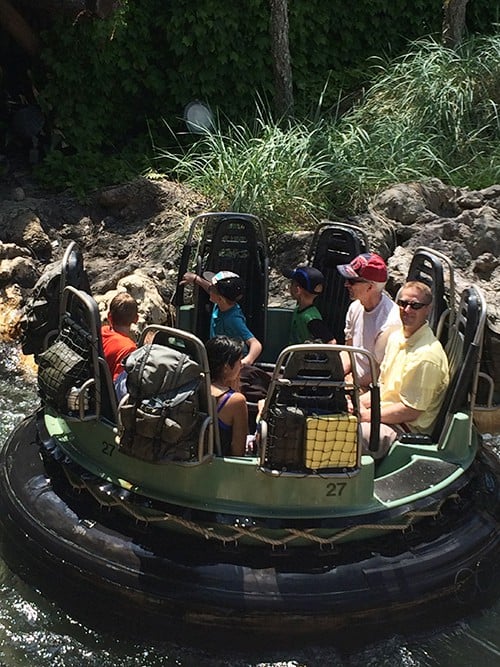 So, today, if there is anyone like me who wants a great Disneyland experience with minimal fuss, I give you:
The Lazy Girl's Guide to Disneyland
Disclaimer: I may upset many Disneyland lovers who approach their time at the park with zeal and fervor and hours of planning. Those are not bad things! I wish I had more zeal, fervor, and time to plan. And perhaps if we ever end up there again, I'll have a completely different philosophy about the happiest place on earth, but since I really did approach our trip with minimal fuss and we still had an absolutely splendid time, I thought I'd share what worked for us and what may work for other first-timers (season pass holders, look aside).
Buying Tickets
I bought tickets at Parksavers.com – a well-reputed website for purchasing Disney tickets. It doesn't take a rocket scientist to figure out that getting extremely discounted (or free) Disney tickets just doesn't happen unless it's a scam. We bought two day park hopper passes which meant we could go back and forth between Disneyland and California Adventure both days and picked them up at the park (took 5 minutes) the day before.
I did learn, however, that I could have saved several hundred dollars by getting a one-day ticket for Disneyland the 1st day and then doing the park hopper for the 2nd day. If you have more days to spend (of if you've been to the park several times), you could tailor your days there accordingly, but because Disneyland was a whole new world (haha) for us, we didn't cross over into California Adventure until almost closing time on the 1st day and we only really did so because we had the hopper pass. A full day in Disneyland was totally doable for our family (kids ages: 12, 10, 8, 7, 3) to keep us very busy from 9 a.m. to 9 p.m. (the week we went, they had just cut the hours down from closing at 11 p.m. to 9 p.m.). The 2nd day, we spent most of the morning and early afternoon in California Adventure and then went back to Disneyland for the evening.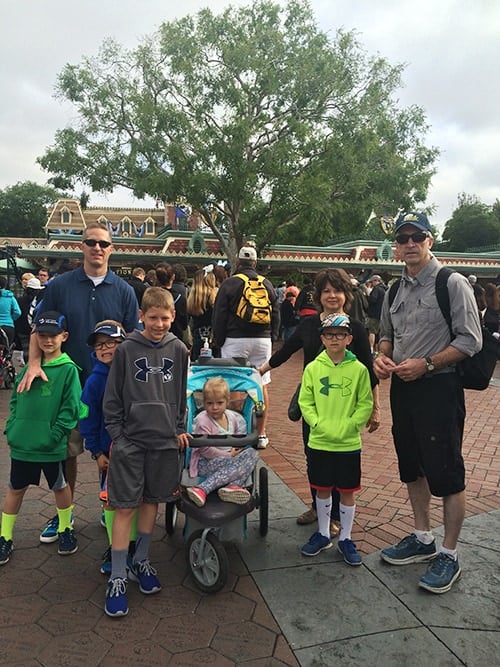 Planning the Plan
I didn't want to overplan and freak out if we were five seconds late to It's a Small World, but I also didn't want to go in blind. My solution? The night before while the kids were swimming, I sat with the Disney and California Adventure map and got my bearings about where rides were at and developed a general plan (I also had chatted with a few family members who had recently been there in the weeks leading up to it – that was really helpful, too).
The specifics of the initial plan will depend largely on the ages of people you are with, but we arrived at the park around 8:30 a.m. each day. Our first day, we headed straight to the Peter Pan ride (I shouldn't say this out loud but am I the only one that wonders what the hype is about this one?) in Disneyland while my dad grabbed FastPasses to Space Mountain, and after that, we just rolled with it, usually getting off a ride and deciding which FastPass to grab next. The 2nd day, we headed into California Adventure first and rode California Soarin' while my dad got FastPasses to Radiator Springs.
Two of my sisters-in-law swear by the RideMax app; I even downloaded it prior to our trip, but honestly, I never ended up using it. It was a little too intense for me.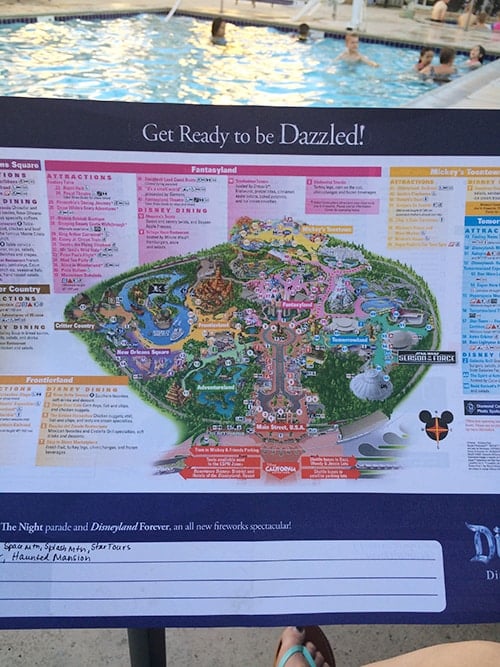 Having said that, the one app that we used constantly was the Disneyland app. It gave wait times as well as easy directions to get from point A to point B (and also told me how to find my blessed Dole Whips). We couldn't have lived without it. And it's free. Bonus.
Where to Stay
Since there are about 5,613 options in this vein, doing your own research based on your budget, family, interests is key. We opted to stay at a hotel about three blocks from the park (a Residence Inn), mostly because it was in walking distance from Disneyland (it seemed much farther at the end of the night but was still doable even if our single stroller was basically carrying all five kids) and had a free continental breakfast. It was functional and clean and perfect for us, plus it saved a bundle not staying closer to or on park grounds.
Food, Glorious Food
Speaking of food (oh wait, we weren't?), I wish I had a week to eat my way through Disneyland and California Adventure, but alas, with a large family and a budget, that didn't happen. Our desire to avoid selling our firstborn child to buy meals and still enjoy a bit of the food experience was to:
1) eat breakfast at the hotel before leaving for the park
2) pack a backpack each day with peanut butter sandwiches that didn't need to be refrigerated + granola bars + apples + a few other healthy snacks – we ate this throughout the day, never really stopping for an official lunch, just fueling as we went
3) eat one snack and one meal bought in the park – this usually consisted of a churro or pretzel sometime during the day (ok, and maybe a Dole Whip or three, too) and then a haphazard dinner (one night most the family devoured the famous corndogs while several of us opted for an amazing sandwich at the little yellow cafe, the other night it was Bengal BBQ plus gumbo from somewhere down by Pirates of the Caribbean and the garlic cheese bagel twists). Some standouts were the apple freezes, coconut macaroons and everything else I mentioned above.
4) everyone had their own water bottle and we refilled it throughout the day as needed.
What's the Deal With FastPasses
I was shocked during our two days at Disneyland how many people waiting in lines didn't know about or didn't use the FastPass system. Even though the park was fairly crowded when we were there (most of the popular rides had wait times close to 60 minutes), we hardly waited in line because of the almighty FastPass. You can google "Disney FastPass" and get more info (although the whole routine didn't make sense to me until we got there – thankfully it's super easy to get the hang of).
It really is the only way to get in tons of rides with minimal waiting. My 10-year old's favorite ride was Space Mountain and using stroller passes (if you have a stroller, tell the agent when you get on the ride that you need a stroller pass – you can return later with up to two other people to ride with no wait time) and FastPasses, I think he was able to ride it six times, never waiting in line.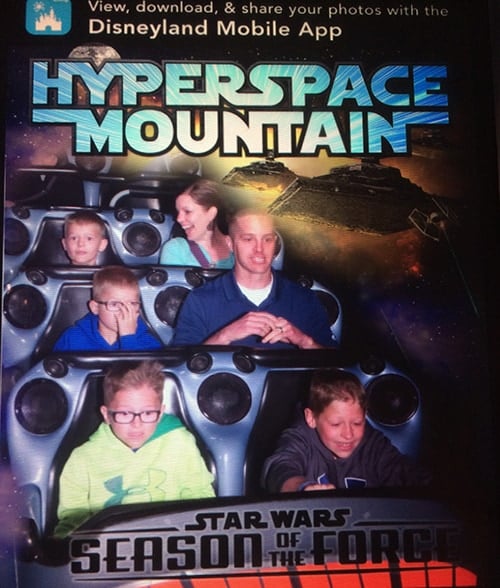 Stroller is Essential
I feel so strongly about this topic that I kind of feel like a stroller should be mandatory to even enter the park. Yes, even for you teenagers just there to hang out. I don't know how we would have managed without our stroller. And to think I was tempted to simplify and not bring one! The stroller we have isn't even very big, but Camryn (and sometimes one of the boys) rode on it nearly everywhere, and the little cubby underneath was a major blessing for stashing sweaters, hats, and water bottles. The bulky backpack with our snacks and other essentials fit on the handlebars.
BRING A STROLLER! There are stroller parking "lots" everywhere and we left it often without any problems (of course taking our phones/wallets with us). The stroller was especially dreamy when Camryn decided a cat nap was in order.
Get a Runner
I referred to this in the FastPass section, but if you are going to Disneyland with a youngish family like ours and want to avoid long wait times, FastPasses are the way to go. This means it's awfully helpful to have someone in your party that doesn't mind taking one for the team and running to get FastPasses while everyone else twirls around on the teacups. Insert: grandparents.
For us, they were the magical solution. Having my parents there was amazing, and my dad gets some kind of senior citizen (or general good human) award for hustling his way through the park to pick up FastPasses wherever and whenever we demanded it.
Pack the Essentials
Crossover Travel Bag: I talked about this new, favorite bag in my last gift guide. I wore it 100% of the time (even on rides) at Disneyland, and while rather small in size and lightweight, it fit everything I needed except my large water bottle (although it would fit a 16-ounce disposable water bottle). I love it so very much.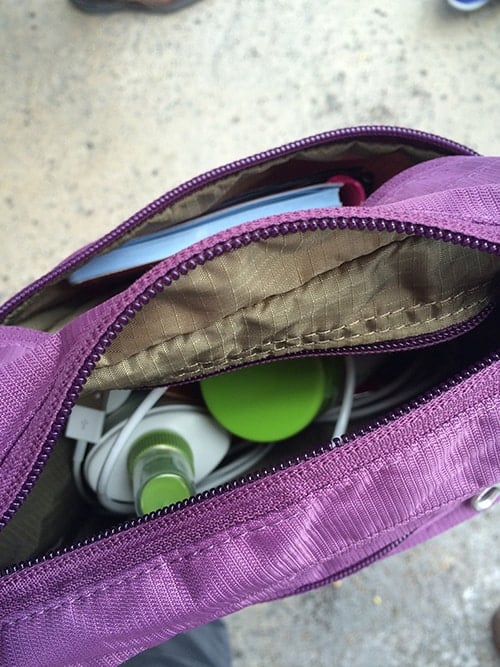 Backpack: as mentioned above, the backpack we used carried snacks, sandwiches and a few other miscellaneous things. The backpack we had was nothing special – just an all-purpose, durable backpack. It did its job very well.
Power bank: because I didn't bring my 40-pound DSLR into the park, all the photos and videos and app consulting was done via our phones which drained our batteries, so having a charged power bank was critical.
Personal Items: I brought along travel-sized hand sanitizer (one for the stroller, one for my bag), band-aids, ibuprofen, and sunscreen – all carefully housed in my purple bag. Used them all. The small size meant they didn't take up a lot of space and I could replenish at night back at the hotel.
Sweaters: even though the afternoon temps were in the low 80's, once that sun went down, it cooled off considerably (plus it was a little breezy) and we were all glad we had toted the sweaters around all day in the bottom of the stroller.
Autograph Book: I bought a little autograph book on Amazon before we left and carried it around in my purple bag. Cam scored some pretty fun signatures, and coming from a mom who isn't diehard girly and princessy, moments like these, were priceless. One thing we did NOT bring but I wish I did was a lanyard ticket holder. You have to keep track of all those flimsy tickets if you want to get FastPasses (and get back into the park the next day!). My dad kept track of them but I can see how a handy dandy holder would be…well…very handy.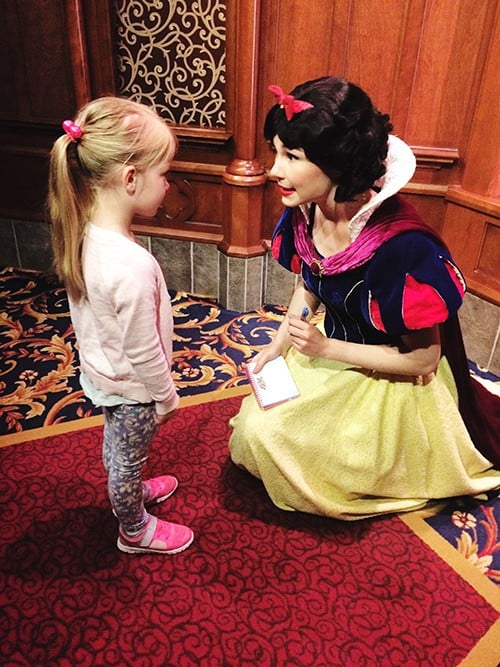 P.S. I wore these shoes (in the Cement color) the whole time; I can't say enough about how much I love these shoes. I've had them several years and they are still a main favorite of mine. Because I was a little paranoid about sun exposure, I also wore my beloved Coolibar hat nearly the whole time.
Souvenirs
How much money you spend on souvenirs and Disney paraphernalia is obviously a very personal decision. All of the Walmart-type stores in Anaheim sell basically the same stuff at Disneyland for a much lower price, so keep that in mind. However, even knowing that, we still paid Disney our dues and spent money on a few toys at the park.
We gave each of our kids $25 spending money and told them they had to wait to use it until the last afternoon (so they didn't drop it all on churros the first 20 minutes in the park). Every single boy ended up with a light saber, and Camryn snagged some miniature princess dolls (of which, now three are lost). The kids loved peeking inside stores and looking around, but it was a pretty easy decision on day two when they had seen just about everything Disneyland had to offer in the way of plastic souvenirs.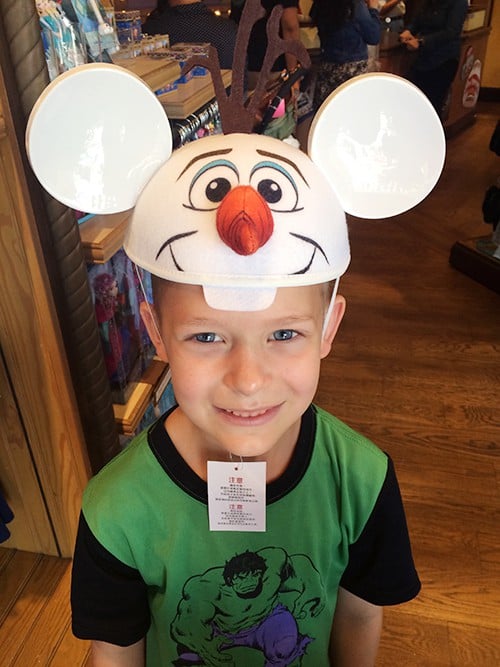 And. I think that's it. We didn't participate in or take advantage of any princess or character breakfasts, magic mornings, and I'm sure a hundred other missed experiences, but overall, we had a great time. A really, really great time.
Feel free to share any Disneyland tips of your own in the comments!
Disclaimer: this post is in no way sponsored by anything or anyone. There are a few Amazon affiliate links scattered throughout the post to give you an idea of the items I brought to Disneyland; as always, feel free to shop around for the best price.
Disclaimer: I am a participant in the Amazon Services LLC Associates Program, an affiliate advertising program designed to provide a means for me to earn fees by linking to Amazon.com and affiliated sites. As an Amazon Associate I earn from qualifying purchases.