Mother's Day Gift Guide + A Few Spring Favorites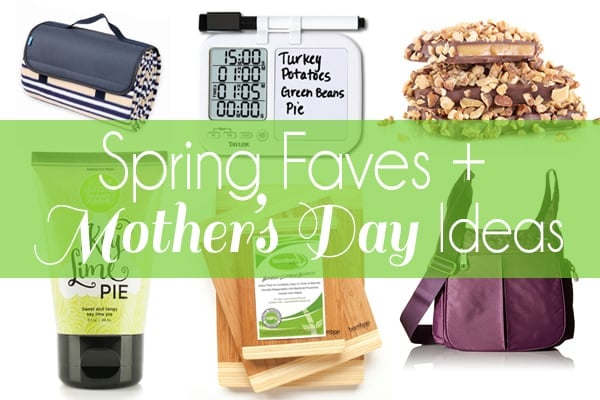 Disclaimer: this post is unsponsored (just sharing things I love); there are a few Amazon affiliate links scattered here and there. As always, feel free to shop around for the best deal!
I love sharing (and hearing about!) favorites. Love it, love it, love it. In honor of Mother's Day right around the corner, I thought I'd share a few things I'm loving right now. Perfect for Mother's Day shopping or maybe just because you're hankering for something new, there's lots of fun stuff below. Of course, if you are my kids, I'm telling you to put away the mason jar packed with long-saved allowance money sitting on bedroom dressers and asking you to please, with sugar on top, make me a coupon book or artwork-filled card instead of buying me anything (best gifts ever).
Also, for more inspiration, here are a few gift guides that have been super popular before on the blog.
Another Mother's Day/Spring Gift Guide
Random Stuff Gift Guide
All Things Kitchen Gift Guide + My Favorite Things Page
Fun Favorites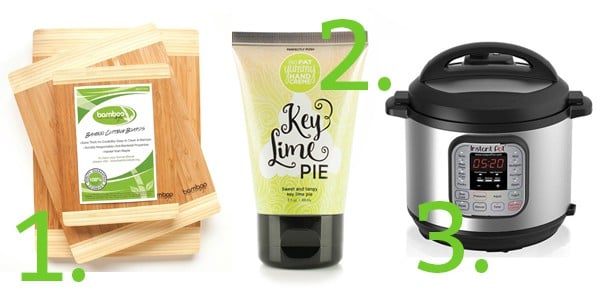 1. I finally converted over to bamboo cutting boards and I'm kicking myself for not doing so sooner. These are amazing! Yes, I have to dig out the mineral oil now and then to keep them in tip-top shape but it's hardly any work and so worth it. I love the 3-pack of differing sizes and I also have this extra-large one that comes in handy for big cutting jobs. I still use this durable yellow cutting board for meat (love the bright color for differentiating to keep the oozy meat juices away form my fresh pineapple).
2. I know I'm a broken record about Posh products, but I love them through and through. This new Key Lime Pie Big Fat Hand Creme (they have several awesome flavors, I also have the vanilla ice cream because I can't get enough) is the stuff dreams are made of. I also love the BFF face wash (use it every night).
3. If you're looking for a show-stopper of a gift (assuming the mother-figure in your life hasn't converted over to the insane, trendy world of pressure cooking yet), I have to give a shout out to my main pal, the almighty InstantPot. You better warn your siblings if you break this out for your mom, though. She's totally declaring you as the favorite, I call it now. I love my InstantPot more than words.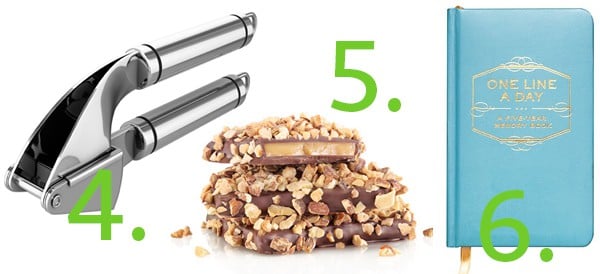 4. I had an old OXO garlic press for years until the handle broke off. Enter this new pretty number. The big bonus? You don't have to peel the garlic before pressing! It's amazing, heavy-duty and cleans up nice and easy.
5. I'm always on the hunt for new, unique, delicious chocolates, and hello, Christopher Elbow. Where have you been all my life? May I just say that the toffee is other-worldly? Also, their dark chocolate bars with pop rocks (I know!!) are crazy unique and fun, and their special assortment collections might just be the prettiest chocolates you (er, I mean, your mom) will ever eat.
6. I'm a journalling junkie and in addition to the journal I keep on the computer, I love, absolutely love, this one line a day journal. Two minutes at the end of the day to jot down a few notes, and it's so fun to look back and see what we did on the same day for several years in a row, plus it reminds me what I need to write about in more detail later.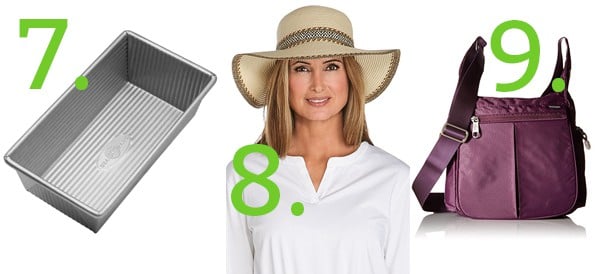 7. After using Chicago Metallic bread pans for years and years, I'm slowly replacing all of them with these USA bread pans. My cousin, Julianne, swears by them, and after using the two I have (that were given to me by a sweet friend), I'm sold. They are heavy duty, the bread never sticks, and they bake evenly (I swear, my bread tastes better, too).
8. I already told you I'm going to live in a floppy, wide-brimmed hat for the rest of forever. And this is my favorite hat so far. I wore it for a week straight in California, several days at Disneyland, and it's already seen me through many long, hot soccer games. It's adorable (even cuter on than in the picture), and I get compliments every time I wear it. I also have this hat in blue/white; adorable. Thank you to those of you who introduced me to this company in the comments of my face post several weeks ago. I am also the new owner of swim leggings (who am I and how did I get here) and a long sleeved swim shirt. If I didn't have ethical views about posting a picture of myself in a swim suit, long sleeves or not, I'd totally show you how cute it is. Don't judge if you show up at my door and I'm just hanging out all day, every day in my head-to-toe swimmer.
9. Seriously, this little satchel is a lifesaver. I bought it for our trip to Disneyland + some upcoming summer travel, and it's as perfect as all the 5-star reviews say. Small and lightweight, it fits waaaaay more than you think and it's cute, to boot. Not just for travel, I'm using this every day!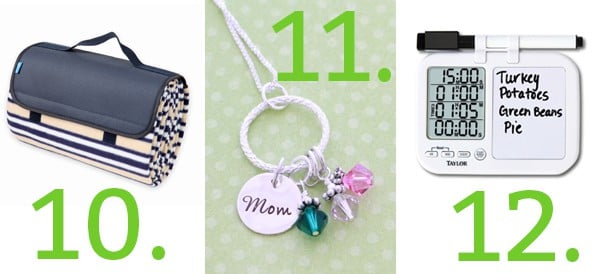 10. Such a great gift, this picnic blanket has a waterproof side and it folds up to be totally portable. I love outdoor blankets – they make the best gifts (we got one for our wedding lots of years ago and it was one of our favorite gifts; we've long since worn it out but this new blanket is just as good, if not better!).
11. I know there are lots of hand-stamped jewelry shops around, but this birthstone charm necklace from I Declare is on my own wish list for Mother's Day (if Brian comes through, I'm taking off the "mom" circle and just leaving the kiddos' birthstones and wearing it on a long chain). Don't you love how I've already planned out how I'll wear a gift I don't even have yet?
12. Simple, inexpensive, but SO functional, this multiple event timer is one of those things I have no idea how I lived without. My friend RuthAnn showed me hers when she was at my house teaching me how to can chicken and I couldn't believe I didn't have one. Multi-timer for the WIN!!
And that's it, for now. Of course I have about a billion other things to share…but I also have four children clambering on my lap reminding me that maybe for Mother's Day, all I want is a nap. Peace out.
Disclaimer: this post is unsponsored (just sharing things I love); there are a few Amazon affiliate links scattered here and there. As always, feel free to shop around for the best deal!
Disclaimer: I am a participant in the Amazon Services LLC Associates Program, an affiliate advertising program designed to provide a means for me to earn fees by linking to Amazon.com and affiliated sites. As an Amazon Associate I earn from qualifying purchases.