Almond Roca
This homemade almond roca recipe is so delicious that it alone can transform you into a Christmas confectionery rock star!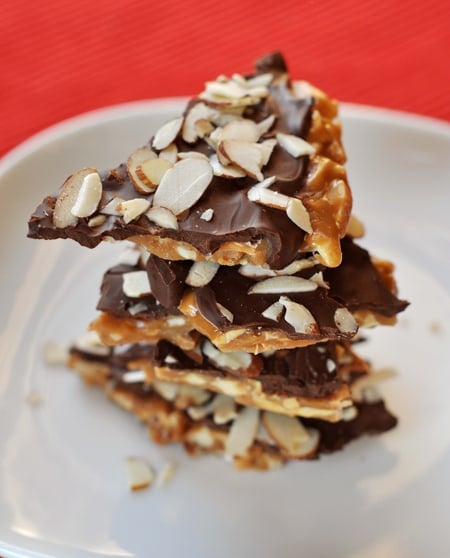 I know that some of you are candy making experts (and I'm jealous!). And others of you are probably nervous about (or completely disregarding) this recipe because it uses a candy thermometer. I get it, I really do!
Candy making is a lot of trial and error and sometimes even the most expert candy makers have failed batches of candy. I am far from an expert candy maker but I've been experimenting more and more with candy recipes, and let me tell you…it's fun! And talk about feeling like a rock star in your kitchen.
Because I want you to have fun, too, I want to first help you become one with your candy thermometer. An entirely new world of confections and delicacies will be open to you! So first, check out this tutorial on calibrating your candy thermometer (and it also includes tips on what kind of candy thermometer to buy).
Your success in using a candy thermometer lies mostly in knowing if it reads high, low or right on. Second, be willing to practice. If your first try is say, less than a stellar success, don't give up! And third, follow those recipes exactly – now is not the time to be channeling your inner Emeril and throwing in a bam! here and there.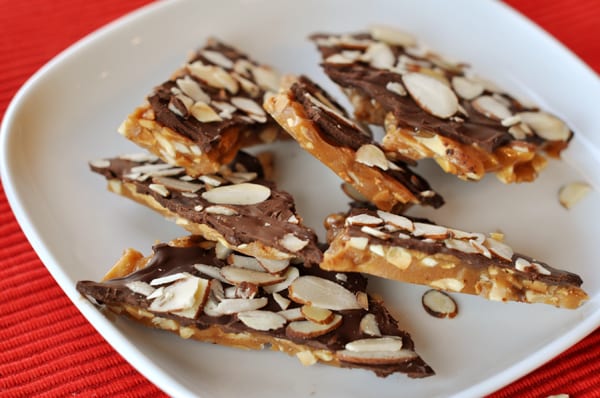 Now on to the roca…
I've been making this recipe for years and while you may question my self-control when it comes to treats (rude!) based on declarations of love I've professed for other goodies on this site, I can honestly say most things I can walk away from after about 20 taste tests.
Not this, my friends, not this. It is so delicious. And so hard to stop eating. Toasted almonds are smothered in buttery, crunchy toffee, and gloriously drenched in chocolate while still having a layer of slivered almonds atop all the other caloric goodness.
I promise that this recipe is so delicious that it alone can transform you into a confectionery rock star. Because, really, isn't that what you've always wanted to be (or wait, maybe that's just me…)?
P.S. See below the recipe for step-by-step photos and troubleshooting tips.
One Year Ago: Coconut Macadamia Nut Triangles
Two Years Ago: Holiday Morning Buns
Yield: 2 pounds of almond roca

Prep Time: 5 minutes

Cook Time: 25 minutes

Total Time: 30 minutes
Ingredients
1 cup butter
1 cup sugar
2 (3-oz.) packages slivered almonds
2 cups chocolate chips
1 (3-oz.) package sliced almonds
Instructions
Line a large rimmed baking sheet with foil. Lightly butter the foil and set aside.
Place the slivered almonds in a single layer on a baking sheet and toast in the oven at 300 degrees for about 5-6 minutes, checking often, until the almonds are golden brown and toasted. Remove from the oven and set aside to cool.
In a medium saucepan over low heat, combine the butter and sugar and cook, stirring constantly with a heatproof spatula until the butter is completely melted and the sugar is dissolved. Don't rush this step! It may take up to five or six minutes for the sugar to dissolve but you don't want the heat too high during this part of the process. Once the sugar is dissolved and butter melted, turn the heat up to medium and stir gently as the mixture comes to a boil. Again, this may take a few minutes. Once it comes to a boil, clip a candy thermometer to the side of the pan and continue stirring gently as it cooks. The mixture will gradually turn to darker shades of brown until it reaches the hard crack stage and should register 300 degrees on your candy thermometer. As you stir during this process, don't scrape the sides of the pan, just gently stir in a figure eight motion.
Immediately take the roca off the stove once it hits 300 degrees and stir in the toasted, slivered almonds. Pour the candy onto the prepared baking sheet, taking care not to scrape the bottom of the pot as you pour it out. Using an offset spatula, quickly spread the toffee into an even layer on the baking sheet – it will cool quickly making it hard to spread.
Sprinkle the chocolate chips over the hot toffee and tent with foil. Let the chocolate melt for 2-3 minutes, remove the tented foil and spread the chocolate chips into an even layer. Sprinkle the sliced almonds over the top of the roca and set the candy aside to let the chocolate set and to let the roca cool completely. (You can refrigerate it to let the chocolate set up but sometimes the quick cooling from the refrigerator can cause the chocolate to bloom – which means it develops white streaks and blotches while it cools. It doesn't affect the taste but it doesn't look as pretty as smooth, shiny chocolate.)
Once cool and the chocolate is set, break into pieces.
Notes
Salt: if using unsalted butter, add 1/2 teaspoon salt in with the sugar.
Recommended Products
As an Amazon Associate and member of other affiliate programs, I earn from qualifying purchases.

Troubleshooting?
-While cooking my toffee, the butter seemed to separate from the toffee forming a greasy, buttery layer? Why does this happen and what should I do?
Oftentimes caramel and toffee can separate and form a layer of butter on top of the boiling mixture (or even when it is poured out on the pan). This can be caused because of a sudden shift in temperature. Be careful not to crank the heat up or down during cooking. Keep it at a steady medium-low or medium temperature. I've heard that if it separates while boiling you can stir vigorously until it is combined again or even try adding a pinch of baking soda to the mixture and stir until it is cohesive. If after pouring it out on the pan, you notice a layer of butter on top of the toffee, you can blot the butter up with paper towels and proceed with the recipe.
-Why did my roca/toffee turn to sugar and/or crystallize?
I've had this happen and it is very annoying! During the cooking stage while the candy is getting to the hard crack stage (300 degrees), sugar can cling to the sides of the pot. This sugar cooks on the sides of the pot and crystallizes there. As you stir, if you keep scraping the sides of the pan, bringing this crystallized sugar back into the boiling mixture, it can turn the entire batch of toffee to sugar, meaning it will be grainy, coarse and gritty. Take care as you stir not to scrape the sides of the pan. You don't want to clean the sides of the pan, you simply want to stir and scrape the bottom of the pot gently to avoid scorching. Also, as you pour the toffee onto the prepared baking sheet, don't scrape the sides and bottom to get every last bit of roca. Pour it out onto the sheet and leave the crystallized sugars behind in the pot.
Step-by-step Pictures:
Buttered pan ready for the addictive toffee.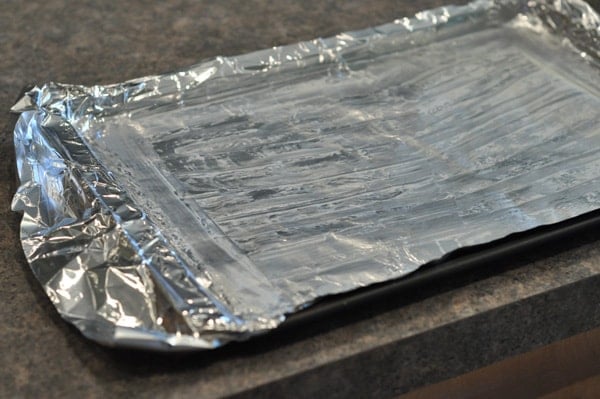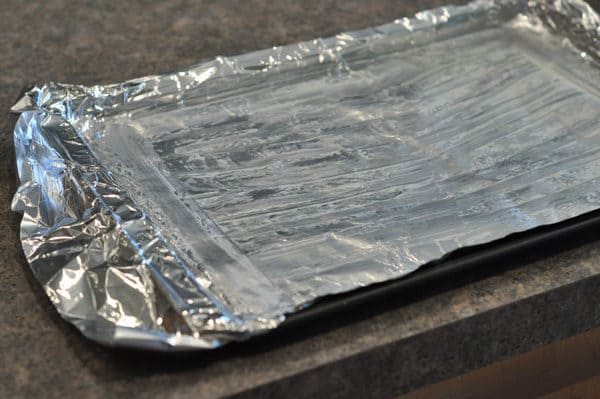 I toasted my almonds and set them aside on a plate once they were cool so I could have them ready to pour into the hot toffee.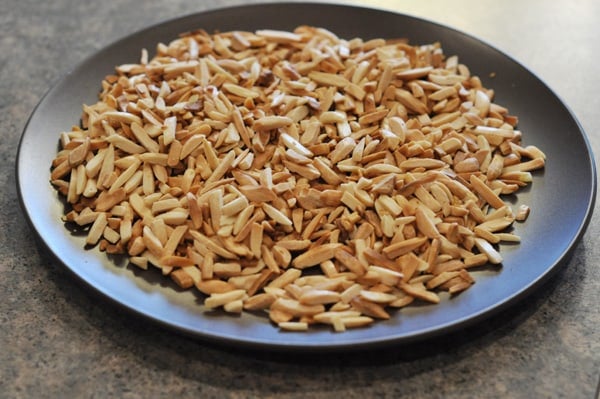 Place the butter in the pan and heat on medium-low.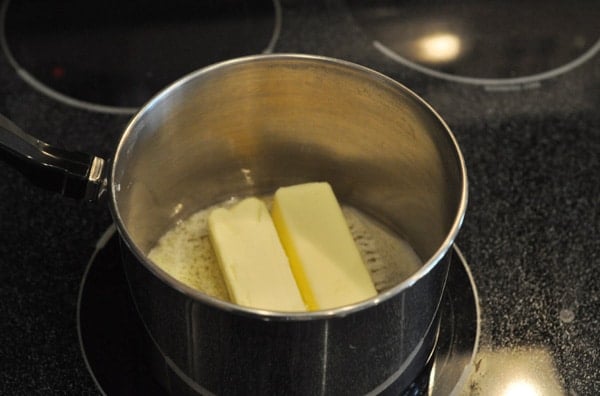 Add the sugar and stir to combine.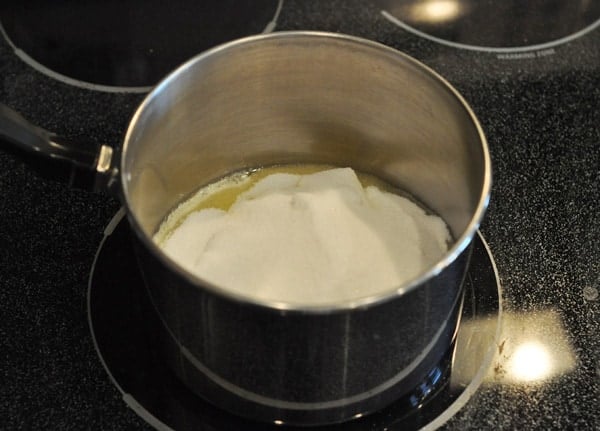 This may take a few minutes but don't crank up the heat. You want to wait until the mixture is smooth and the sugar is dissolved.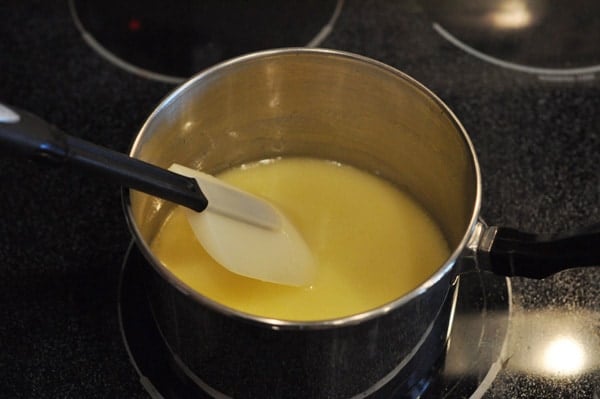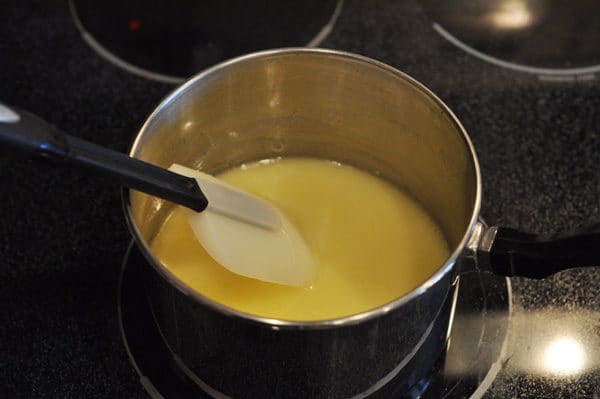 It's going to start bubbling.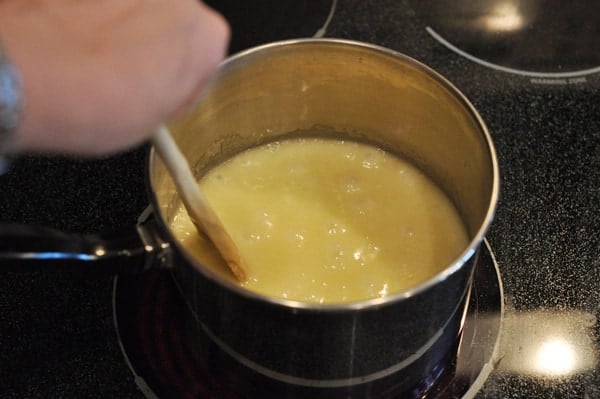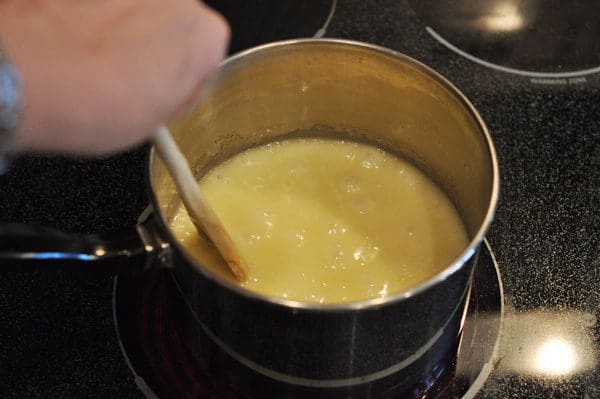 Clip your thermometer on the pot once the toffee comes to a boil. Remember to follow the package instructions for how far the tip of the thermometer should be in the liquid (usually 1- to 2-inches).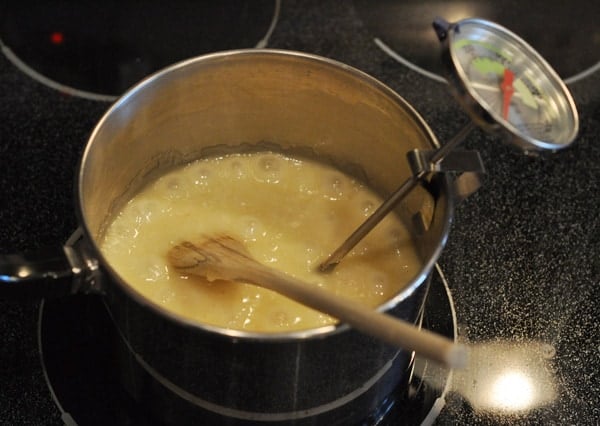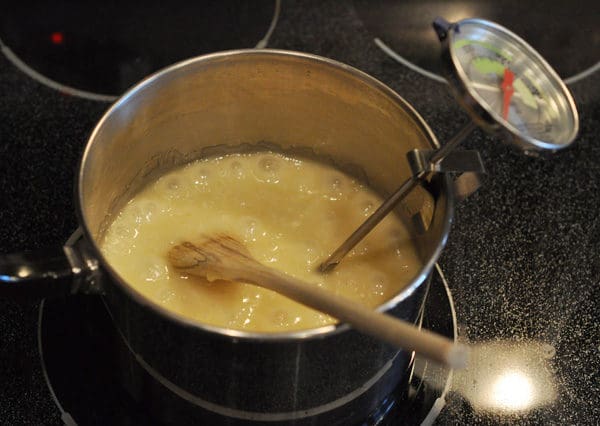 Keep stirring and cooking.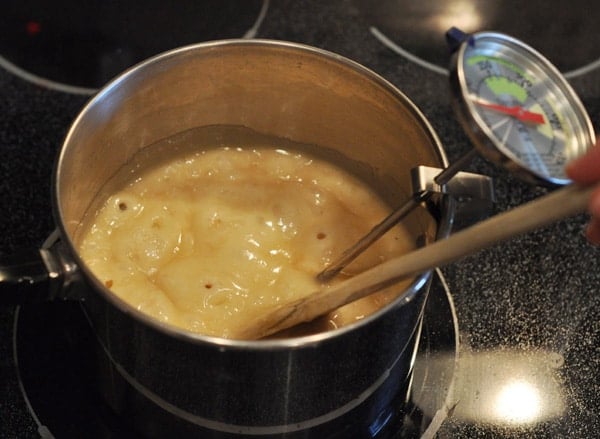 The mixture is going to turn golden.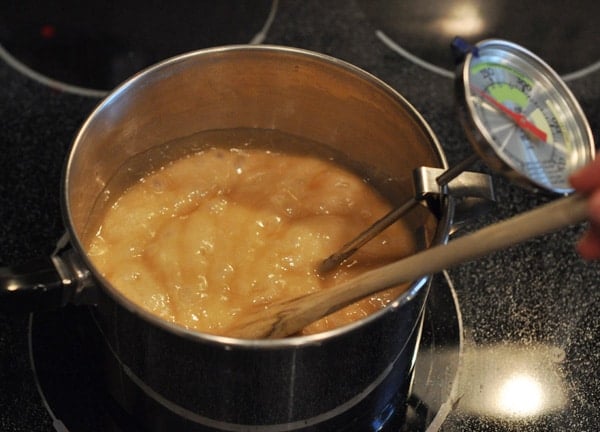 And then get even darker.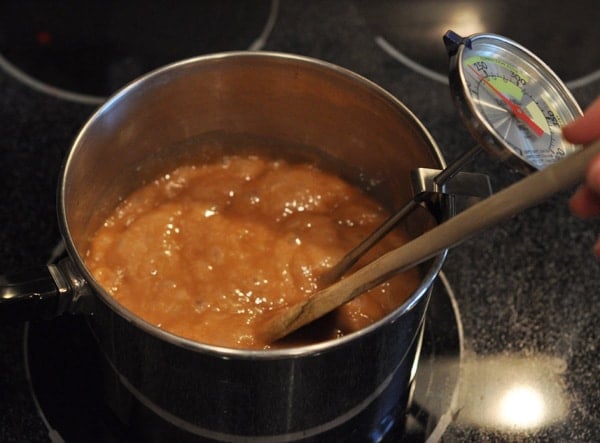 Stir in the almonds and turn out the mixture onto your prepared baking sheet, remembering not to scrape the bottom and sides of the pot while pouring it out.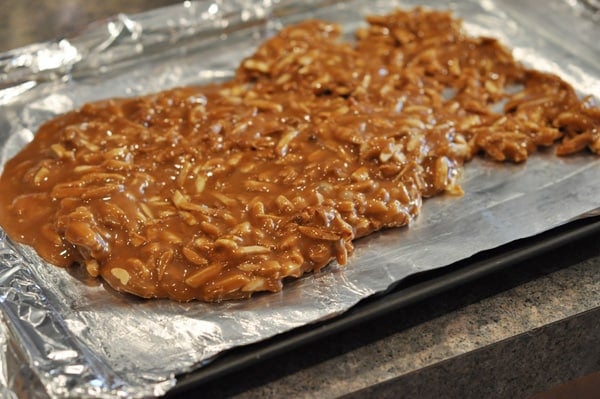 Quickly spread the roca into an even layer. It will start to harden pretty fast.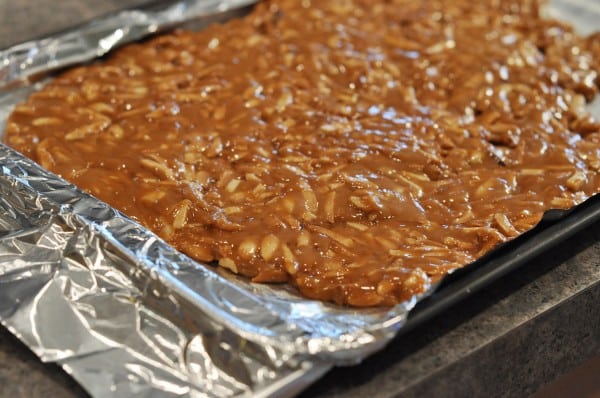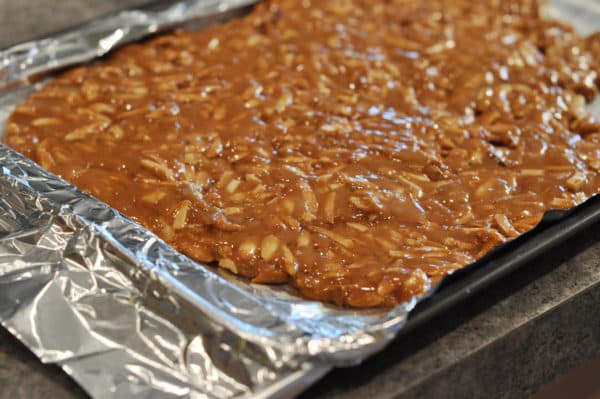 Sprinkle the chocolate chips on top.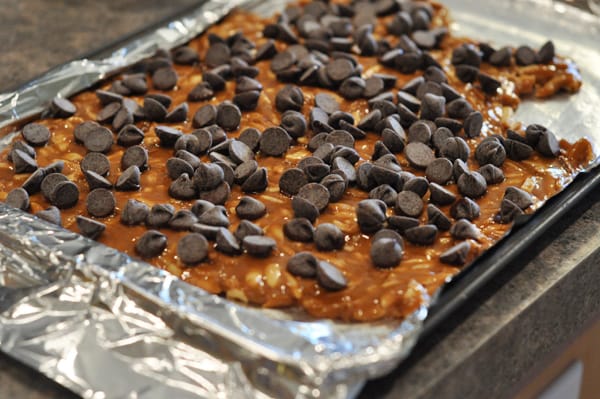 Tent with foil to help those chocolate babies melt.
See how they get all melty-looking and delicious?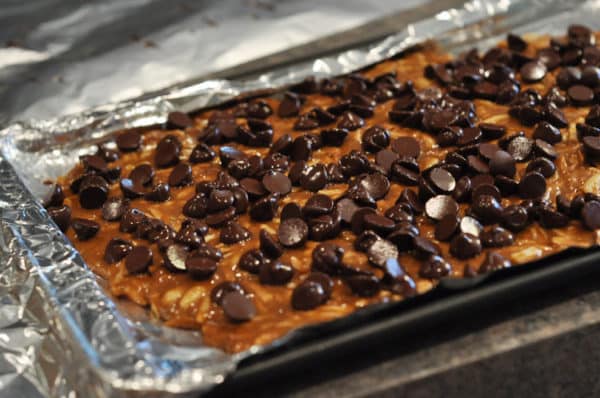 Spread out the chocolate and try not to lick the spatula.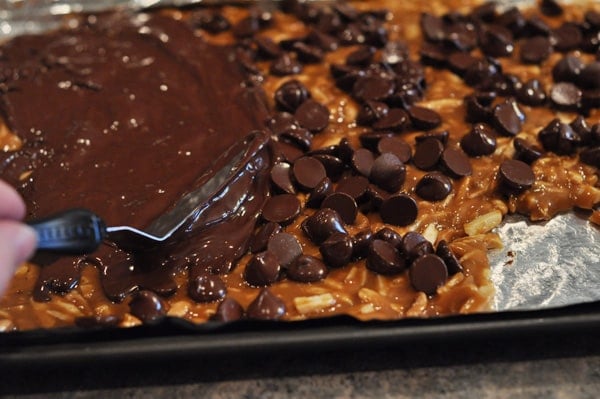 Then sprinkle the sliced almonds on top and let the toffee cool and set up.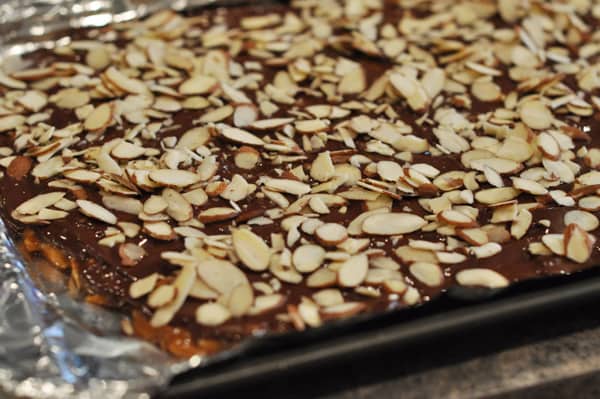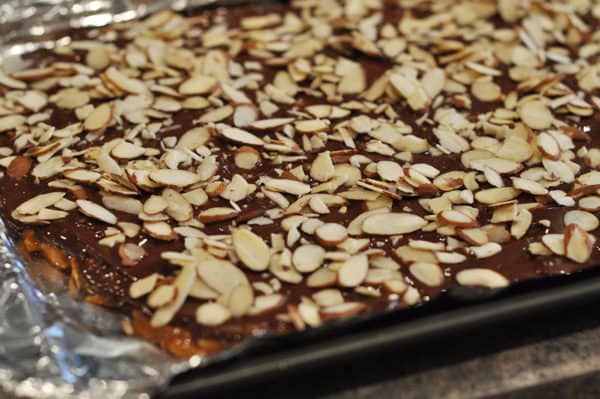 Disclaimer: I am a participant in the Amazon Services LLC Associates Program, an affiliate advertising program designed to provide a means for me to earn fees by linking to Amazon.com and affiliated sites. As an Amazon Associate I earn from qualifying purchases.