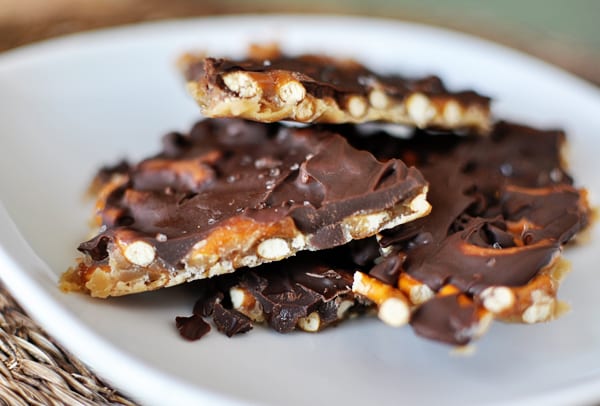 You are either going to love me or hate me for this recipe.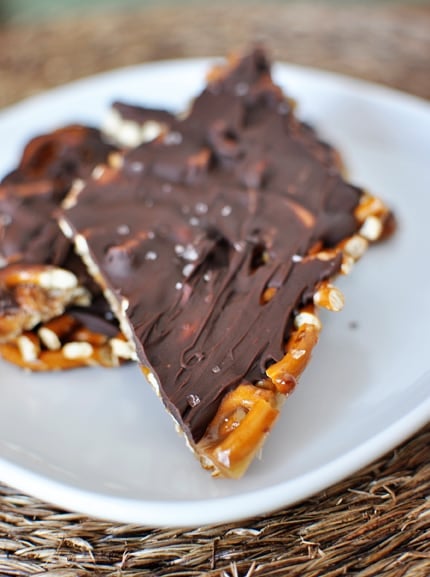 Five ingredients. Most of which probably reside in your pantry right now. Five ingredients that result in some of the most addictive faux-candy known to man. No candy thermometer needed, yet you still end up with a divine toffee that is made other-worldly by being baked on top of salty pretzels and furthered by a smothering of rich, dark chocolate and a sprinkle of sea salt.
Seriously. My life will never be the same. Neither will my postpartum hips, for that matter, but that's a personal problem I'll try to deal with on my own.
One Year Ago: Grilled Steak and Veggie Kebabs
Two Years Ago: Mediterranean Pasta Salad
Three Years Ago: Shrimp Stir Fry with Snow Peas and Coconut Curry Sauce
Salted Chocolate Toffee Pretzel Bark
FYI: My preferred brand of chocolate is Ghirardelli.
Ingredients
About 8 ounces (half of a 1-pound bag) mini pretzels, broken into smaller pieces, more or less to cover the pan
1 cup (2 sticks) butter
1 cup packed light brown sugar
2 cups (one 12-ounce bag) semisweet chocolate chips
Sea salt
Directions
Preheat the oven to 375 degrees F. Line an 11X17-inch rimmed baking sheet with aluminum foil or parchment paper. Cover the bottom of the pan in a layer of broken mini pretzels. Set aside.
In a small or medium saucepan over medium heat, combine the butter and brown sugar. When the mixture starts to gently simmer and bubble, let it cook for 3 minutes without stirring. Immediately pour the hot caramel mixture over the pretzels in a back and forth motion to cover most of the pretzels (a few empty/dry spots are ok as the caramel will fuse together during baking).
Bake for 5 minutes. Remove the pan from the oven and place the pan on a cooling rack. Immediately sprinkle chocolate chips evenly over the top of the hot caramel and pretzels. Let the chocolate chips sit for 2-3 minutes until they melt. Use an offset spatula or rubber spatula to gently spread the melted chocolate over the toffee. Lightly sprinkle with sea salt.
Let the toffee cool completely at room temperature then refrigerate if needed to help the chocolate set up. Break the toffee into pieces and try not to eat the whole batch.
https://www.melskitchencafe.com/salted-chocolate-toffee-pretzel-bark/
Printed from Mel\'s Kitchen Cafe (www.melskitchencafe.com)
Recipe Source: adapted slightly from a recipe sent to me by Sara R. via Flower Patch Farmgirl